With the sd2vita becoming a thing, more and more PSVita owners are starting to go and look for new games, to fill up those micro SD cards with :). That's what started this top 15 Vita games you should play, sometimes it can be hard to find a good game that may strike your interest. These 15 games in my honest opinion are definitely worth playing.
 15: The Walking Dead
Let's start this list off with some zombie love the game takes place in the same fictional world as the comics I'm kind of reminds you of reading a comic while you play.
The decisions made by the player strongly affect the outcome of the game and thus make all of your decisions that much more important.
The game brings about a good mix of story and decision and morality that many games Miss but the Telltale Game series does it with stride as they make walking the zombie apocalyptic wasteland even more enjoyable than once thought.
14: Muramasa: Rebirth
In 2009, developer Vanillaware released Muramasa for the Wii, it gained a solid cult-following, with fans praising Muramasa's fluid controls, unique approach to storytelling, and amazing 2D artwork.
Vanillaware decided to repackage the game for the Vita, adding HD visuals and additional content. It's a good thing they did Muramasa: Rebirth is incredibly vibrant, with downloadable content and a new translation adds even more to the already compelling story. Muramasa: Rebirth is a joy to play on PSVita.
13: Rayman Legends
Rayman Legends is a platform video game developed by and published by Ubisoft. It is the fifth main title in the Rayman series and the direct sequel to the 2011 game Rayman Origins.
The game carries on the style of gameplay from Rayman Origins in which up to four players (depending on the format) simultaneously make their way through various levels. Lums can be collected by touching them, defeating enemies, or freeing captured Teensies.
Collecting Teensies unlocks new worlds, which can be played in any order once they are available. Along with Rayman, Globox, and the Teensies returning as playable characters, players can now control new female character Barbara and her sisters, once they are rescued from certain stages.
12: Joe Danger
Now I know what you're saying some of you are like this was a free PS Plus game why would I be looking at this in a top 15? Well, this silly little game is a great example of a pickup play for a few minutes and let the burdens of the day just to waste away as you watch this goofy little guy doing same crazy silly stunts, an Evel Knievel sort of way.
11: Risk of rain
This game has it all crudely done 8-bit Graphics check, fight for survival on an alien planet check, discover that you're going to keep dying over and over and over again check, continue playing to feel the glory of Victory is the goal of this game. Risk of rain the game that loves to clout the fact the longer you play the harder it will get. Like similar games as in The Binding of Isaac this game has you running over and over dying many many times while fighting amazingly large and deadly alien creatures lots of fun and easy to pick up.
10 Shovel Knight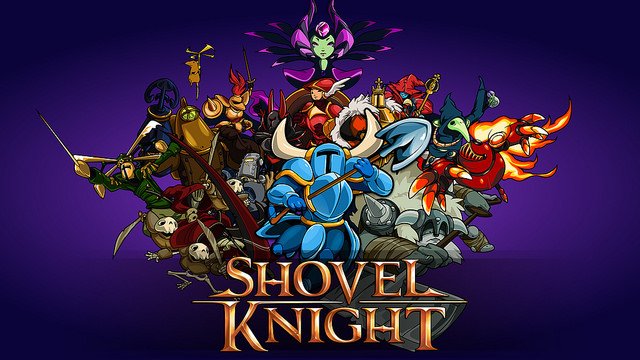 For the game where the protagonist fights for Honor with his shovel. This quirky platformer in an 8-bit genre is a breath of fresh air from Yacht Club Games. With an engaging story, hours of platforming delight Shovel Knight is definitely a must-have for any gamer that enjoys the troubles enjoys that will come from falling to our deaths every so often.
9. Jet Set Radio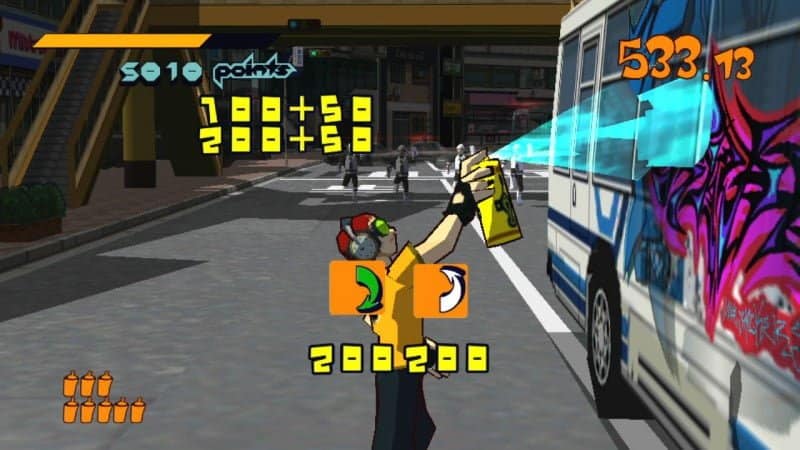 Originally appearing on the Dreamcast buy Sega, Jet Set Radio stood out from the crowd even then with his unique art style fun game play and entertaining story. Jet Set Radio feels right at home on the PS Vita and is quite a comfortable play and it also allows me to relive those Glory Days of rollerblading and tagging the city streets of Tokyo. This game also had quite an interesting soundtrack that even to this day is loved for being the soundtrack of rollerblading awesomeness.
8:  Rainbow Moon 
Rainbow Moon an RPG game of adventuring and traveling what finding Mysteries and Adventure off in the world it's you fight many armies in a tactical based combat. The games bubbly art and beautiful landscapes make this game a visual treat in itself just to play.
7: Hot Shots Golf World Invitational 
Hot Shots Golf World Invitational or Everybody's golf as it's known throughout the rest of the world is a wonderful golf game that has a skill level that is quite challenging while still being quite entertaining. Unlike other golf games that seem to take itself too seriously or too silly as the case may be Hot Shots Golf has found that perfect Middle Ground to give you an entertaining golf experience.
6: World of Final Fantasy 
World of Final Fantasy is it amazing journey through with characters we all know love and recognize sprinkled in with new characters that we come to find great admiration for and join them on the hardships to come. World of Final Fantasy is a wonderful treat on the Vita with impeccable voice acting beautiful colors any unique battle system it kind of reminds me of what would happen if we ever had to battle hatris in real life.
5: Dragon Quest builders
If you ask anybody I'm not necessarily a big fan of Minecraft and games like that but Dragon Quest Builders made a believer out of me. Not only are you building solving the mystery of the story of what happened but you're going on different Journeys and quests the game just seems more full. With a slew of characters from the past slimes that we love to beat up this game will be a favorite on my Vita for years to come.
4. Sine Mora
Sine Mora is a spectacular shump and it's perfect on the PSVita. Fast reflexes will get you through this but that's not all you also need determination and skill to fight the hordes of enemies that fight against you. Along with quite a few boss battles that will scare you if these things truly existed. There's a Boss Rush mode which can be a lot of fun to allow you to sharpen up on your skills to see if you can get through this game faster than you did before to receive a higher rank.
3: Final Fantasy X / X2
When this came out for the PS Vita I pre ordered mine a year in advance I could not wait to get my hands on this game. Once it hit All my expectations were blown away this game is beautiful on the PS Vita especially on the 1000s with its crisp clean OLED screen this game brought back all of the feels I had felt when the games were first released on the PS2. With amazing summons and Story for days, this is clearly a must-have for any PS Vita owner.
2: The Binding of Isaac: Rebirth
The Binding of Isaac: Rebirth is a sweet Twisted little dungeon-crawling kind of game where death is inevitable and it's looking around every corner. If you fight to free yourself from the basement and you're the horribly oppressive religious mother you fight ungodly demonic creatures in grotesque demons. With tons of items to find at your disposal, this game can lead to hours and hours of fun, screaming, anger and joy.
1: Metal Gear Solid the HD Collection
From one of the most acclaimed directors, Hideo Kojima comes the reason I today and still happy I own a Vita. The Metal Gear Solid HD Collection has two of the most popular titles from the past brought you in stunning HD with the features that were designed to optimize The Vita's touchscreen and back panel. Metal Gear Solid HD Collection is wonderful on the PS Vita it is exactly the metal gear game we needed portable for so long and allows you to take a few of the best stories on the go with you from the metal gear universe.
Thanks for reading and keep doing it for the Love of the Game.