Lately, we've all had our fair share of new and older portable Consoles. No, we sadly didn't get a new Playstation Handheld but we have the Nintendo Switch which does a lot of things right. With the new OLED Model, it should be even more fun to game on it but the OLED Model will also very likely have new Patches against CFW. So your only choice will be playing the Games officially released on the Switch.
If one wants to do more with their Portable System there are the likes of GPD with their mass of Portable Windows Systems the AYA NEO and a few more portable PCs. Since these are simply portable PCs with a joystick built-in using Windows you can play pretty much every Game on them as long as the Hardware is powerful enough or the Game is not as demanding. But most of these have been using Intel CPUs up to now which meant they weren't that particularly powerful when it comes to mobile Gaming. Yes, there's the newly announced GPD Win Max which will come with Intel's newer CPUs which finally have a better built-in GPU, as well as an AMD Version, but the release for this is yet to be announced. There's the AYA NEO which has been gaining popularity but it's pretty expensive and nearly impossible to get.
That's where Valve's new steam dock portable PC comes into play. The Console will be available for as cheap as 399$ or 419€ up to 649$ or 679€ and there's no GPU performance difference between all versions, the only difference will be the SSD Storage used. That sounds promising but you may think "Oh but how is a $399 steam deck supposed to be as powerful as an aya neo for $789". The same could be said for the likes of the GPD Win Max which is yet to be announced. But here's the things we know so far about the SteamDeck.
The AYA NEO uses a 6 Core 12 Threads Zen 2 AMD Ryzen 5 4500U as its CPU. The Steam Deck only has an unnamed Zen 2 CPU from AMD with 4 Cores and 8 Threads. So for raw computing, the AYA NEO will be more powerful. But these two are primarily meant for gaming and this is where it gets interesting. The Ryzen 5 4500U CPU in the AYA NEO uses the older VEGA Architecture for its internal GPU and it only has 6 CUs (Compute Units). The Steam Deck uses a custom AMD CPU with the current Gen RDNA2 Architecture that's also used in the PS5 (36CUs) and XBOX Series X (52CUs) with 8 CUs. No such CPU has existed yet for the CPU Market so nobody actually knows how this GPU will perform but by simple guessing, it should be more powerful than the 6CU GPU that the AYA NEO is using.

Another thing where the Steam Deck is gonna be very interesting is its use of a Gyroscope. Yes the AYA Neo also has a Gyroscope but nobody seems to really know how to use it. Everyone who's ever played Splatoon will know the Idea of using a Gyroscope for aiming and I love this feature. It allows for far better and more smooth aiming than the usual joysticks do. You can also achieve this with a PS4 Controller and Special Software on a PC but this being integrated directly in the Steam Deck will mean it should be a simple Button click in the steam settings to enable and disable the feature. Yet another thing where the Steam Deck is better than the AYA Neo is the use of Analog Triggers. You'll be able to play Racing Games and accelerate completely fine whereas the AYA NEO only knows Trigger pushed or not which means no easy controlling of the driven speed.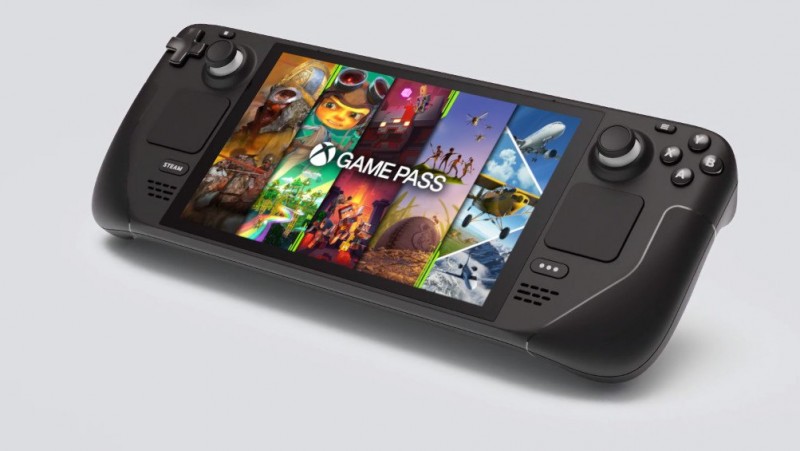 Another thing that has been confirmed over the last few days is that the NVMe SSD/eMMC inside the Steam Deck can be exchanged. It's not soldered. So you could buy the 64GB eMMC Version and later simply exchange the SSD and upgrade to 256GB, 512GB, or even 1TB. The Bad news is that the NVMe size format used is 2230 because of space constraints. Since these are rather special and rarely used they are quite expensive but just having the choice is already a really good thing.

Now not everything about the Steam Deck sounds good just yet. It's really nothing hardware-related but much more the choice of the system used on the steam deck. It uses Valves own Steam OS 3.0 which uses Linux (Arch) for its base. Yes, Steams Proton Framework for Compatibility with windows games is working better day by day but many Games still don't run perfectly. Anti-Cheat Systems also doesn't work under Proton but Valve is promising that Anti-Cheat-Systems BattlEye und EAC will soon work with Proton. This would open up quite a lot of competitive games to the Steam Deck. We'll have to wait and see how good the new Proton Framework will be but if you're a bit tech-savvy you will to also be able to simply run Windows on the Steam Deck. That way you can play every game just like on any other PC. We'll just have to see how good the driver support will be because of the custom silicon the Steam Deck uses.
I could continue on and on about speculations, comparing this to released portable pcs and soon to be released portable pcs but in the long run we'll just have to wait for the coming months to pass and check what new info Valve will offer the public. So let's end this with a quick summary of the Steam Deck Hardware which will hopefully have you hyped just as much as I am.
Processor: AMD APU with Zen 2 Architecture – 4c/8t, 2,4 – 3,5 GHz
GPU: Integrated AMD RDNA2 GPU with 8CUs, 1,0 – 1,6GHz
RAM: 16 GB LPDDR5
Screen: 7″, 1280 × 800 Pixel, 16:10 Aspect Ratio, 60Hz
Storage: 64GB eMMC/256GB NVMe/512GB NVMe (all socket able 2230 SSDs in a 2230 Slot, User-replaceable)
Connectivity: Bluetooth 5.0, WLAN 5 (ac), 1x USB-C, 1x Headphone Jack
Controller: DPAD, ABYX Buttons, Two Joysticks, Analog Triggers, Four Remappable Buttons on the Back, Two Touch Sensors, 6-Axis Gyroscope, Touchscreen
System: SteamOS 3.0 (Linux/Arch), Windows, or other systems can be installed by the User.