Have one of those old-fangled 3G models of Vita? Have no use for the 3G aspect of it? Want to expand your Vita's memory even further? Then start scrolling, because I think I have something that you may be interested in knowing about! And before you ask, yes, we covered this, but that was almost 5 years ago at this point. This one is from a new manufacturer and so we need to make sure that you know if there is anything worth knowing about. Anywho, there's an unboxing video midway and an installation video down at the bottom!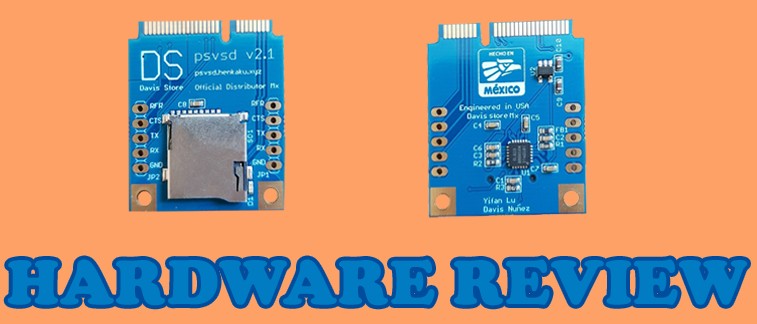 PSVSD Description:
Psvsd is a hardware mod for OLED PS Vita that replaces the vestigial 3G modem with a USB microSD card adapter. When used with a hacked Vita and correct plugin, you can remove the expensive PS Vita memory card and instead use a microSD card internally.
Features:
It has a high end chip with good power consumption and a long lifespan. It supports SD/SDHC/SDXC cards.
Is as simple as changing the battery. You can put in a large microSD card, install it, and forget about it.
With Enso, you can use the adapter on boot.
Because there's extra space on the board, I also added two debug ports that the original modem uses to communicate with the Vita. Using them is optional. Developers and hackers can use this for their homebrew and hacks.
Entire project is open source. Anyone can produce the board and/or modify it.
Greater speed and stability compared to SD2VITA.
It is inserted internally in the console (Replacing the modem that has little use in 3G models).
No It is inserted in the game slot (physical), therefore you can continue using your official cartridges.
Unboxing Video:
Pros:
Hardware Install. You guys. This is seriously probably the best part of the whole ordeal. Even if you don't want to "hardmod" anything, you're still in for the easiest ride of your life. You'll simply take the back paneling off of your 3G Vita, take out the old 3G adapter, and slide in this PSVSD. What's even better than that is you'll screw it in for added security. Now you can put in the microSD card and close the back panel back on. It takes seriously 5 minutes. As mentioned before, you'll find my install video below.
Software Install. You thought that that was easy? The setup on your Enso'd Vita is even easier. Simply load up Enso, head over to Vitashell, install usbmc. Starting up usbmc will prompt you to format the new microSD card into uma0:. And that's all there is to it! After you format the new space it tells you it's going to restart the Vita. Once it's restarted, you're good to go. You'll never need to take it out again.
Replace. Speaking of never taking it out again. If you use a large enough microSD card, this can replace your entire memory card setup. That means freeing up your cartridge port. That also means you never have to buy any expensive OEM memory cards. You could theoretically install a 2TB+ microSD card in it and never need anything larger than a 4GB OEM card in the bottom slot. Once you have installed usbmc to the 4GB and then format this new microSD, you probably won't even need the 4GB in the bottom. But I recommend leaving the memory card you already have in its slot alongside this.
Add On. Which brings me to my next section. Like, maybe you don't want to replace any memory cards. Maybe the idea you have is to keep an OEM Sony 64GB in the memory card slot, an SD2Vita adapter in the game slot, and your PSVSD internally. You can do that. Ain't no fooling. 64GB in the bottom, up to 2TB in the top, and theoretically an (infinite) capacity card inside. That would be a beast. However, until 1TB+ become cheap enough to test, we can comfortably afford a 512GB in the game slot, 512GB internally, and 64GB in the bottom. Still…totally to 1.1TB is beastly. #GOALS
Price. Can you believe it? $20 plus shipping is all it takes to get this product to you. $20 to make a functionally intelligent upgrade to your 3G Vita. TWENTY DOLLARS to get rid of that abomination that Sony thought everyone would do backflips for. If you're in the US, your shipping cost is only $10. If you're anywhere else in the world, you're looking at a flat $15 shipping. All in, worst-case scenario is $35 and you're golden.
Build Quality. While I wasn't the one who wrote the original review, I will say that they seem to look the same quality. This version uses blue masking/silk screen compared to our previous review. This product seems to be made with gold plating on the contacts. For the uninitiated, that helps fight corrosion and has a higher conductivity rate. The parts on the board appear to be soldered by the machinery, versus by hand. There are 10 points on the board to solder to as well, if you want to test out other developer type things with it. There seems to also be an upper layer of masking on top of the traces. You'll get greater protection that way. This keeps the traces from getting cut so easily, for those of us who are clumsy. The last point of the build quality is the size, what happens if it doesn't fit?
Size. The size of this thing has already been measured and manufactured to size before Davis Store got to it. So there's very little doubt that they'll be doing something wrong in terms of manufacturing. But as you'll come to see in the installation video, the device slides right in. I held it up to compare it to the 3G adapter that I removed and it seemed to be 1 to 1. Of course, with the naked eye, I could be wrong. But the PSVSD slides in so effortlessly, that you shouldn't have to worry. I was personally concerned that I'd be opening up the Vita only to find that I had to close it back up because the device wouldn't fit properly. The accuracy is so high, I'm just going to end this point here.
Usability vs. Speed. Discuss how we already mentioned how simple it was to install it and then format it. How does it perform? Well, after the formatting is done, it definitely doesn't take any more fiddling. However, I would leave usbmc installed for good measure. But other than that, it really comes down to the microSD card you use. The larger it is, usually the faster they make it, but that's not necessarily true. My recommendation, for the smoothest experience, is to utilize its ability to run SDXC cards. Make sure the one you want is an SDXC and make sure it is a higher class number. They usually run the fastest. Since the cost of the PSVSD is so inexpensive, it's worth it to you to take the time to find a reputable microSD company and buy their best one. It may be pricier than some of the lesser cost companies, but it's just worth it to not have to worry about having to open the Vita back up for eventual issues in the long term. If you choose the right card the first time, the PSVSD will use it to thoroughly and properly. If you want more details on installation and using the PSVSD, click here.
Packing. Knowing that they'll be selling so much of this product internationally, they definitely aced the packing. Ultimately they ship it in a box, for maximum protection. Inside of that, there is a sealed bubble wrap pouch holding the products. This stops the bouncing and moving around in the box from hurting the product. Lastly, the PSVSD itself is in a static-proof bag. This is a triple attack to keep the product arriving in one piece. Truly, it's incredibly effective. But, I do wonder if the cost could be reduced. Maybe if they simply used anti-static bubble wrap instead of standard bubble wrap, they could eliminate the need for the anti-static zip bag.
Extras. This device isn't the only thing that came in the packing we just discussed. As you may have already seen in my unboxing video, this comes with a few extras. Not just lame extras like a sticker and a code for 10% off the next purchase, but useful things.
They include a Phillips screwdriver so that you can install this product. They also included the screws too. The screws will make sure the device stays in place and doesn't eventually vibrate out the other direction. Or even pop right out the first time you accidentally drop your Vita. Furthermore, the screws will keep the PSVSD grounded during operation. The extras included are proof that you don't even need knowledge, experience, or even tools. Kudos to Davis Shop for thinking about the big picture.

Packing of the PSVSD and extras.
Cons:
Compatibility. I would love to see a modified version of this for the internal of the other OLED model. There are already contact points along the side for connecting with other points on the board. Surely there must be a way to have a different version (without pins) that lets you peel a 3M sticker on the bottom to stick it internally and then wire it up to points so we can use it on the other OLED model. If not, that's fine, but I honestly think that with more research it's technically possible. However, the website for the original product run recommends just buying a replacement motherboard for ~$30 (not to mention shell modification). That plus the PSVSD and shipping equals $60-$65, and that's assuming any spare 3G motherboards exist and at $30. I would say someone needs to delve deeper. I'd pay $30 for a custom PSVSD that I simply need to wire into my existing non-3G board.
Waiting. It came from Mexico during a pandemic, I understand the waiting. I had to wait a while and I'm in a country closer to Mexico than most. But I do wonder how much of that was because the shipping cost is inexpensive. I do believe we should be given the choice to pay more for shipping to receive it quicker. Having the option available costs the seller no more money to add it. Even if most people don't use it, it would be nice for buyers with more money and less patience.
Final Thoughts:
It's inexpensive, simple, well built, and can tremendously improve your Vita. I wish that it was compatible in some regard with the other OLED Vita model, but alas, it isn't. I installed it into my friend's Vita, since he had a 3G model. It makes me wish I had a 3G model to use as my daily driver! Don't sleep on this. The install video is below so you can see how truly simple it is. The purchase link is below that so you can see if they're in stock.
Installation Video:
Purchase Links: