I know it's starting to feel like a "Flash Cart of the Month" around here, but darn it if we don't love experimenting and sharing our results! Today's results are compliments of first-time contributors, EverdriveMe. We'll have purchase links and website links at the end. But for now, I want to really get into the nitty-gritty with a hella niche Everdrive, the Turbo Everdrive from Krikzz for PCEngine and TurboGrafx-16 systems. I'll go ahead and mention now that I used my new PC Engine for testing, but the outcome should be the same for those of you with a TurboGrafx-16 console instead. Let's go!
Features:
'PCEngine and TurboGrafx-16 systems are supported.
FAT32 file systems are supported.
Supports MicroSD cards up to 32GB.
Instant loading
Street Fighter II mapper support.
Onboard reset button.
4Mbyte of RAM memory.
Cart may not work properly with region modded systems'
Pros:
Software Compatibility. I thought it'd be smart to let you know what all this Everdrive can run first. Because this thing does not mess around. Hell, it may be the sole reason you scroll to the bottom and just buy it now. The Turbo Everdrive runs every single Hu Card that was manufactured. Not just every Hu Card, but every Hu Card from every region.
And, while I didn't test it personally, should also work with any PCEngine/TurboGrafx 16 homebrew as well. It was a simple Google search, but I would believe those people. Plenty of other Everdrives can run homebrew on their respective hardware. Running homebrew on this wouldn't be entirely far-fetched. I will eventually be adding homebrew to mine as well. I've found plenty of NES to PCEngine ROM conversions of NES games I own. That would be fun. But also fan translations and all new games made just for the NEC systems.
Hardware Compatibility. As mentioned in my weird-ass intro, this will work on PCEngine and TurboGrafx 16. I'm going to blow your mind and tell you how many other pieces of hardware it actually works on. This isn't something I could test myself, as I don't have all of these, but after plenty of googling, I can confirm these things. Oh and, all regions of the following hardware are confirmed to work too. First off, it definitely works on all iterations of the TurboDuo. One person claimed that theirs is even region modded and the Turbo Everdrive still works. The Turbo Express/PCEngine GT is also confirmed to work with this. Can you imagine having every single Hu Card game you own, on the go?!
I know that one person mentioned they have the CoreGrafx and CoreGrafx II and they both work. Another person echoed that sentiment saying their SuperGrafx also works with the Turbo Everdrive. And then, if you own GT and LT versions of the PCEngine they work. And lastly, if you own a LaserActive LD from Panasonic, they're also compatible with the Turbo Everdrive. *wipes sweat from brow* If there's a system out there that runs a Hu Card that I didn't mention, let me know in the comments and I'll look to see if I can find out if the Turbo Everdrive works. I'll fill everyone in on the outcome here.
Speed. When loading games on the Turbo Everdrive, you're going to be happy. Upon loading a game, you'll find from the time you press the button to the time that the game starts is very low. I would say the word instantaneous, but that wouldn't be technically correct. I think that you may have time to blink or something in between. Either way, you'll see very quickly that besides having every game you own on it, you can get into the games faster than manually switching Hu Cards.
SD Card. I don't always talk about storage capacity on these, because one would think high capacity card options are a given. 32GB just doesn't sound like much anymore, so some would find it to be a con. Honestly, it's the inverse, you get a lot out of it because of how small the games were at the time. So, if you had any doubts, you can put them to bed. 32GB is enough to cover the entire collection from every region 60 times over. You would be good so many times over, there would be no point in even complaining that 32GB's wasn't enough. At some point, 32GB's will be phased out like 1GB, 4GB, 8GB, and soon 16GB's. My recommendation would be to buy a 32GB card now, even if you don't have the money for a Turbo Everdrive yet. The Turbo Everdrive will be there later, the SD card may not.
Price! Speaking of not having the money for the Turbo Everdrive. I would like to officially let you know that you won't need to save for very long to get this into your hands. As of the time of this writing, the Turbo Everdrive clocks in at just under $90. Look, there's not much more to say about this. But I'm relatively certain this is one of the least expensive Everdrives that exist for a mainline console. And this iteration has improvements over its $50ish 1.x model.
Improvements. What a great transition into this point. Okay, so, some of you may have the mentioned previous 1.x model of Turbo Everdrive.  Some of you may even be rocking a clone, which is only available as a clone of the 1.x model. So you're probably wondering if you should upgrade. Let me just list the things for you. We'll start with the simple stuff: 1. FAT32 file system is supported. 2. 4Mbyte of RAM memory. (ROM usage only). 3. It now supports cards up to 32GB. 4. The previously mentioned instant loading (it deserved its own "pro" point). 5. Low power consumption.
And finally, the answer is yes you should upgrade. If for no other reason than this alone; the 1.x version is only 3.3v, but the system expects 5v. You would think that less is okay as long as it doesn't exceed, but that isn't the case. The extra voltage is exceeding, 1.7v. The console is inputting 5v into a 3.3v device…welcome to a potentially fried board. No, you should definitely upgrade, even if yours has been working fine. If you want to read more about it, like you don't believe me for some reason, click here.
Build Quality. This topic is usually something I bring up in the first half of a review. When the build quality is great, I really like to put focus on it upfront. However, I believe that maybe I should end on a really solid note. So, how's the build quality?
Well, first off, this thing is heavy. And while the lawyer in Jurassic Park claimed that something heavy is expensive, that's not the case here. We've already discussed the price, so I'm not going to be diving into that. The weight being is not being compared to the price, but instead that of a standard Hu Card. While Hu Cards totally lightweight, the Turbo Everdrive is heavier. And where the quality comes in is in the components. So it feels like you're holding something expensive, but instead, it's just a great value. You're just really getting your money's worth. So let's discuss the build now and how you get what you pay for (in a good way).

Multilayered Board: As you probably know by now, Krikzz takes his business seriously. That means we consistently get multilayered boards when possible. A multilayered board means less stress/bend, but also the traces can be under the surface and not get cut accidentally. There's more to it than that, but the standard user won't care and the advanced user already knows what it gets them.
Plated Contacts: More quality over cheapness here. By having properly plated contacts, you increase conductivity and fight corrosion. It won't break down over time, it won't scrape away as easily, and you can rest easy about overheating.
MicroSD: This is another feature we're seeing more and more in Krikzz products. Not much to cover here, but I will say that his microSD card slots never get cards caught. The card clicks in and the card clicks out. It sounds simple, but honestly, I've gotten cards stuck or fought me on the way in and out.
Button: In the unboxing video, I questioned what the white button was for on the Turbo Everdrive. Since then, I've discovered that that button is how you go back to the main Everdrive OS. More on that later.
Switch. Also, I discovered a toggle switch on the side. You can toggle either PCEngine or TurboGrafx-16. This is what allows you to use the card on multiple systems. The systems have anti-import protection, so you'll turn this switch up or down until it works on whatever model you may have. Once you do, you're set for life. Then you're into the Everdrive OS and playing games in no time!
Plastic Shielding: When buying a Turbo Everdrive from Everdrive.Me you'll see only one style option. The style already has a plastic shield over the top of it. I'm glad this is in place. While you could absolutely find a seller that doesn't include any shield and just the naked Turbo Everdrive, I would assume it's not ideal. Yes, the Turbo Everdrive is strong and resists corrosion, etc. But I would say that for almost the same cost, having an extra layer of protection wouldn't hurt.
Matching? sticker: The other half of the build quality is the aesthetic design. The sticker that they place on the top isn't exactly part of the build, so much as it is said to design. The sticker is beautifully matched to the NTSC-U TurboGrafx-16 machine. The black sticker with the light orange and light green text match beautifully, the same goes for the font. If you have a PCEngine like me, it doesn't match 1 to 1, but it ain't ugly either!
Perfect fit: Down to the millimeter, this bad boy fits like a charm. They got the card dimensions correct even down to the thickness. The plastic shielding we talked about earlier protects what's exposed, but it does it without sacrificing function. It fits exactly in the large open space so that you can also keep the card from accidentally being pulled up. And of course, the Hu Card lock still works perfectly. If you watched the video, I fumbled with it because I forgot to push the whole Everdrive in far enough. But it only took 5 seconds to figure it out.
Cons:
Region Mods.  Not working on every type of region modded system (this is according to an official page). I don't know how true it is because of the aforementioned TurboDuo that was region modded and works with the Turbo Everdrive. But since nobody else online confirmed it wasn't working on their region modded system, it's hard to say. All hardware models are made different.
Maybe it does work and you need to switch your region mod to off to get it to work. Either way, if you buy this knowing that region mods are inconsistent and it doesn't work for you, then you need to be aware that you're on your own. It's still a bummer that they can't get it to consistently work across all region mods. Maybe a version 3 could fix this issue.
Compatibility. Running Krikzz's Everdrive OS, the Turbo Everdrive is not working with any CD games, SystemCard, or ArcadeCard. So before the Super SD System 3 elitists out there get crazy and make it seem like I was talking the Turbo Everdrive up, I'm not. I understand it has its flaws. Not being able to play a small chunk of the PC Engine/TurboGrafx 16 library is one of them for sure.
Operating System. It's ugly, but it gets the job done to start a game. That's not really my complaint. I'm more a bit peeved that there is not an in-game menu. So you cannot exit back to the main menu and choose another game. I would love to see an in-game menu. I am certain that it is not Krikzz's fault. If it could be included, it would be. So, don't shoot the messenger, but it sucks having to reset manually.
Saves. It doesn't have a save function. Nor a save state function built in. This again may be a limitation of the hardware, as Krikzz definitely has space to include a battery. So, in the grand scheme of things, this operates the games the way they were made. You have passwords or you play as far as you can and stop. The games that use boosters and save packs still work with those.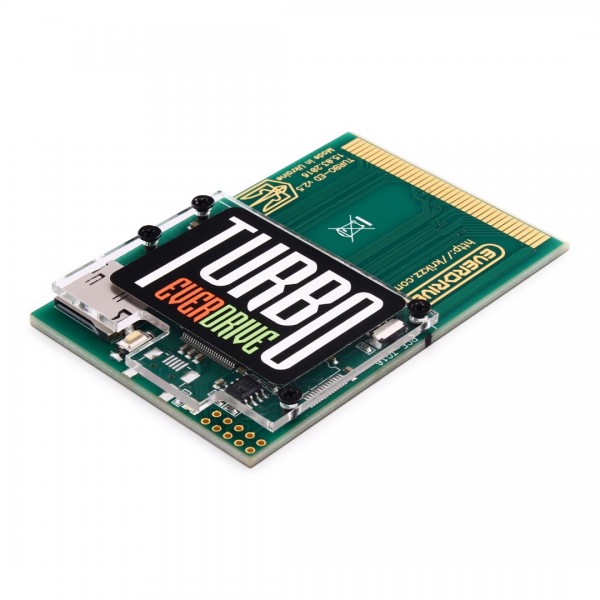 Final Thoughts:
What a frickin' treat this thing is! It runs the games it's capable of running as they're supposed to. And while it seems like there are several cons, it's still dramatically better than swapping Hu Cards left and right. It's a one-and-done system. Could they move the SD card slot? Yes. Could they make the reset button on the board larger for those who have the plastic shielding? Yes. Other than that though, this card is near perfection in my book. Especially if you compare it to buying every heavy hitter collectors game under the sun. You could get this and a lot of the non-heavy hitters and still spend less money. Then you put their ROMs all onto this one flash cart and you're set.
Purchase Links:
Turbo Everdrive from Everdrive.Me
All other Everdrives from Everdrive.Me