Super Smash Bros Ultimate for the Nintendo Switch hasn't even been officially released yet and we're already starting to see tools pop up for it.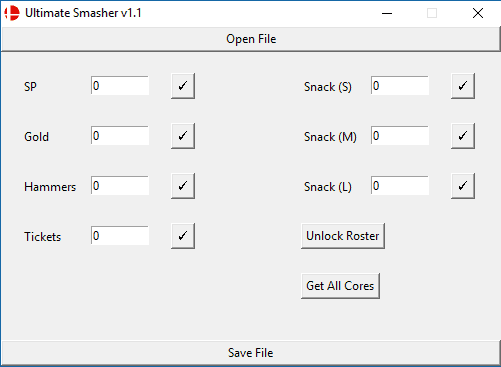 Developer CapitanRetraso has put together a simple save editor for adjusting your characters fighting ability without having to do all the work. Here are just some of the features Ultimate Smasher is able to do.
With Ultimate Smasher you can edit the amounts of:
Gold
SP
Hammers
Tickets
Snacks (S, M, L)
It also allows to:
Unlock/Lock characters
Get all Cores
Get all stickers
Get all spirits
Unlock all milestones
Unlock Mii clothes
Unlock stores
Unlock Exploration
Unlock gym
Unlock dojos
Unlock music
Get a full-sized Spirit Board
I know cheating is bad but it so much fun doing it, especially when you just don't have to time to put into a game with all your other responsibility going on in your life. That why tools like this are always nice to have around.
Download: Ultimate.Smasher.v1.2.zip