Every time you update your Nintendo Switch you burn yet another eFuse and most of us know that these eFUSEs and every important to keep. They do this to prevent downgrading or updating the firmware of a device.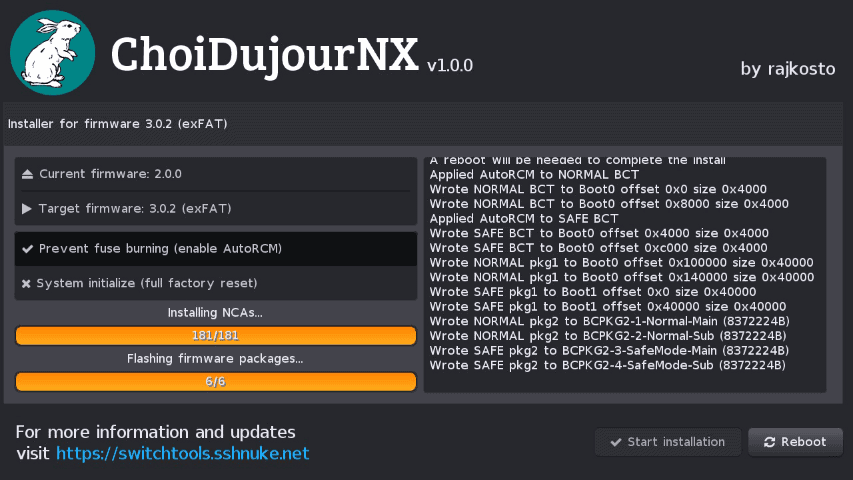 "The Nintendo Switch and Xbox 360's bootloaders, for instance, will check the amount of burned fuses before attempting to install a new firmware. The amount of fuses expected to be burnt depends on the hardware model and the firmware to be installed. If too many fuses are burnt (meaning the firmware to be installed is older than the current firmware) the bootloader will panic, preventing installation. After successfully installing a new firmware version, the system will burn the required amount of fuses to match the new expected amount."
The is where the homebrew app ChoiDujour comes in hand for installing Nintendo Switch firmware update packages directly on the console, without burning fuses!
Converts Nintendo Switch firmware update packages to installable images/files that can be transferred to the device itself
1.1.0 (21.07.2018) ChoiDujour110.zip – Lets you choose what patches to apply to generated FS.kip1 via —fspatches parameter (try nocmac,nogc,nosigchk)
1.0.2 (16.06.2018) ChoiDujour102.zip – Prefer placeholder content over registered if both are present
1.0.1 (16.06.2018) ChoiDujour101.zip – Fix critical bug where folder attributes weren't set
1.0.0 (15.06.2018) ChoiDujour100.zip – Initial release