Today I had the honor of  interviewing Ari Hackner. Who is Ari Hackner you ask? He is an 8 year old game developer that I found one day on Kickstarter and before I wrote this he has already reached his goal!  Here is what led me to this creative young boy.
"My  son Ari has a unique enthusiasm for computer technology, coding, and game development.  He spends his time drawing characters, creating animations, making music, researching, and coding games. He also produces original videos for his own Youtube channel "The Flying Creeper" with very little help from Mom and Dad.  The purpose of this Kickstarter project is to encourage Ari's creativity and teach him about self-promotion, perseverance, and a sense of pride upon completion."
"Ari will be designing and coding a video game in Click Team Fusion, a professional game design software.  He has raised enough money to buy the hardware and software for his project."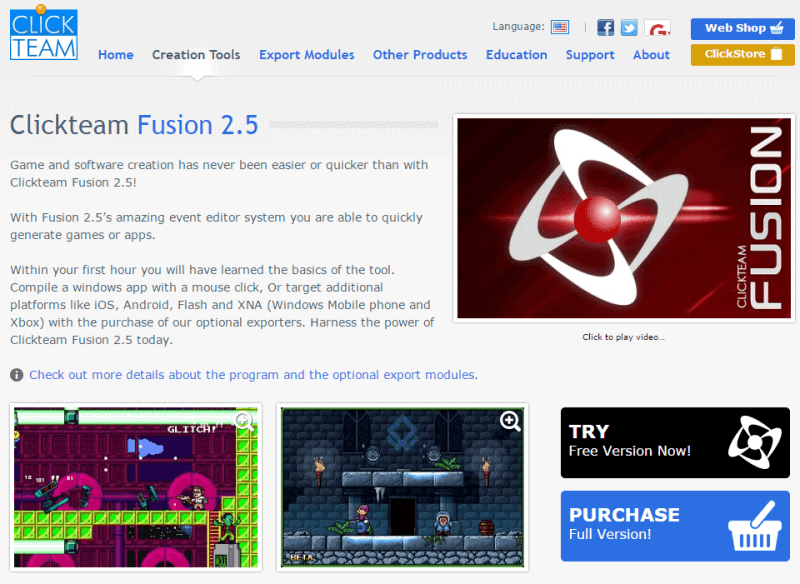 Ari has the help and support of his Mom and Dad. He also works with a mentor regularly, a 4th year college student in Computer Science at the University of Oregon. For today we will let Ari in his own words tell us a little about himself and get to know what moves him forward in his dreams of game development.

1. Ari please tell us a little about yourself.
As a kid I like video games (as explained in my Kickstarter video), and I also like going outdoor tent camping.
2 What made you want to make video games?
Ever since I was 3 or 4 years old I liked going on my Mom's Mac and playing flash games. I also liked going on iPads and playing mobile apps. My first app was Angry Birds. When I was about 6 years old I thought a lot about coding video games. I also asked a lot of coding questions to my dad. After doing some research my dad found Scratch, an easy-to-learn video game design software. Before I knew it I made my first game. This all carried on until a few months ago. I went to a camp where I made my first game in Multi-Media-Fusion by Click Team.  
3. What do you find to be your biggest challenge when making a game?
You may think that the hardest part of making a video game is coding, but no — design can be really hard. You really have to think about questions like what works, and what doesn't and what fits into a game, and what doesn't.
4. Is there one system you would really like to make games for? 
I love Nintendo consoles. My first one was the 3ds, and later I got a WiiU. The WiiU and 3ds are my main selections.
5. Who are some of your biggest heroes?
One of my main heroes is Steve Wozniak because he invented the first home computer with a screen, mouse, and keyboard. He also founded Apple, one of the biggest companies that makes the iPod, iPhone, iPad, Apple TV, and Apple Watch.    
6. What are some of your favorite games?
As much as I love Nintendo, I also like to play independent games such as 1001 Spikes, (2014 by Nicalis) Super Meat Boy, (2010 by Team Meat),
BIT.TRIP RUNNER (2010 by Gaijin), and Fez (2013 by Polytron).
7. What made you want to have your own youtube channel?
I started my Youtube channel, Theflyingcreeper, after watching other Youtubers like StampyLongHead, TheDiamondMinecart, and PopularMMos.
8. Do you enjoy modding Minecraft over playing it normal?
I really like playing with Minecraft mods. I surf the web looking for new mods. So yeah, overall I like it more with extra items, enemies, and blocks.
9. What new game are you looking forward to being released?
As this is being written on September 2, 2015, 

8:20 PM

Pacific Standard Time, I am waiting and waiting for SuperMarioMaker by Nintendo to be released on

September 11

. The game is a Mario level creator for WiiU with different art and physics pallets. The current ones are Super Mario Bros., Super Mario Bros.3, Super Mario World, and New Super Mario Bros. U.      
10. Is there anything you would like to say to all our readers?
So overall I'm just a sweet 8-year-old kid who likes MythBusters, swimming, ice cream, coding, and video games. So yeah that's me.
Well there you have it and please check out his Youtube channel The Flying Creeper. A big thank you goes out to Ari for his time with us.
As always this is @riddle43 and remember, do it for the love of the game!