Hey everyone, it's been a while since we've covered an audio device. So why not one that actually pertains to gaming this time? LucidSound reached out to us asking if we'd like to cover one of their newer products. Obviously, of the two that were needing reviews, the best one they had in terms of features was their LS10P/LS10X models ($59.99). I chose to review the LS10X model to work on my XBOX One natively. So without further adieu, we have much to talk about, let's get into it!
Unboxing Video:
Description:
'Upgrade your audio with the LS10X Stereo Gaming headset. Lightweight and comfortable, the LS10X allows you to stay focused on the game with LucidSound's proprietary quick-access audio adjustments. Improve your positional awareness with Windows Sonic Surround Sound on Xbox One. The precision mic ensures your team hears you and the 50mm drivers deliver clear chat audio from your friends.'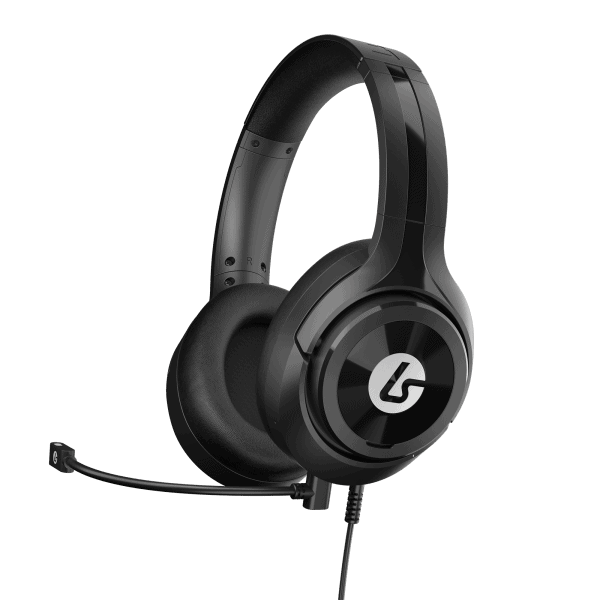 Features:
'Premium Audio: Custom tuned 50mm speakers with state-of-the-art neodymium magnets provide deep bass and clear highs.
Surround Sound Ready: Optimized to deliver immersive Windows Sonic or Dolby Atmos Surround sound from Xbox One devices.
Crystal-Clear Chat with Dual Mics: Dual microphone design offers a flexible boom mic for intense online gameplay. Remove the boom mic to use the integrated mic for mobile.
Intuitive Controls: Adjust volume with the easily accessible on-ear controls.
Designed for Comfort: Plush earcups, light-weight frame and over-ear design for comfort during long play sessions.
Customizable Speaker Plates: Update the look of your LS10 headset with magnetic speaker plates.
Compatibility: LS10X: Xbox One | Mobile
Price: $59.99′
Pros:
Compatibility: The LS10X is advertised as being an XBOX One headset. This also means that you can use it on your XBOX 360 if you'd like, but I'm guessing that you probably won't. Additionally, it works out of the box on any PC for basic audio out or recording functionality. Outside of that, they also advertise it as working for mobile. You can plug it into your cell phone and take out the large microphone and use the internal microphone on the cup of the headphones should you need to make calls while listening to music. Naturally, these can work for anything that has a headphone jack, I tested it on my 3DS for example. However, it's advertised secondary functions may not be there like microphone or controls on the headset or spatial audio.
Build Quality: This is where the LS1oX headset really shines. Whenever I buy a mid-range headset, I'm always sort of afraid. They seem to toe the line of either being flimsy and eventually break or they knock it out of the park. Well here you not only have great, sturdy plastics, but you also have so many comfort and storage options at hand. First off, you can clearly extend the length of the headphone arms so that if you need the cups to come down further, they will. Between that and the incredibly thick cup padding, you're in for the most comfortable $60 headphones around. The ultra flexible microphone is also incredibly well built. Every place that a cord starts or ends there is an extreme amount of rubber around it so that it will not fray. And best of all for storage, the headset can lie all of the way flat due to the articulation above the cups!
Dual Microphones: It's incredibly easy to speak or record audio with the LS10X headset. What's even better than that is that the quality of the voice is not terribly crackly and typically sounds great in recordings. And that's just on the software side of things. As I had mentioned before, there are two microphones built into the headset. One of them is embedded in the cup so that you can make phone calls or do low-level speech for Siri (or your respective digital assistant). The longer microphone can be snapped into the same cup via a port on the bottom. It snaps in very snugly, adding another point to the build quality of the headset. Now, using that microphone you get much better vocal quality for the person on the other end and believe me, they appreciate it. But that microphone can also be used if you're a streamer and don't want to have some ultra expensive recording microphone. Especially because of the space that they take up on a desk or tabletop. The same long, flexible microphone can be removed if it's in the way or you aren't using it. LucidSound even had the presence of mind to include a rubber cover for the open hole. That way it doesn't get dusty or dirty and gum up the contacts inside the cup.
LED: One more neat thing that the external microphone has going for it is a visual reminder system. Have you ever been playing a game online and muted yourself for a few minutes. And maybe in those few minutes you talk to a family member in the room or maybe take a phone call. Then shortly after you go and jump back into an online match and you're trying to communicate with others and they aren't responding or are getting you all killed because they aren't taking your sage advice and you're wondering why and then you realize you forgot to unmute yourself? Yeah, this headset aims to alleviate the whole "I forgot to turn off my mute" issue that people constantly run into. They do this by having an LED light on the end of the microphone. It's not an incredibly bright light, so it doesn't annoy you whilst playing a game. However, it will keep you in the know sooner that you didn't turn your mute off when you needed to talk to someone.
Side Controls: If you're someone who hates having to hit the home button to make headset settings show up on your respective console or hates trying to find the inline controls on your dangling audio cord, LucidSound brings another solution to the table. On the same cup that houses the microphone port and internal microphone, there are side controls. There is a picture of this down below by my "Overall Thoughts" section. But for those wondering what controls are at hand here, LucidSound states, "Turn the wheel to control volume. Push the center button to mute and unmute the mic." Surprisingly, these controls work extremely well. When you're just playing with the controls while the headset isn't plugged into anything, the button feels aimless and like you would accidentally press different things. But when it's plugged in and being used, it's truly a fine-tuned experience.
Cons:
Cord Length: The cord length to me is way too short. Yes, I understand that the first advertised use of these headphones is to be used with a controller. However, the very next use is for using with the Windows Sonic on PC. This may be fine if you have a laptop, however, I don't. So because of this pair of headphones, I had to buy an extension cord. And it's not just a headphone extension cord that I needed. I needed one that also supports the microphone as well, as the LS10X has 2 microphones supported. This isn't a huge complaint, mind you, but it's something to consider that if you have a large tower down below your desk, you'll need to get a proper extension cord to enjoy these nice headphones comfortably. (Here is the one I got that ranges from 1-25 feet)
Spatial Audio: This is something that they kept touting and advertising. In fact, it was the reason that I had chose the LS10X over LS1X. However, the spatial sound has an asterisk behind it. And that asterisk is that you either have to have Windows 10 and have Windows Sonic enabled. If you don't have Windows 7 or are running a Mac or Linux Distro, this isn't for you. So how well does it work when it's working? Well pretty dang good, although I will say that I just found very little compatibility with this. Not all video and video games support it and so I chalk it up to if you have games that are compatible with it, great. If you don't, don't get too angry about it as the headset supports it, you just need to find media that gives you the spatial audio.
When it comes to the XBOX One itself, it's very much just not there. The audio quality when it comes to spatial sounds is the same as any other pair of headphones. I tried 4 different games and they all sounded the exact same between the LS10X and a pair of XBOX's Stereo Headset. It says on their site that you can get Surround Sound on XBOX One, but I truly couldn't notice it. Maybe it was the games. If there is a compatible game list, they should probably let us know what games those are. To be fair, LucidSound also carriers far superior headsets for sale with surround sound support via multiple different applications. If that is your aim, then check out their full headset lineup here.
Headphone Plate: While you can swap out the plates on the left and right ear, I feel that it's maybe more of a marketing ploy to make back some money on this. If this weren't true, it would've come with another set of plates in the box. This controller is so good but it's priced quite low, so it's clear they're trying to recoup additional costs and make what the headset is worth. I'd stick with your black plates, you never really see them anyway.
Overall Thoughts:
This headset is absolutely great. I'm glad to have it as it's a fantastic option for the people who don't have a lot of money but prefer a higher quality option. This is a great stop gap option so that you could save to get a higher quality LucidSound option further down the road. If you haven't noticed by now, LucidSound products are becoming easier to find in more and more stores and this is a name that won't soon be going away for obvious reasons.
Do I wish that this headset was firmware upgradable and could be improved to work with more and more spatial audio drivers and apps? Absolutely I do. But since I have Windows 10, that complaint is more for someone else who finds it to be a deal breaker because they own a Mac computer. I find this to be on par, if not more superior to the aforementioned stock XBOX Stereo Headset and it retails at the same cost.
Ready to buy a LS10X? Click here. If you'd rather buy a LS10P, click here.
If you like the author's work, follow him on Twitter @V1RACY and don't forget to enter the weekly giveaways!
And as always, stay tuned here on Hackinformer.com for so much more and follow us on Twitter @Hackinformer