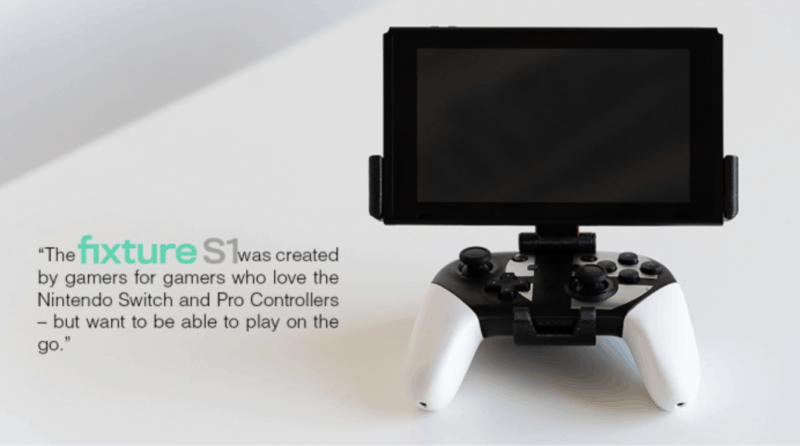 Fixture S1 is now on the way!  For context, while playing your Switch on the Go, have you ever thought to yourself "Man, the switch is awesome, but I sure wish I can take my Nintendo Switch Controller with me as well while playing it" Or " I wish I had a more viable kickstand while on the go for my Switch". Well worry no more, the FixtureGaming team has finally made available the Fixture S1. Additionally, it is finally available for purchase/funding on Indiegogo now.
If you remember during our E3 2019 coverage, we went hands-on look with the Fixture S1 (at the time known as the SwitchFix). Since then the development has developed at a progressive rate. Additionally, a name change did occur and the team went all-in on the project. it is fantastic to see such a dedicated team behind this project.
Since the hands-on time at E3 to now, the design has changed somewhat. Additionally, the changes are more user-friendly than ever before. The Fixture S1 has gone from its prototype stages to its final production model. It is finally polished to ensure it is a tool (or fixture) intended to be portable and ready to deploy at any time. This is excellent to avoid the dreaded rise of the Joy-Con drift and overall comfort for the handheld mode.
There are currently two models of the Fixture S1 available for backing/purchase. Each one has its own perks (listed above). From a personal standpoint, the Fixture S1 was a godsend when I played with the prototype at E3 2019. I love and adore my Nintendo Switch. It is my goto handheld/console and I honestly wish every game that comes out (especially more JRPGS) will get a switch port down the line. I also mainly play it in handheld mode. The issue with this is that my hands especially don't like the joy-cons without some type of grip. This eliminates the need for getting a grip case. I can get Grip covers for my Joy-Cons or just default to my Pro controller moving forward.
This is something to look out for. I said at E3, this will be a gamechanger, I still stand by what I state. If you want to fund/purchase the Fixture S1, hit up the IndieGogo here. Move quickly, as they are selling out quick. I know I am looking forward to the day when I get my hands on one.