Still with us, good because we have plenty more to share with you from the show floor? The event is halfway over now and we have collected information let out on this second day. We also have a lot more pictures we've taken from the show floor.  So enjoy this article and then make sure you head back here for the last day (tomorrow) because that's another full day of coverage!
Core Gaming:
The people at Mobile edge were on the show floor selling their gaming backpacks as well as other products. Their backpacks are designed for transporting larger gaming rigs as well as VR setups. The other products they had on hand were clothing, hats, water bottles, battery banks and hot sauce(?). If you're at E3 these 3 days, stop by their booth as their packs are definitely on sale. The bags and devices they sell are all TSA and Checkpoint friendly. This means you should have no problem getting the stuff through the airports in a timely manner, they still fit in the X-Ray machines, and you can simply open and show the products since the bags open entirely instead of partially.
VR:
There's a load of new games coming to VR. Here is a condensed list from E3 so far. Dance Central, Stormland (from Insomniac Games), Arizona Sunshine is getting it's first DLC pack, Espire 1,  and The Curious Tale of Stolen Pets. There were some other things like gameplay footage for Doctor Who: The Edge of Time, footage for Battlewake, Spaceteam VR, and Acron: Attack of the Squirrels.
Burgertime Party:
The retro action classic returns with a fresh look for Chef Peter Pepper and his Food Foes. This arcade-style platform puzzler offers up quick-serve gameplay, a wide menu of features, and more than a hundred mouthwatering stages. The food fight begins at E3 with up to four players in the new multiplayer mode! This game looks so feisty, we decided to tack on the trailer for it. Bon Appetit!
The Witcher 3-The Wild Hunt:
More information came out today that kind of explained what sort of quality you'll see out of this game on the Switch. While the entire game is there, some people were questioning resolution and frame rate. We were able to get that figured out and the official stats are as follows. When you're playing it undocked in handheld mode, the best you're going to get out of the fidelity is 540p. If you're playing docked, you'll at least have an HD resolution, but it won't be 1080p. You'll be getting a resolution at 720p playing that way. Additionally, we found out that the cartridge will be 32GB's in size and that all of the content will be on the cartridge so there will be no need to download the extra content like you may have done on XBOX One, PS4, or PC.
Control:
They've announced an official release date for this game that got announced last year. The game will officially release August 27th, 2019. The PC version has officially been announced to support ray tracing. The PC version is playable at E3 on PC's running the Nvidia GeForce RTX. Control is a third-person action-adventure set in the shape-shifting building of the Federal Bureau of Control, a secret government agency that keeps the supernatural out of the public eye. If you're out on the show floor, you have to stop by the 505 Games booth and check it out. You will not be disappointed.
Smach Z:
This handheld PC has finally reached it's final form. We got to see it up close and we're here to report some stats on it! This device features a 6 inch, 1920 x 1080 pixel touchscreen display. On the left and right of the screen are built in game controllers. The sizing of buttons is strange, but that doesn't mean that it plays strangely. The portable PC gets 2-7 hours of battery life depending on the game, volume, screen brightness, etc. The great thing is, the little portable can be charged within 45 minutes. You'll find multiple other features on it such as USB Type-C and Type-A. As well as micro USB ports, a DisplayPort, and microSD card slot. Here is the pricing and stats, "Smach Z – 4GB RAM/64GB storage/no camera for $629 (list price $699). Smach Z Pro – 8GB RAM/128GB storage/5MP camera for $809 ($899 list price). Smach Z Ultra – 16GB RAM/256GB storage/5MP camera for $989 ($1099 list price)". If you're wanting to preorder this, you can do so by clicking here.
Harold Halibut:
This title is totally a game that has been built out of clay! This game is so cute and well thought out and painstakingly detailed. I couldn't even put this underwater tale into words. Here is a quick synopsis for you: "Dive into this nautic adventure as curiosity will guide you through a space shipwreck on an unknown planet made up of water. When one of the lead scientists still on board tries to unriddle the possibility of a relaunch young Janitor Harold is around to assist her. Join Harold in his clumsy undertakings to stir up the ark-like ship's stale day-to-day life and find the secrets that lie behind its doors. Underwater atmosphere, self-reflective humor, and contemporary adventure mechanics make up the foundation of this game created entirely out of craft supplies."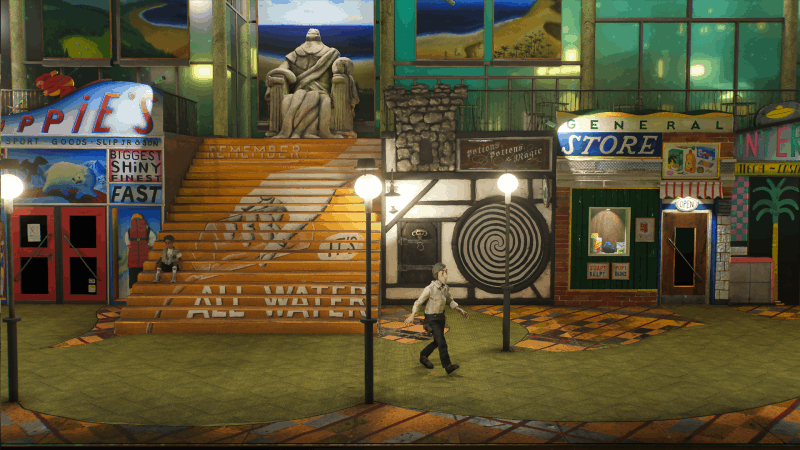 Remnant-From the Ashes:
This is a new shooter and it looks superb. It's a multiplayer game that starts on Earth and then you go to other worlds and dimensions to save the earth. The playthroughs are generated randomly and everyone will get different bosses and get different weapons when they beat those bosses. Meaning different friends can each get different powered weapons at different times. This game has loot for everything. Bosses, challenges, randomly hidden boxes. All loot items are rare, high powered items. They want you to be as powerful as fast as you can. The powerful weapons can also be leveled up higher than what you find them at. This game also has a whole melee system. There are even melee weapons. You can dual wield or hold just one item. The flexibility in this shooter is crazy. Take a look!
Heroland:
"Part-time heroes wanted! A sinister plot is uncovered and the fate of the theme park (and the world!) is in the hands of Lucky the tour guide, a spoiled prince by the name of Elric, and a ragtag band of tourists-turned-heroes. This highly customizable comedy RPG, complete with classic Active Time Battle-style combat, …playable in English for the first time…"
Switchfix:
"SwitchFix can be used to connect the Nintendo Switch to the Pro Controller for portable play. It is designed to be exceptionally ergonomic by allowing the user to balance the center of mass of the console directly over his/her hands." We got our hands on it and were able to snap some pictures of the prototype up close. If you're interested in this, support them via IndieGoGo by clicking here.
Children of Morta:
This game from Dead Mage is a story-driven hack and slash roguelite game which will put you smack dab in the middle of a variety of adventures of the Bergson family. You'll find that the game is both single player and co-op two player. The worlds are constantly changing in Children of Morta, so if you play multiple times, you'll have a different experience each time as well. The game is releasing on all majors console and PC with no release date yet.
Gears 5:
XBOX has announced a $260 collectors edition for Gears of War 5. It features a fully flying Jack Drone. There are plenty of other items too so if the $260 price tag seems to steep, don't worry. Here's a full list of everything else mentioned that is available pre-order now.
Contains a Six Axis Gyroscope Flight System with multiple flight modes, including Hover Mode for novice Drone Flyers.
Contains popular drone functions including, Auto Take Off, Auto Land, and Return Home.
Contains LED lights for authentic Gears 5 Jack experience
Built-in Camera that captures both Photos and Video
Drone Controller included for precision flying.
Dedicated Smartphone app for photo and video capabilities.
Comes with two Lithium Ion Battery Packs with USB charger. One extra battery pack for double the Flight Time.
Custom display stand included with iconic COG design.
Packaged inside DBi drone crate Collector's box, Special Edition packaging.
Collector's Edition- only, curated collectibles also in the box include; Baird ID badge with Lanyard, DBi Patch, Jack Schematic art print, and collector's DBi booklet.
Sakuna-Of Rice and Ruin:
"The resourceful harvest goddess Sakuna spreads her magic and charm to the Nintendo Switch™ system, alongside the previously announced PlayStation®4 computer entertainment system and PC versions.  Players take on the role of Sakuna, a spoiled harvest goddess banished to a dangerous island with a group of outcast humans. As she explores the beautiful, forbidding environments of the island, she will also find a home in a mountain village, proving herself worthy of her title by harvesting rice and bettering the lives of humans. In addition to being a fresh take on Japanese mythology and a love letter to action games, Sakuna: Of Rice and Ruin is an ode to rice and an engrossing simulation of the craft behind the agriculture"
Trails of Cold Steel III:
We got some hands-on time withThe Legend of Heroes: Trails of Cold Steel III from NIS. This game is the third in the series, unknown if there will be another one. But this single-player title is coming out on September 24th, 2019 in the US and September 27th, 2019 in Europe for the PlayStation 4. There is also an "Early Enrollment Edition" coming out for it which is basically the collector's edition. It features extra stuff such as a 5 track soundtrack, a softcover art book, and a reversible cover for the game. This title just has so much involved in it. Instead of trying to put all of the facts released so far, I figured we could list it out the way it was given to us.
"Trails of Cold Steel III invites players into a world full of intrigue and excitement that is years in the making. They will embark on a whirlwind tour through the never-before-seen lands of the recently expanded Erebonian countryside, and encounter fresh faces as well as old friends familiar to fans of the series. In true Trails fashion, the deep, engaging story pairs with an incredible cast of characters and a combat system refined over decades of innovative RPG worldbuilding. This renowned title has also now been developed natively for PlayStation®4 hardware, a series first. Key Features: Welcome to the New Class VII – Explore the newly annexed lands of the Empire with a brand new squad, and catch up with familiar faces from the past. An Immersive Story – Experience an epic story developed across three titles, and crafted for new and old fans alike. Also includes an interactive introduction to catch up new players to the ongoing story so anyone can dive right into the world of Trails of Cold Steel. Combat Honed to a Fine Edge – Challenge oncoming threats with a combat system that has been refined over the course of decades. The addition of features like Brave Order and the Break System open up new possibilities in battle."
Metalstorm:
Today Retro-Bit finally showed off what you'll get if you buy their Collector's Edition of Metalstorm. You'll obviously get the classic NES title, reproduced by them and IREM. There will also be a full-color manual inside of the box with the game. Best of all, the coup de grace, is the figurine. It's just the prototype in the photo below, but it will be fully colored inside of the box. The game will be releasing in October 2019 and it will be a cost of $44.99. You will be able to buy it on Castlemaniagames.com and Limitedrungames.com.
If you like the author's work, follow him on Twitter @V1RACY and don't forget to enter the weekly giveaways!
And as always, stay tuned here on Hackinformer.com for so much more and follow us on Twitter @Hackinformer