At CES 2023, bHaptics was introducing TactGlove, the first consumer-ready haptic gloves which are ready to be used with Meta Quest standalone headsets and other camera-based hand-tracking systems. bHaptics also provides a wide range of consumer-grade haptic devices, called the TactSuit series, which includes TactSuit X40 and X16 haptic vests. TactSuit is fully programmable by using the Unreal and Unity 3D SDKs, and the 70 individually controllable haptic feedback points throughout the TactSuit devices bring a whole new experience through elaborate and precise haptic feedback.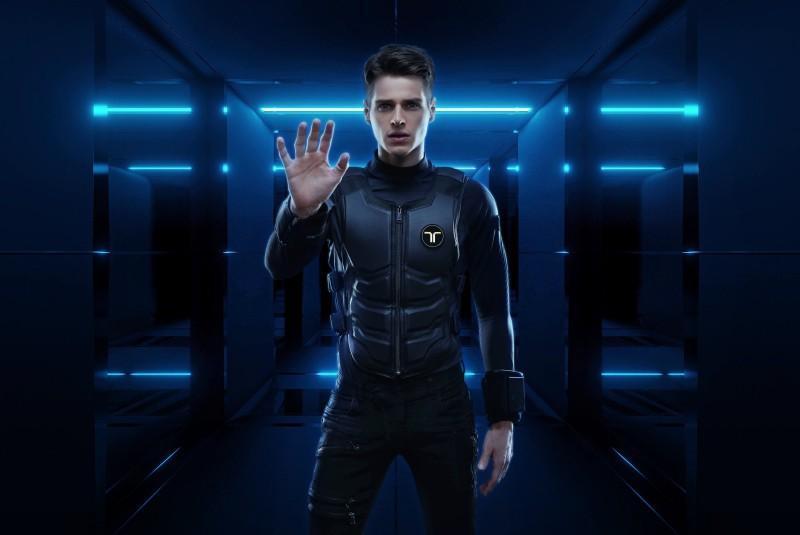 bHaptics has partnered with many VR developers over the years to make haptic technology available and enjoyable for consumers. As a result, almost 200 VR titles now provide native support for TactSuit and users can easily enjoy real-time haptic feedback that's perfectly in sync with in-game events, which not only increases the level of immersion but also boosts the gaming experience. They will continue to endeavor to grow the game library and expand support to other platforms as well.
The main features of TactGlove are:
Affordable Price Point: $299 per pair
Compatibility with commercial VR headsets including Meta Quest 2
Natural, realistic haptic feedback based on the company's neuromorphic vibration control algorithm
As we move into the Metaverse era, the importance of haptic feedback has been growing more than ever. Unfortunately, the market has been not available for consumers mainly due to the bulky, uncomfortable designs and extreme prices – tens of thousands of dollars. bHaptics's TactGlove, however, can be worn like regular gloves, is compatible with commercial VR/AR
headsets with camera-based hand tracking systems, including Meta Quest 2, and costs only $299 USD per pair. The new haptic gloves pack a total of 12 Linear Resonant Actuator-type motors (LRA), which allow delicate and sophisticated feedback at the fingertips and wrists. The 12 motors can be individually controlled and programmed using the company's free, easy-to-use SDKs for Unreal Engine and Unity 3D. For natural haptic experiences, bHaptics developed a neuromorphic algorithm that dynamically controls the
vibration pattern of motors to imitate the human tactile adaptation process and create a tactile illusion.
The algorithm enables an enhanced spatial resolution in the hands using only a few motors, providing a natural, realistic haptic experience in virtual worlds at an affordable price. TactGlove consists of 3 components: inner gloves, main body, and outer gloves. The outer gloves come in 3 colors, namely, black, yellow, and blue. Users can switch out the color of gloves depending on their hand tracking systems or their color preference. TactGlove comes in 4 different sizes from small to extra-large so that anyone can find gloves that fit their hands perfectly. Made of light
and stretch fabric, TactGlove is worn comfortably just like regular gloves. Considering the hygienic factor, easily washable and replaceable sets of inner gloves are provided with TactGlove.
VR-Ready Haptic Gloves TactGlove uses Bluetooth connection and can seamlessly pair with commercial standalone VR headsets with camera-based hand tracking systems, including Meta Quest 2. bHaptics partnered with Holonautic, the creators of the Hand Physics Lab, to showcase TactGlove at CES 2023. During the show, visitors will be able to experience haptic feedback while patting a cat, shaking hands, and hugging a virtual avatar at the company's booth located at #15869 in LVCC – Central Hall. bHaptics is also bringing an in-house demo, which truly demonstrates the impact of haptic feedback in virtual worlds. In the demo, visitors will be able to experience some events both with and without haptic feedback.
"Haptic feedback is crucial in virtual interaction. We are confident that you will miss having haptic feedback once you experience it." "We are committed to connecting people through haptic technology. We believe TactGlove will serve as a haptic interface that can truly connect people through more natural interaction in virtual worlds," said Kiuk Gwak, CEO of bHaptics. "We are excited for infinite possibilities that TactGlove can bring and offer as we move into the Metaverse era." The company plans to officially launch TactGlove in Feb. 2023.
Full Body Haptic Suit bHaptics is also showcasing the rest of the TactSuit lineup: TactSuit X16, and X40 haptic vests; TactVisor haptic face cushion for VR HMDs; Tactosy for Arms, Hands, and Feet. The TactSuit X series is now natively supported by almost 200 VR titles, including Pavlov VR, Contractors, Phasmophobia, VRChat, Onward, and Zenith: The Last City. Although the TactSuit is mostly popular in VR gaming, it has a wide range of applications from music monitoring to VR training. All bHaptics products feature lag-free wireless connectivity to bring the best possible haptics experience. The entire lineup is available for purchase on the official bHaptics website at www.bhaptics.com.