A few of days ago, SilicaAndPina updated PSVIMGTOOLS front end to have some new features (listed below). For those of you who are new to PSVIMGTOOLS, the official description says 'This is a GUI Interface For Team Molecule / Yifanlu's PSVIMGTools Which is a tool that can be used to decrypt & extract PSVita Backup Files (.psvimg)'.  Like always this works on all current firmwares and should continue to work on future firmware's as well!
'Changelog:
On windows, the icon in the title bar is no longer the default "tk" icon
On windows .cmbackup should now be set to open with psvimgtools-frontend by default (however this may only work if the app is run as administrator..)
The application now automatically checks for updates and asks if you want to install them. (can be disabled with launch argument "noUpdateCheck")
SonyCMA/OpenCMA (Windows Ver) is now partially supported.
DevkitCMA is now partially supported
When the program cannot find your account it will automatically prompt you to add an account via the default Add Account menu
When the program cannot find the CMADir you will be prompted to enter one via the default CMA Dir folder
Skype App Easyinstaller will now ask: "SKYPE DOESNT WORK ON 3.65+ would you like to continue the installation?" when you try to install it
Launch argument "s" will skip the Startup Check and will instantly launch the application, NOTE: This does NOT mean the application is 100% Guaranteed to work in this mode.NOTE: ADDED MACOS BETA BUILD
MUST BE RUN FROM TERMINAL
"./run" IN THE EXTRACTED FOLDER!
ALSO UNTRUSTED DEVELOPERS MUST BE ALLOWED.
THIS BUILD IS EXTREEEMMMEELLY BUGGY RIGHT NOW!'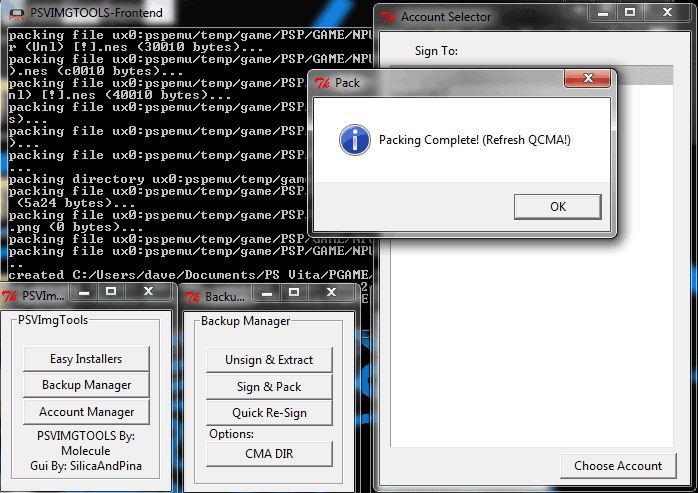 Downloads
55.8 MBpsvimgtools-frontend-linux64.tar.gz
56.2 MBpsvimgtools-frontend-win32-setup.exe
55.4 MBpsvimgtools-frontend-win32.zip
55.8 MBpsvimgtools-frontend-win64.zip
56.7 MBpsvimgtools-frontend-win64-setup.exe
53.4 MBpsvimgtools-frontend-macos.zip
With this tool you and do so much with having access to the app.db file and more. Here's how you can install your own custom bubbles on any FW.
How to install Emulator & Homebrew bubbles on the PSVita with FW3.65
Stay tuned here on Hackinformer.com for all things PS Vita and follow us on Twitter @Hackinformer !