Devolver Digital's newer style of press conferences are nothing to shake a stick at. They really have no way to preface them, I will say this though–If you get a chance to watch it some other time after reading this highlight article, do it. The whole thing is scripted and full of CGI and practical effects, it's great fun.
Scum:Season 2-A supermax simulator. More drones, more weapons, can you do it? It looks like it has a zombie mode because the bodies come back after they die!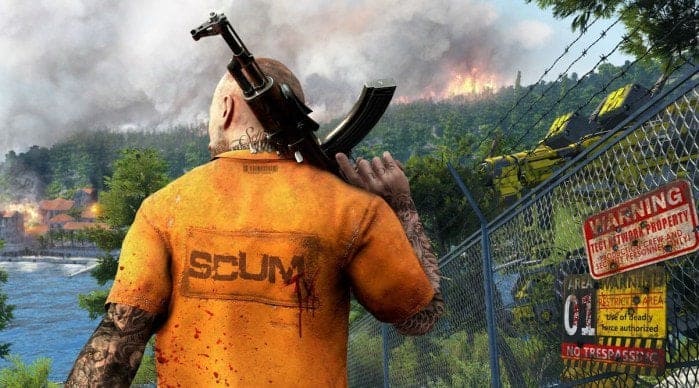 My Friend Pedro-It appears to be a 2D platformer, 3rd person shooter. Take that description as you will. You can swing, jump, and run through levels. Additionally, you can dual wield your handguns. There are several interesting gameplay mechanics such as ricocheting bullets to hit hard to reach baddies.
Metal Wolf Chaos XD-We all knew this bad boy was coming. FromSoftware dropped the ball, but Devolver picked it back up and put it into your hands! Coming to the XBOX One, the PS4, and PC. They've updated the graphics, gave it a widescreen makeover, and kept the fun cheesy voiceovers. It comes out this year!
The reason Devolver's press conferences are short is because they're very crude tongue in cheek pokes at the industry. So they're fully scripted, hilarious, and absolutely fun. But they do still show off some stuff that Devolver has in the works of course. Basically a game for every 5 minutes of scripted awesome. I would share the Youtube link, but it only streamed on Twitch.
If you like the author's work, follow him on Twitter @V1RACY and don't forget to enter the weekly giveaways!
And as always, stay tuned here on Hackinformer.com for so much more and follow us on Twitter @Hackinformer