There have been more accessories in its first year alone than I think ever existed for the Wii U's entire lifetime. Today, we're looking at another accessory for the Switch, because it's a great system and being a portable system its got a lot of accessories and we want to help weed out those accessories you should avoid and the ones worth picking up. The accessory that we're looking at today is the SwitchCase Classic by Satisfye ($34.99, at the time of this writing, on sale for $27.99). Does this case live up to its namesake and satisfy all of your Switch transportation needs? Or does it simply come up short? I will tell you that and so much more, so let's begin!
Quick Description:
'The absolute best case on the market. Oozing with premium materials and build quality, you will be hard pressed to find a better on the market. Soft touch PU leather exterior creates a long lasting and water resistant exterior; this case does not fear the rain.
Designed to be both discrete and stylish you can take this proudly into any public setting.'
Features:
'SUPERIOR CONSTRUCTION & DESIGN: Nintendo Switch Protection – Over engineered EVA hard case Switch covers are crafted with extra-strength for travel, water resistant exterior to protect against shock, drops, scratches, dust.
PREMIUM RUBBER ZIPPER DESIGN: Interior rubber zippers protect your JoyCons and Nintendo Switch from scratching. Exterior rubber zippers remove that annoying jingling noise when carrying around or traveling with your Nintendo Switch travel case.
MASSIVE STORAGE: Store your Joy-Con controllers, power banks, headphones, 20 game card slots, the Nintendo Switch, charging cables, and SD cards. Gain even more storage with our unique flap pocket pouch, designed for amiibo backups, credit cards, cash, Micro SD cards and so much more.
HEAVY-DUTY, DETACHABLE WRISTLET: Each compact, lightweight Satisfye Nintendo travel carrying case comes with soft-touch wrist strap and chrome-lined detachable hook for carrying.
3-YEAR WARRANTY – SATISFACTION GUARANTEED: We are so confident in our superior build quality that we offer a 3-year warranty from all defects on all of our products. Simply put, you will not find a more premium quality product on the market today.'
Storage:
The main most pocket on the wall that doesn't hold the Switch is actually a large enough pocket to hold a New Nintendo 3DS XL. To do this I simply left the pocket empty, left it zipped shut and simply rested my NN3DSXL in that whole wall and it fits perfectly. The second zipper pouch was still large enough for a 2200mAh bank, my headphones, and the 2 Joy-Con bumpers. There are also 20 slots for Switch game carts. I will only ever have the one physical game to leave in my Switch, but I also found that it's a good idea to put SD Card adapters in these holes. That way you have a way to hold extra Micro SD cards without simply letting them bounce about in the zipper pocket. Most, if not all, Micro SD cards comes with SD Card adapters anyhow. Furthermore, if you put a 3DS or DS in the other half of the case, you can fit 3DS and DS games in the slots. This makes the case more versatile overall. A Vita would also fit in that other half, so if you're more of a Sony fan, you can easily put Vita carts in these pockets as well.
Crush Protection:
I took this with me on a trip from where I live to Washington DC for a convention and then back again. To say that this case was squished into various plane, hotel, and vehicle storage locations is at the very least, an understatement. And to be completely frank, I was pretty terrified that something was going to happen. To the naked eye, this case looks and feels like you could sit on it and it would be fine. But you can still never thoroughly trust something that you just purchased.
But boy, was I wrong. This thing not only took the aforementioned beating of traveling for 4 days, but it doesn't even look like I took a trip. Some things in this world can stand up against all odds, but start to show their struggle after a while. This thing still looks like it just came out of the packaging. So, yeah, this thing can be pretty well crushed and it won't ever cave in. Now, obviously, time will be the decider in terms of how well it will continue to hold up. But from what I could tell from the travel it looks like there are 2 equal sides. Each side is one half of this hard case. You zip them up at the exact center on a horizontal plane. These 2 equal sides coming together at the exact same place help push equal exertion the opposite way. If there was a small lid and the bottom half was deep, I feel like the top half would cave in. All in all, I was so tremendously surprised. I can't speak enough good praise about how well it fought back against the pressure to protect my Switch.
Water Protection:
Water protection for my devices is always something that I feel like I need. I've literally never spilled anything on any of my electronics or dropped anything in water (knock on wood). But there is still a risk of that or a risk that someone else in my vicinity may backhand their drink onto the table where I left my Switch. For this one, I definitely could sit here and talk about how good it is in terms of protecting against liquid. But instead, I had a moderate amount of water poured directly onto the case! What was the outcome? Check the video below, but here's a hint, I still have a fully functional Nintendo Switch.
As you see, we do it all pretty quickly. This was to try to emulate a quick spill with a natural quick clean up. It's rare that a cup spills and nobody notices it. So the results were clearly astounding. The hard shell of the case is made out of some harder material that the water could not seep into. The zipper itself faces the zipper inward after it's closed. This keeps the teeth of the zipper from being exposed and allowing the entry of liquid. Furthermore, the zipper is a good 2 inches above the bottom. This means unless you have 2+ inches of standing liquid, you should be just fine. We poured the water from above to simulate a worst-case scenario. Normally spills happen on a flat plane and still shouldn't be that bad. The case cleans up really easily too since it's a smooth surface. So if you accidentally spill sticky, sugary drinks, it should clean off nicely.
Drop Protection:
This is almost the same as the crush protection. If you drop it from table height to the floor, you're going to see absolutely zero issues. The same goes if you drop it from a 6-foot height. I couldn't find a high enough place to drop it from the Switch inside, that didn't seem too scary (roof). Naturally, I lobbed it across my living room into my dining room to simulate a longer distance of travel and experienced nothing but sheer, brilliant protection. I think that it's a rarity that anyone would be dropping it over balconies or off of rooftops.
One test that I did do that may be a common occurrence for some people is sitting it on top of a car and driving off. The item would hang on for a bit until you came to a hard stop or took a turn. So naturally, I had the Switch it's case and set it on top of my car and drove through my apartment's parking lot. It didn't take much for it to fall off. It didn't make some loud sound like a thud, so if that happened to you, you wouldn't hear it. You can rest easy knowing that if it happened and you went back to pick it up, it'd be fine. It's another instance where it's not a very tall drop from an average vehicle, but it could be moving faster and thus fly off at a higher speed.
In all of these tests, I had to leave the Switch in the system. This is simply because, in the instance of the crush test, I need to see what it does when it's full and putting pressure from the inside out. And in the instance of the dropping, the higher weight means different results when it strikes the ground. I'm happy to report that no matter what goofy stuff I did to this case, it withstood it all. I don't have any scratches on it either from it hitting the concrete in the parking lot, but that is something that I wouldn't assume would happen every time.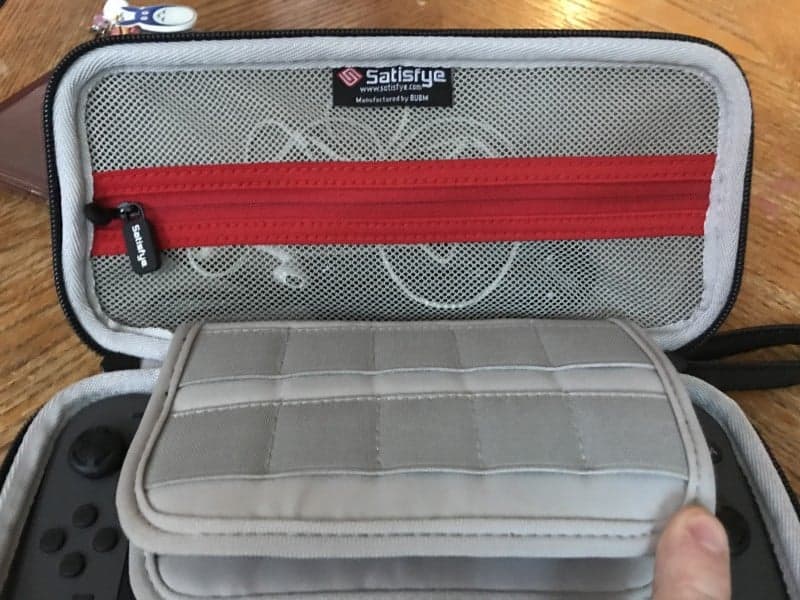 Longterm Wear & Tear:
After everything put it through, I think that this is a case that is going to last a Switch's lifetime. And I've already put this case through more than an average person might right off the bat. Overall, I would say that all of these tests may constitute about 6-8 months worth of carrying around. I really tried to put it through the ringer and find something wrong with it.
There are a few things that I think might eventually happen to it, judging by other bags/cases I've seen. The upshot to this case is that it has rubber zippers meaning there is none of that clanking that zippers do when they rattle against it each. There is also a pleather type handle strap as well. The downside to these things is that the zippers, if used enough could eventually pop off. It's not the worst thing in the world, the case would still protect your Switch. It would be a pain in the butt to open and close. However, that has yet to happen, I'm not even saying that it will, but since they chose to use zippers instead of anything else, it's technically possible. The strap too, being pleather could break, or begin to fray. That strap also has a little clip hook which I have seen break on many things. I would not actually recommend carrying it by this strap. There's just too much weight for me to be comfortable doing so. I put this hard case in my larger bag and I use the strap just to pull it out of my bag and that's it.
The bottom line here is that this is all speculation. I couldn't predict what could or will happen to this case in the long run. But I will tell you this, I trust this thing a whole heck of a lot more than those squishy Nintendo cases that Gamestop sells. Especially because this isn't even that much more expensive than those and does so much more. This is now my permanent case for the Nintendo Switch and I'm glad that I held out for something of quality instead of just buying a Nintendo case for the logos and pictures on the outside. If you're a true Nintendo fanboy, you'll show it by protecting your Switch in the long run with this case. This is preferable to showing off a case that barely protects your Switch and then you need a new Switch!
If you're interested in this case, click here.
To see the full Satisfye site, click here.
Stay tuned here on Hackinformer.com for more reviews and follow us on Twitter @Hackinformer
If you like the author's work follow him on Twitter @V1RACY