Let's travel to the past, specifically to the 1860s. This is a vibrant time for samurai to roam free. However, not all is what it seems. Sakamoto Ryoma is caught in the middle of a pivotal moment in history. His actions may very much shape the future of Japan as we know it. Will that be the case? Let's take a look at our review of Like a Dragon: Ishin!
Like a Dragon: Ishin!
Platform: Playstation 4, Playstation 5, PC, XBOX One, Xbox Series S|X
Release Date:2/21/2023
Publisher: SEGA of America, Inc.
Developer: Ryu Ga Gotoku Studio
Genre: Action, Adventure
*Special thanks to SEGA PR for providing an Xbox Series S|X review key. There will also be images of the PS5 version of the game, the writer purchased the Ps5 version*
Intro/Story:
From the official website:
Centuries of peace are coming to an end. Across the nation, factions assemble in anticipation of civil war.
Imperial loyalists unite under the banner of "sonno joui"—revere the Emperor, expel the barbarians. They fight to overthrow Japan's military dictatorship and shut its borders to foreign influence.
Meanwhile, the ruling government, the Bakufu, has assigned special police forces to maintain order—provided they can manage to coexist without drawing blades on one another.
And in the capital city of Kyo, a man who will change the course of history seeks justice… and revenge.

Sakamoto Ryoma.

Accused of murdering someone he holds dear, this lowly samurai from a backwater land renounces his name and goes into hiding.
To find the true killer's identity, Ryoma must conceal himself among the wolves of the infamous Shinsengumi.
Taking the alias Saito Hajime, it isn't long before he winds up embroiled in the political schemes and savage violence that will reshape the country—and give rise to legends.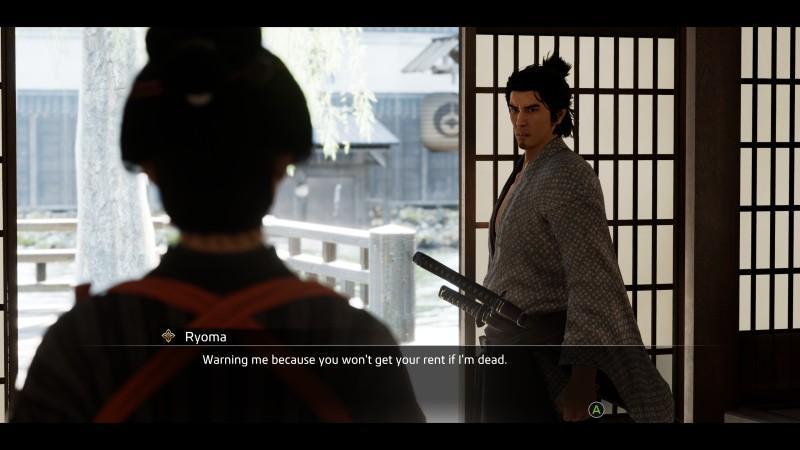 Like a Dragon: Ishin is a game that took several years to finally make it outside of Japan. It was only thanks to the recent successes of such games as Ghost of Tsushima that made this was possible. In Like a Dragon, we take a look at our beloved and favorite characters from the franchise (Yakuza, which moving forward the series is now called Like a Dragon) in a different light. This game is a non-canon spinoff of the franchise with the same charm in a different setting.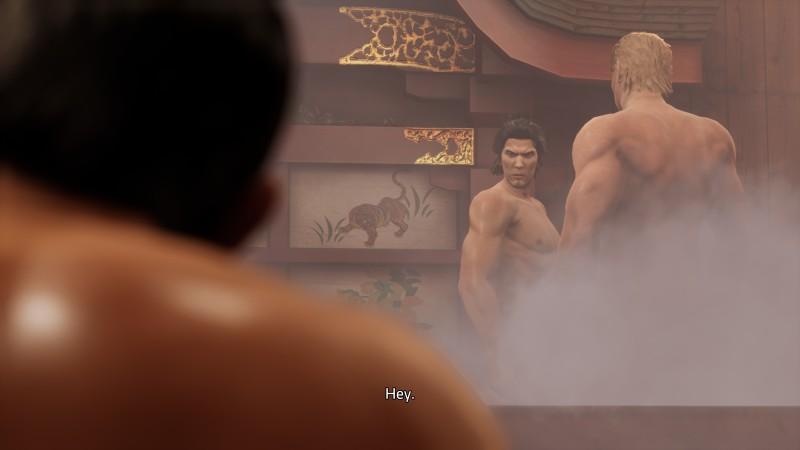 This means that all of the wonderful pacing, story, delivery, atmosphere, and overall feel of the Yakuza franchise are all here. It works well in this setting of Kyo and as a Samurai. You take the role of not-Kiyru aka Sakamoto Ryoma who coincidentally follows the same pattern as Kiyru. He gets framed for murder and must prove his innocence. However, the story does develop in a way that is not expected from the Yakuza Franchise.
For those interested, I will not spoil it in this review so get caught up in the wonderful story. However, from the transition of Yakuza: Like a Dragon, to Like a Dragon: Ishin, does the gameplay hold up? Let's take a look at it.
Gameplay: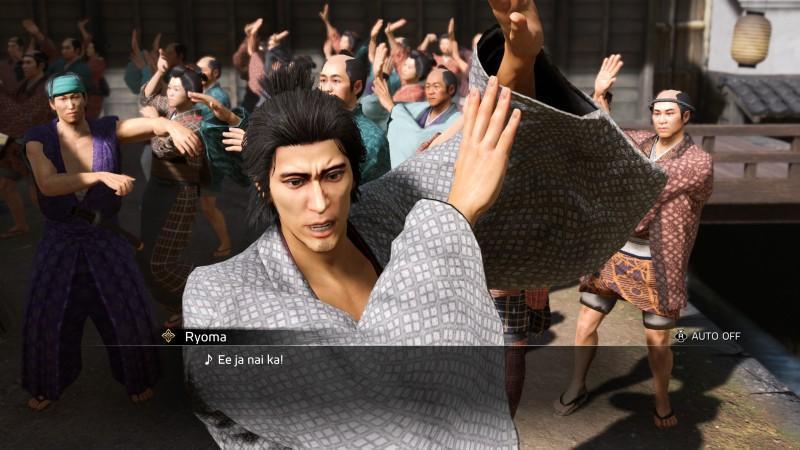 Like a Dragon: Ishin takes the gameplay from all entries of the franchise (except Yakuza: Like a Dragon) and implements it here. That is to say, combat is the only difference. The combat is back to the original that most of the fans know and love, which is not the turn-based method, but fighting in real-time. There are four different fighting styles to choose from, each with its element of strategy to incorporate into battle.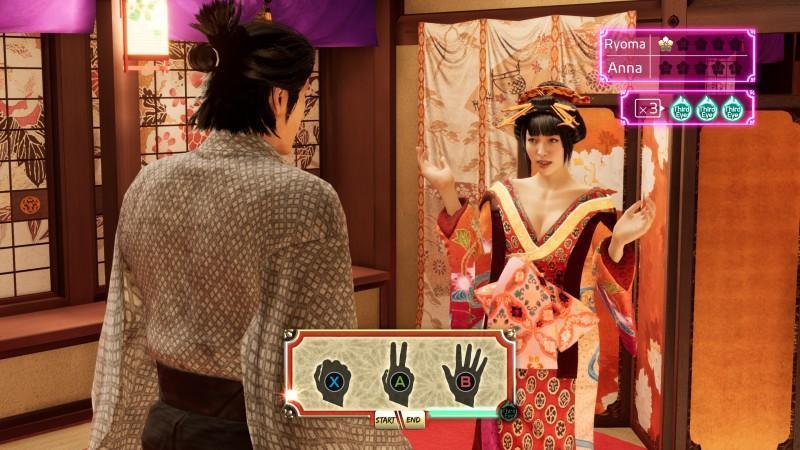 Like a Dragon: Ishin also has tutorials for every single new element introduced so newcomers to the franchise can fit right in with the veterans. Combat though is only one component of the game. Ask any fan of the franchise, they can tell you that Yakuza games are known for their sidequests, side stories, and mini-games. Each of these is masterfully crafted and keeps the players engaged at any single moment.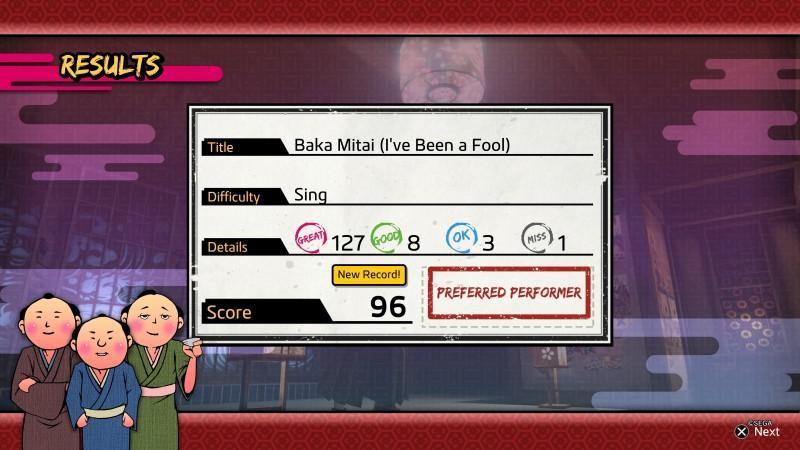 Some fan favorites make a return, such as karaoke and dancing, but there are much more mini-games for players to discover. There is so much to do that will keep players engaged. Speaking of, let's take a look at the audio section of the game.
Audio/Visual:
The audio is Japanese voices only with English subtitles. The developers stated they intentionally did this to keep the authentic feel of that period. It was a smart move on their part. The voice work brings back the Japanese voice actors reprising the roles of their characters from previous entries. They do a great job playing these new roles.
Visually, this game looks impressive for being a remaster of a game that originally came out in 2014. It captures the feel of Kyo at this period and is on par with any other game in the franchise.
Fun Factor:
Like a Dragon: Ishin is a fun game. If you are a fan of the franchise, you will find fun here. If you are a newcomer, there is so much to do that you will find fun in it as well. The game delivers on all fronts, no questions about it.
Wrap-up/Conclusion:
Like a Dragon: Ishin was several years in the making to get released outside of Japan. Frankly, I am thankful for it. This has been a solid game from beginning to end. I enjoyed my time with the Xbox version and Playstation version of the games. I finished it twice, and frankly, I will go for another playthrough again shortly. It is a strong contender to being game of the year for 2023 currently.
Newcomers to the franchise do not near to fear as this is a spinoff from the franchise and a stand-alone title. They can just jump right in and have fun. Fans of the franchise will love the updated visuals of characters from the franchise as a type of love letter to the fans. The developers took the time to put love and care into this remaster of the game, and it shows. I can wholeheartedly say, do not miss this game, it is fun from start to end.
Until next time, Mgs2master 2 out!
*Special thanks to SEGA PR for providing an Xbox Series S|X review key. There will also be images of the PS5 version of the game, the writer purchased the Ps5 version*