In the past, we had covered dust covers from plenty of different outlets. While they all protect against dust on your consoles, there can only be one true winner. And that winner by far, was The Printer Boy. If you want to read the initial review of his products, click here. This article won't be covering the quality of the cover or what materials like my other dust cover reviews. We already know that his dust covers are second to none. This one is just going over some new covers on the site as well as what he offers now that he didn't previously. Vamonos!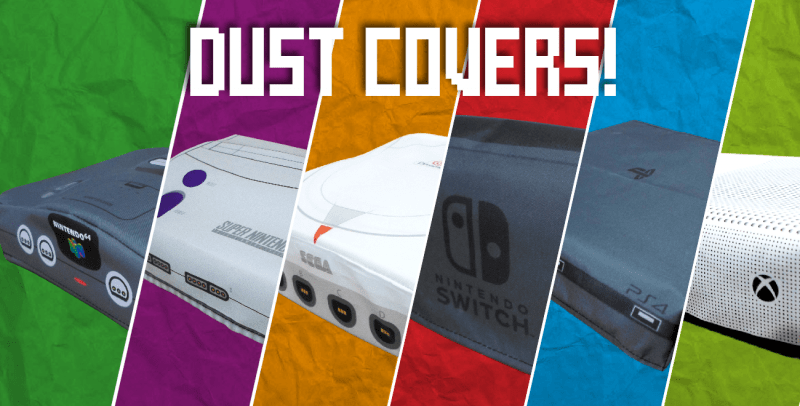 What's New About The Covers?
Most of them now have prints on the back that give you directions on how to care for them. This means you have icons printed straight onto the products. On the back of a dust cover now you may find that there are three icons. One is a no ironing icon, another is a no washing machine icon, and another is a no power button logo. If you couldn't decipher what these mean, I'll tell you real quick. The no ironing means that you shouldn't iron it. The no washing machine means do not put it into a washing machine (instead use a damp cloth). The last icon means that you shouldn't leave a dust cover on your console if it's powered on.
Additionally, you'll find that there are more material options available. My previous article covered how the material on the covers is a polyester fabric. When I opened up these new ones to admire them, I noticed that they were a bit more leather-like. Now, while they're definitely not leather, I couldn't help but think to myself that they were different. I'm not an expert in textiles so I figured that I'd ask The Printer Boy himself. He did indeed confirm that the old material is a polyester fabric and the new material is synthetic leather. What's even better than that, he was apt to point out that he offers both options on his site!
I'm also seeing that he keeps adding more and more dust covers as the months roll by. (I have pictures of the ones he sent me down below.) His total count of covers has almost reached 160. This ranges from all known systems and varients and regions. The Printer Boy even has a nice, generic dust cover for PC monitors. This man is incapable of failing when it comes to dust covers. What about the other products that he sells? Head onto the next section to find out.
What is Everything The Printer Boy Sells?
There is a lot to cover here and quite frankly, we love The Printer Boy and don't want to undercut anything he does. If you want to skip all of this business and check out his site first hand, scroll to the bottom and click the link. But if you want to stick around, I'm going to try to touch on everything that he has to offer in the broadest sense that I can. That way I can cover every topic briefly and accurately. We've already talked to great lengths about dust covers, so we'll skip that part!
Pouches. Need a dust cover for your controllers when not in use? You really should've known that The Printer Boy was going to tackle this. But he does things differently, so you know it's going to be interesting. For $20 you can have a dust cover pouch that can hold not just one, but two controllers. The controller pouches are specific to the controllers you want. So there is a pouch for two NES/NES Mini controllers. There is a pouch for two Sega Master System controllers. And a pouch exists for two SNES/SNES Mini controllers. Now, are you ready for a curve ball? He also makes a pouch for a 3DS XL (SNES Edition). Now if you don't mind a mismatched theme, you could use it for any 3DS XL. I hope to see him branch out into more designs and more handheld consoles.
Dock Socks. These things are all the rage nowadays for people with the Switch. If you own an original Switch or a newer model Switch (not the lite) you have a dock. If you're concerned about the screen scratching the inside of the dock, you need a dock sock. Telling you that you should get a dock sock is the easy part. The hard part is you choosing which style you want as The Printer boy has now almost reached a full 75 designs! At only $7 a piece, you're getting great quality at a steal. Oh, and guess what, as I was drafting this article, The Printer Boy tweeted out something new and special. You can officially upload your own image for a custom printed dock sock! It's the same cost too.
T-Shirts. You have shirts, you know shirts. Printer Boy comes in with a wave of designs that I haven't seen elsewhere. Some of the designs are taken from the beanies (or vise versa). He sent me a Virtual Boy shirt and I have to say that the sizing fits nicely. You must know what gender you want for your shirt cut. Then as long as you order what you know fits, you won't be disappointed. I also noticed how nice the fabric feels compared to cheap shirts. It's amazing it feels this nice on your skin for only coming in at $11. A word of warning, the shirts only go up to size XXL. I know that Americans can be…all sizes, so if you're larger than a 2X, you're out of luck here. One other note, it doesn't include a tag with washing instructions on it. He pops apaper tag onto it (like a business card), I'd love to see wash instructions on the paper tag. I'm afraid of shrinking if I do the wrong thing.
Beanies. So maybe these aren't an accessory for your console (the same with the following five categories), they're still an accessory for your style. People love the beanies on his site so much that the Mr. Game & Watch beanie is (currently) sold out! They're only $11 each which is better than you can say about the place you bought your last beanie at. Not to mention the variety of options. I mean a Neo Geo beanie?! For real Printer Boy?!
Decor. As of now, the decor is limited. My guess is that he just now started adding decoration to his site. But to clarify, right now, The Printer Boy has wall decor on his site. The current wall piece is a pixel-based character. If you're a Boo fanboy (or whatever gender you identify as), there is a pixelated 3D Boo on the website to buy right now. The character is made using foam board that has been printed on and cut by hand to size. It's roughly 13″x13″ and is only $7. Pop this bad boy on your wall and it will make your game room a bit more spooky!
Mousepads. This one sort of caught me off guard. But it's still cool nonetheless. Are you a gamer who loves to Mario Paint on your SNES or just need a new mousepad for your PC? The Printer Boy is here for you. There are currently only three mouse pads on his site. You'll see two different Duck Hunt themed mousepads that are rectangular. There is a round one as well, it's the Termina moon for those Zelda fans out there! The two rectangular ones are only $5 each, the round one being $6.
Hats. Sure, there's beanies for those of us who look bad in baseball hats. But there are also baseball hats on The Printer Boy's site! If you're a fan of gaming and you love hats, you won't be left out here. There are ten different styles of caps to choose from. Three of them are currently sold out, but you can always check back on his site to see about hats being restocked. He has a Hylian Crest hat, a Ridley themed hat, Screw Attack A hat (in red or blue), Screw Attack B hat (in red or blue), Screw Attack hat (black with yellow bill), a Solaire hat, a Virtual Boy hat, and a "You Died" hat. The size is a one size fits most scenario and has an adjustable snapback strap on the back. These all clock in at $14 each which is a very modest cost.
Magnets. The current magnets for sale through The Printer Boy are all cartridge themed. The way his site is set up seems to indicate that there will be other styles of magnets in the future. However, that is not confirmed, so we'll stick with what we know. Currently, the magnets are all N64 games, maybe the cartridges will expand to other systems in the future. Nevertheless, they are valued at 60 cents to $1.20 each. The 60 cent variable is 2.75″ wide by 1.92″ tall. The $1.20 version is 3.93″ wide and 2.75″ tall. They are all properly to scale, but I wouldn't expect anything less from The Printer Boy. The games are as follows: Mario Kart 64, Pokemon Snap, Super Mario 64, Super Smash Bros., The Legend of Zelda Ocarina of Time, and The Legend of Zelda Majora's Mask.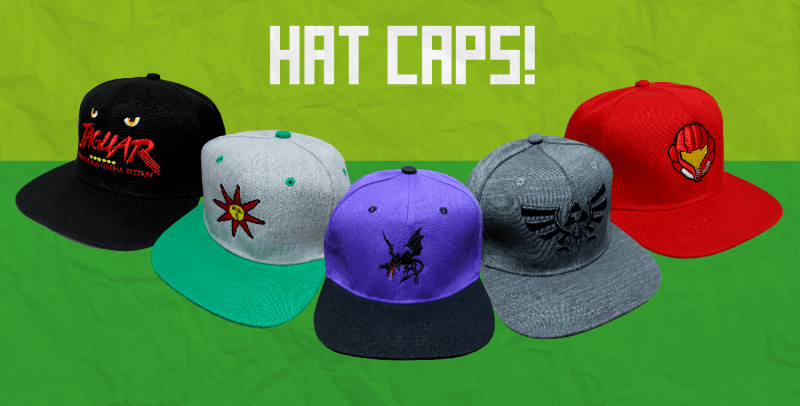 Interested in his website? Click here!
Interesado en sus productos? Haz clic aqui!
If you like the author's work, follow him on Twitter @V1RACY and don't forget to enter the weekly giveaways!
And as always, stay tuned here on Hackinformer.com for so much more and follow us on Twitter @Hackinformer