What started off as an April fools joke almost 2 years ago, is now a real product! With the SmartBoy you will be able to play your original GameBoy games with physical buttons on your personal Android mobile phone! The following will be a small review of what the final retail version can and will do!
A lot of people have been waiting for this a long time when Hyperkin decided to make their joke become a real product. Although the SmartBoy still isn't officially released yet (planned about September 2017) Hyperkin was kind enough to provide us with a unit so let's just get started!
Ahhh the nostalgia… And wow this thing really looks and feels so much like the original GameBoy from 1989! It even sounds exactly the same when pushing the buttons!!! (From what I can tell they used the very same Dpad button so no wonder)  That's a really big plus already in terms of quality and details after holding the SmartBoy just for the very first time!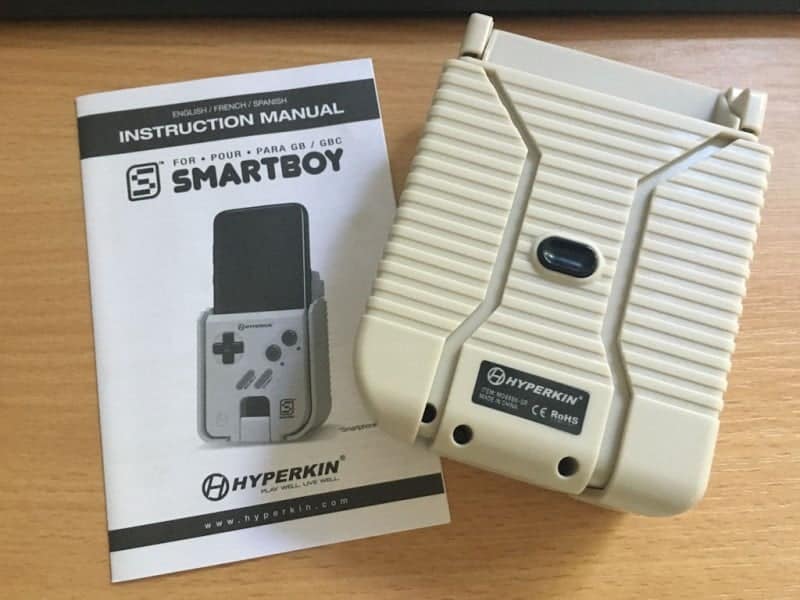 Additionally to the 'normal' buttons, there are even two shoulder buttons on the top! And on the back, you will have the big black button for adjusting the housing to make your phone fit and tighten it for playing. When pressing, the padded side panels will pop open by itself and you can decide between 4 positions depending on your phone!
In my case, I had to borrow a friend's Galaxy S8 since the retail SmartBoy seems to be coming with a USB Type-C connector and not like the early development kits with an USB micro anymore. So a quite recent phone will be required if you want to experience the SmartBoy yourself!
So much for the Hardware, let's play some games!
If you haven't already, you'll now need to download the following 2 apps from the Play store: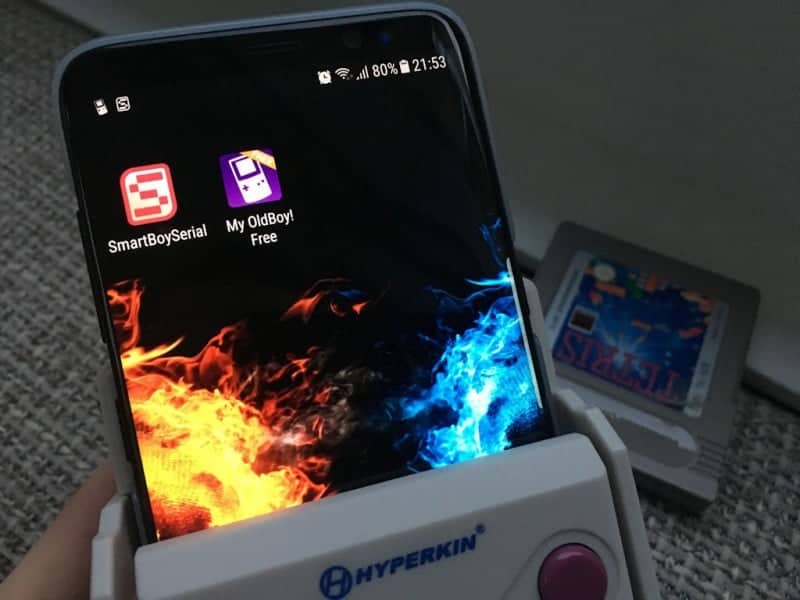 SmartBoySerial – used for the dumping process and communication to the SmartBoy
My OldBoy! Free – which is a normal GameBoy Emulator doing all the emulating obviously
Now once connected, the SmartBoy will be detected by the phone and needs a couple of seconds to be ready. So don't panic!!! The upcoming dialog can and must be accepted with the SmartBoy buttons so that the phone allows access to the SmartBoy! (I have to say this can be quite confusing if you haven't read the manual before like me 😛 ) But anyways, this will be a one-time thing so that's fine!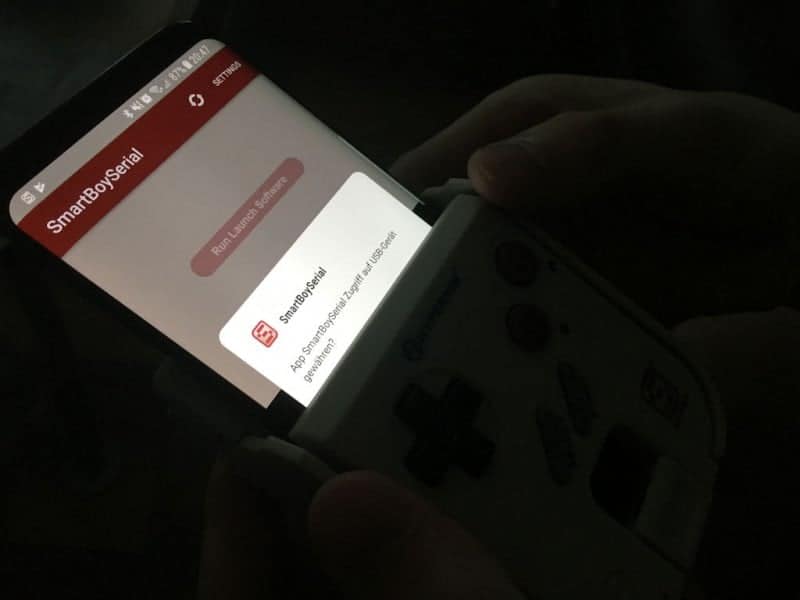 After that, we can finally dust off those cartridges and plug them in!! Then pressing "Run Launch Software" will dump the ROM of your actual cartridge and temporarily save it to your phones sd card under "HyperkinSmartboySerial/smartboy.gb"  This will only take a couple of seconds.

From there we can use the standard Emulator to finally play our games with style! Simple as that!
What if I remove the cartridge while playing?
Well this is what Hyperkin has to say:
Note: Removing the cartridge from your SmartBoy will cause a notification to pop up on your screen regarding piracy. Re-inserting the cartridge will cause the notification to disappear and resume the game.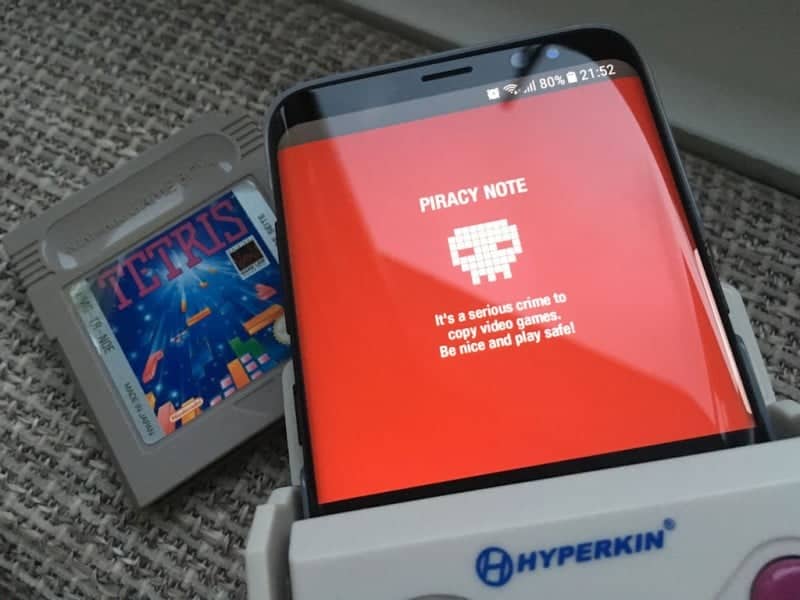 However, the temporary dump still exists and inserting any other game will make the pop-up disappear too. But the idea and intention is there and that's good!
So can I dump my games library with this?
Well, yes theoretically this will allow you to easily create backups of all the GameBoy & GameBoy Color games you still have around! All you would need to do is copy the generated smartboy.gb file!

And that's about it for the SmartBoy already! There really isn't much to say about the emulation part as it is not part of the device itself but a standalone emulator, which works great already. I haven't tested any other emulators but regards to Hyperkin they should work just fine too since the SmartBoy itself technically is nothing more than a USB keyboard.
Conclusion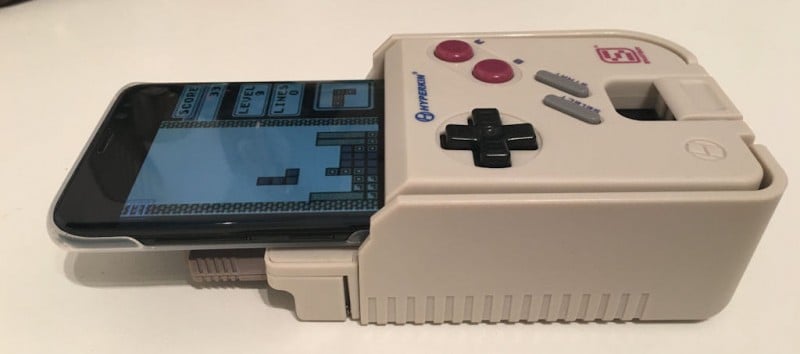 I must say I'm really flattened by the quality and nostalgia it brought me. However as a longtime iPhone user this alone won't make me switch my daily phone. BUT I'm definitively a little jealous now.. Well we all know about Apples policy with Emulators in their Store and addon devices, but Hyperkin already stated that they would look into it. Who knows what they might come up with! If they could make the cartridges playable without the whole dumping that might be okay for Apple but lets just be patient! I myself would love to see an iPhone version at least.
All in all Hyperkin already summed it up perfectly with this text on the back of the box..
The SmartBoy attaches to Android smartphones, turning your smartphone into a handheld gaming device. It is compatible with Game Boy and Gam Boy Color cartridges. Easy to install, just attach the SmartBoy to your Device, pop in your favourite game, and make your friends jealous. You're welcome.
..and that's really exactly what it does!  Hyperkin held all its promises! Nothing to add here 🙂
Official release date: September 2017
Big shout-out to Hyperkin! Thanks so much!
You can pre-order them from our partners at PlayAsia and use our coupon informer to save a few bucks.