If you are one of the unlucky folks that were either not fast enough to purchase and/or didn't win in yifanlu's lottery for the remaining psvsd adapters, this is for you!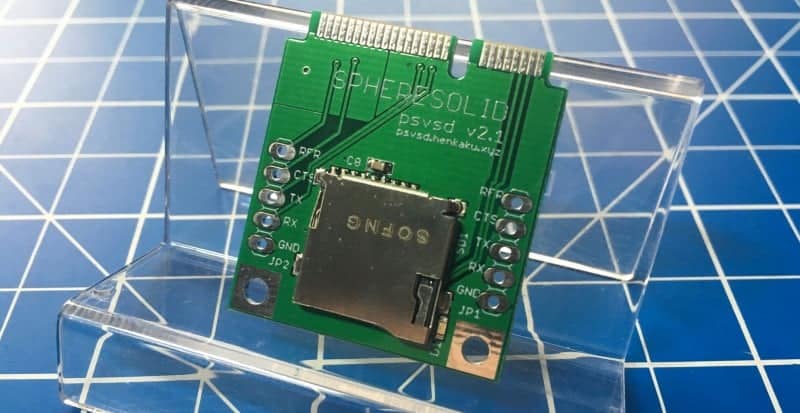 Now since I am one of those unlucky myself, I'm quite happy to be able to make the following review and would like to take the chance to combine this with a documentation on how to 'convert' a wifi only model to make use of this adapter! If you still don't know what a PSVSD adapter is you can read up on that here!
As we all know Yifanlu, who designed and created these adapters didn't make too much of them. .. 'a small stock of a couple hundred' .. Firstly due to the more popular GameCard Slot version 'SD2Vita' and secondly simply because 3G Vita owners are a minority so to say. But still, now that all of the original molecule adapters are gone in no time and people were paying $50+ in the lottery there still seems to be demand..
So I'm happy to say that based on yifanlu's original & free-to-use design there soon will be new v2.1 adapters for sale! SphereSolid is currently in the process of manufacturing new quality adapters that will be available around the end of this month!
Now testing; coming soon. Producing PSVSD v2.1 adapters for the Vita 3G OLED. @yifanlu @frwololo @HackInformer @GBAtemp #PSVSD #Henkaku pic.twitter.com/62Pj5gw2v7

— SphereSolid (@SphereSolid) September 14, 2017
SphereSolid: With my version of the adapter, you will notice no bridging will be needed (on gnd to j2d). This was a major issue with the Aliexpress ones, making the adapter undetectable by the Vita; this won't be an issue with the SphereSolid variant. The official release ones will be Black PCBs, with immersion gold finish.
My goal is to have them reasonably affordable for all to have, and end the scarcity and scalping of the adapter!
Thank you on behalf of all the unlucky! 🙂
Installation
So lets get to it! For the 3G users all you really need to do is open up your Vita, unscrew the 3G board and replace it!
For the Wifi model on the other hand, you will obviously need to replace the motherboard and even do some trimming to the shell. I'll just let the following pictures speak for themselfs on how I did it with my Vita.. (you can get these 3.60 mainboards as replacement starting at 25 bucks on ebay)
The Wifi & 3G motherboards side by side:
The red-marked plastic needs to be trimmed for the adapter to fit!
Now all thats left to do is putting everything back together and setting up the plugin!
Aaand done! 🙂
Quality-wise there seems to be no difference to the original molecule adapters at all.. Well despite the cosmetic PCB color and logo of course. They work as expected and are certainly better than anything you could get from aliexpress as we reported about. Personally I can only say; Its totally worth it as this is the best you can currently get. Plus you can keep the functionality of your GameCard slot this way and still have huuuge system space inside your Vita!
Simply awesome, so thank you yifan for making this possible and SphereSolid for taking care of the rest of us!
How to get one
SphereSolid: I anticipate the adapter being 15.00 + 5.00 for US, 15,00 + 10.00 for Canada, and worldwide shipping. Exact details will be available on the official site.
Website: www.spheresolid.com | Twitter: @SphereSolid | Facebook: SphereSolid