It's only been a few days since the release of the Super Nintendo Classic Mini and so far we've seen a lot. We've gotten to see that someone has dumped Star Fox 2, we've seen Star Fox 2 running on the original SNES, we've seen controllers that worked on the NES Classic Mini also work on the SNES Classic, and we've seen that Star Fox 2 can run on various different emulators. I think it's safe to say that people are loving the hardware and of course the long-awaited Star Fox 2.

History lesson. Last year, shortly after the NES Classic came out, developer ClusterM went to work on reverse engineering the device. What he found was that you could not only back up the system's kernel, flash custom ROMS, but you can also flash custom kernels. This made everyone that was able to get their hands on one exceedingly happy. This gave people so much control over their system that most of us did it to their NES and never looked back. Other people feared tampering with the OS and some people never even took theirs out of the boxes. Ever since then ClusterM has been updating his hakchi2 program to fix bugs and support different 3rd party controllers as well as adding in additional functions.
A couple days back (before the street date release of the SNES Classic) ClusterM tweeted this out, showing that he was working on the device.
#SNESMini uses ROMs with 48 byte header. I don't know what it means. Some tech info? pic.twitter.com/WKELSOspSi

— Cluster (@Cluster_M) September 27, 2017
He was still confused at what he was looking at, but that just did not stop him. He was asking people on Twitter if they understood it and finally got the help that he needed. Earlier today he updated everyone with the following good news.
I finally understood the format of #SNESMini's ROMs https://t.co/HA25Rpl7BF

— Cluster (@Cluster_M) October 1, 2017
10/02/2017 UPDATE:
ClusterM has tweeted out further progress about the hakchi for SNES.
Save-State Manager is fixed to work with #SNESMini now. pic.twitter.com/snqxyqfTs9

— Cluster (@Cluster_M) October 2, 2017
At least screenshot tool is not broken pic.twitter.com/8oJkdhejTb

— Cluster (@Cluster_M) October 2, 2017
You'll definitely want to click the instagram link as it shows ClusterM displaying a video of him running Chrono Trigger. Now, the last thing to note is that hes 100% confirmed that the hardware is the same. Which, if you know anything about the NES Classic, you'll know that means that there is only 300MB's of memory on board. This would not be enough to hold an entire collection of SNES roms, assuming that you own every one of the cartridges for an entire collection.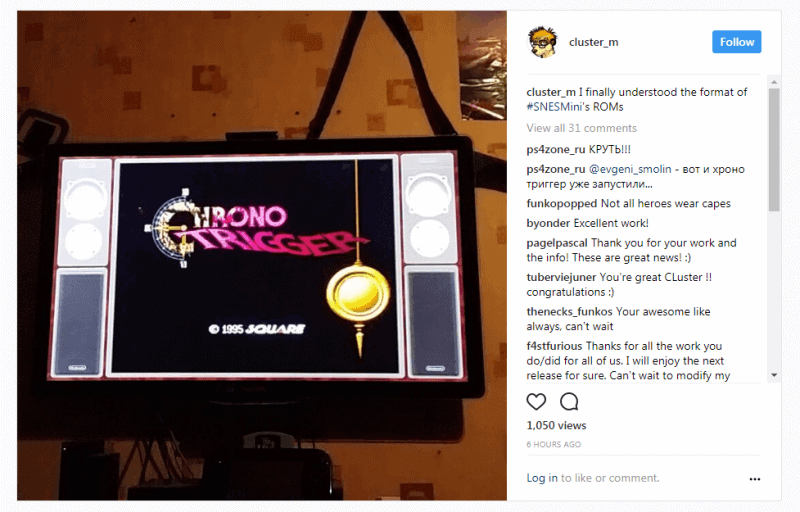 Stay tuned here on Hackinformer.com for more reviews and follow us on Twitter @Hackinformer
If you like the author, you can also follow him on Twitter @V1RACY