Yep, I know the GPD Pocket is already out in the wild for quite some time and they even surpassed the $2 Million Mark on Indiegogo but I sadly didn't have the time to talk about it until now. So let's get right to it, what is the GPD Pocket? It is a lightweight 7″ Laptop for your Pocket.
It's designed and built to fit right in your pocket when you're not using it. Many of us who own Notebooks will know the pain of carrying around a big notebook. Even if it's just a little smaller we will still have to carry it around in its own Laptop bag since it's too big for our Pockets. GPD wants to fix this with their GPD Pocket PC.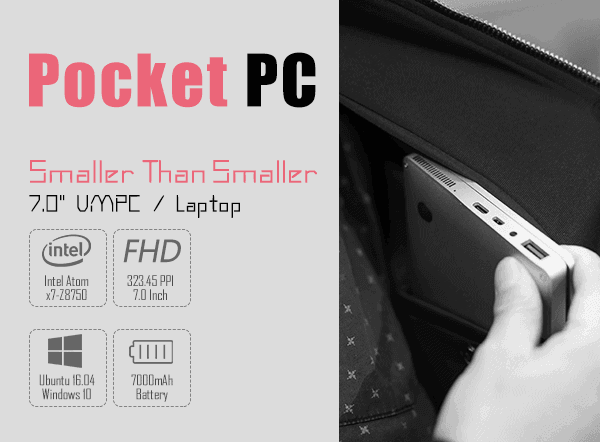 Here at Hackinformer, we have already covered their predecessor the GPD Win in a few posts talking about it and it running a PS2 Emulator. I was also able to spot one at Gamescom 2016 and had to say that I was pretty impressed by the Device.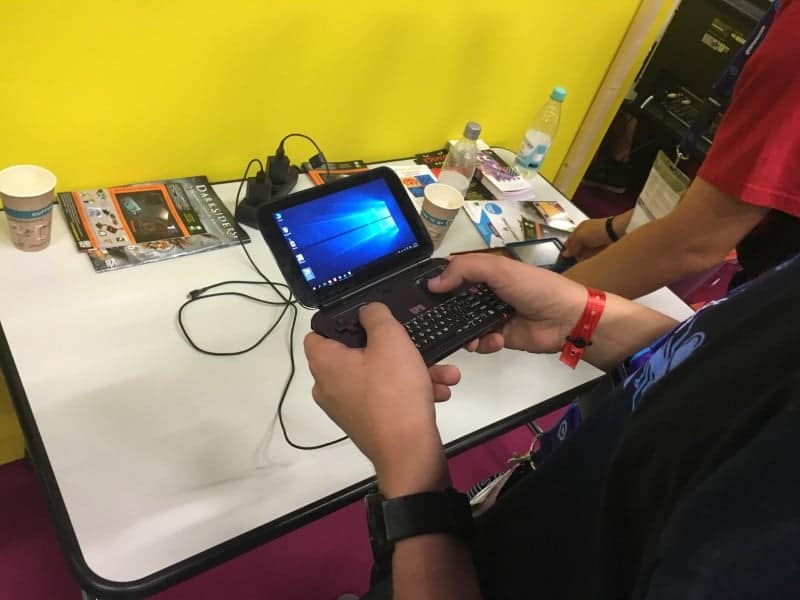 Let's get back to the GPD Pocket. Since the GPD Win was primarily for Portable Gamers and the Keyboard was not good for writing or any other things that require a Keyboard. GPD thought once again and made a design aimed at office and programming use or anything else that requires heavy use of a decent keyboard. Having a first look at it I'd say they did a decent job at it.

The Design nicely resembles that of a Macbook but the GPD Pocket is a bit thicker than a current MacBook. It's really great move by GPD and it also can be shipped with either Windows 10 or Ubuntu 16.04 LTS which isn't normally the case. Often the unit get's shipped with Windows and isn't properly supported by Linux which makes this a great move for every Linux enthusiast who prefers using Linux over Windows. I have to say I also prefer Linux over Windows but well, sadly you need windows for gaming but that's not what this tiny Laptop is meant for right? 😉
So after all this talking let us have a look at the Specifications of the GPD Pocket:

If you have read our Post about the GPD Win you will probably notice some similarities to the GPD Pocket. So all in all this is a GPD Win with a keyboard and no controller buttons, right? Well Nope. It is true that it had shared the same processor and Ram Size at the beginning but since then some time has passed and the original x7-z8700 CPU has been replaced by the newer and more powerful x7-z8750 CPU and the Ram size has been increased to some sweet 8GB too. That way it will take you quite some time to get Chrome to eat all your Ram with all those tabs open 😉
The Display has also been exchanged for a higher resolution one. Where the GPD Win uses a 720p Multitouch Display with a Pixel-Density of 267PPI the GPD Pocket will use a 1080p Multitouch Display with a Pixel-Density of 323PPI which is another nice upgrade. Another thing that has been changed since the GPD Win is the Cooling solution. The GPD Win had a Fan which had to be controlled with a switch manually. The GPD Pocket uses a fully automatic Fan just as any other Laptop and thanks to it using a Fan it can also provide higher performance than the Passively Cooled Microsoft Surface 3 over an extended period of time.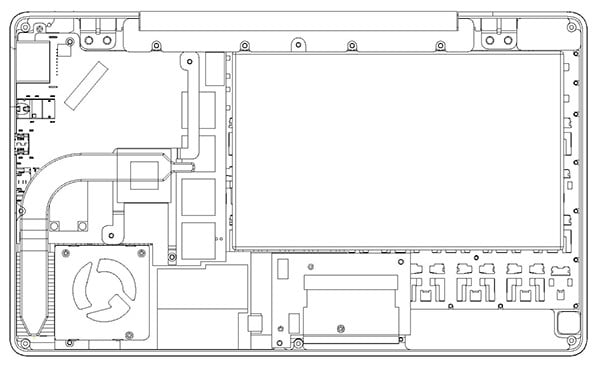 The first test of the cooling solution has already been done and the CPU Temperature doesn't exceed 78°C which is quite nice but something even nicer is that the Case doesn't heat up more than 35°C as well.
Through 24 hours heat test, The CPU core temperature controlled within 78 degrees, and the body surface temperature is less than 35 degrees. pic.twitter.com/wMJZJHQdb6

— GPD Game Consoles (@softwincn) February 24, 2017
The Battery got a tiny upgrade from 6900mAh to 7000mAh which isn't a lot but who needs more than 12 Hours of Screen Time anyway. Many normal Laptops only get around 2-3 Hours and even Netbooks don't get up to 12 Hours most of the time.
Just like the GPD Win the GPD Pocket also has a USB 3.0 USB-A Port, a USB 3.0 Type-C Port for charging and connectivity and Micro HDMI Port for Connecting it to a TV or Display.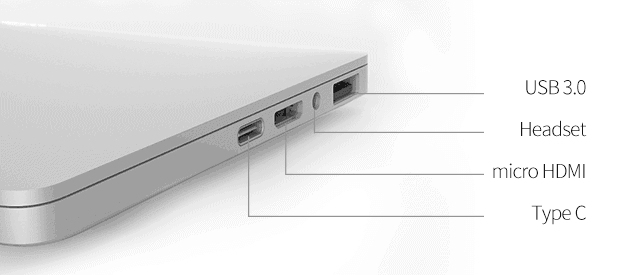 Sadly the MicroSDCard Slot has been dropped and is not available on a GPD Pocket so you are limited to either the 128GB Internal eMMC or you will have to connect an HDD or USB for further Storage Space. But to top things of it features Bluetooth 4.1, Dual Channel Wifi with 2,4 /5GHz support, and supporting 802.11b/g/n/ac which is also a slight upgrade of the GPD Win which was sadly missing 802.11ac.
As for my part, I am pretty excited to get my Hands on a GPD Pocket and see how well it performs in real-life circumstances but I'll have to wait until it's officially released. If you are also interested in the GPD Pocket you can currently buy a GPD Pocket for $399 with either Win 10 or Ubuntu preinstalled or for 409$ with a USB Type-C Hub and either Win 10 or Ubuntu installed. If you want to be up-to-date you can check their Indiegogo campaign here.