The last review we have from the big box of fun from RetroSix are Pearl Game Boy Advance shells. I know that "Pearl" seems ambiguous and could mean a couple of different things. So we're going to not only discuss what it means for the shells, but so much more. RetroSix sent over a lot of these bad boys, so we've got a lot to cover today. Let's hit it!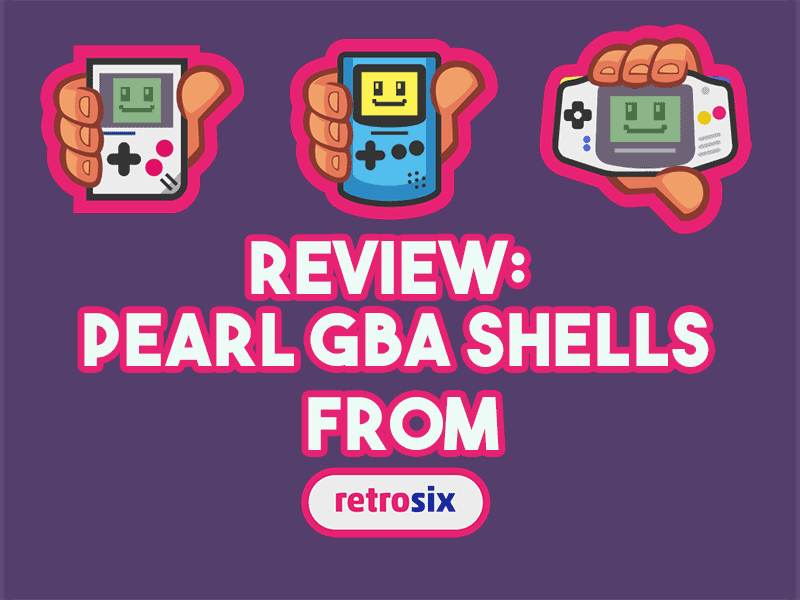 Description:
'We spent over a year developing the perfect GBA shell. Spending over £20,000 that we will never get back, in the name of perfection. This shell is produced using ABS (from Japan), as opposed to all other shells on the market being made of cheap and injection moulded plastics. The fit, feel, and tolerance on the RetroSix ABS shell is better than the original. The buttons are stronger with newer ABS and more accurate moulds than the original, the buttons and triggers are ultra-responsive, the plastic is much stronger and free of any detects like those you get on injection-moulded shells.
After great success of our first mould, we spent a further £8,000 and made a new mould, perfecting the start/select buttons, opening out the window and altering the inside structure so that IPS screens can simply drop in with no modification whatsoever! Simply place your IPS screen in and push it to the top right (when looking down inside the shell installing the screen) to perfectly center it. For a professional fitting, we sell a 3D bracket to hold the LCD in position.'
Features:
'The Pearl series have a pearl finish that reflects light differently at different angles, making the shell have an amazing glow when moving it around. The finish is matte, and treated with our own special anti-slip rubber. This gives your console an ultra-premium feel and luxury finish. The front shell has an extra-wide window opening, and inside has the wall reduced by the A/B/Start/Select buttons reduced, along with all other requirements to allow the IPS screen kits to simply drop into place.
Once you compare our shell with all the others on the market you will never look back! The kit comes with all buttons, rubber contact pads, light pipe, front and back shell, battery cover, tempered glass IPS screen, back sticker, and screws. Everything you need to swap out your old and dirty GBA and make it amazing for the 21st century!'
Unboxing Video:
Pros:
External Design-Let's jump right in and discuss the whole "pearl" aspect. The word has been given to define the finish on the outside of the shell and to it's color to an extent. When you feel the texture with your hands, you'll find that it's more of a rubberized matte rather than a flat matte. When you hold it in the light, you'll see that there is an inherent dull shine to it, giving a pearled effect. So yeah, it feels great in the hands while you play. Although I'm not certain how people with naturally sweatier hands would fare using it.
The print on the front center has RetroSix's logo as opposed to Nintendo's. This was clearly a conscious choice on their part for not just infringing on Nintendo's logo, but also representation of their own brand. Additionally, when you open up the kit, you'll find custom stickers for the back that match and has the Game Boy Advance emblem on it. The same goes with the front of the glass lens, you get a beautifully printed Game Boy Advance logo.
Build Quality-Now we can talk about the longevity of ABS plastic. The plastic is similar to that of the original Nintendo shells, but RetroSix seems to crank things up to 11. I think the quote that is on the official purchase page does it the most justice. "The fit, feel, and tolerance of the…shell is better than the original." The plastic that they're using is straight up cast using ABS plastic. This is in stark contrast to that of the other third party products out there. They're made using injection molding of soft plastics. They're far more brittle over time, screw posts snap, and they're just an overall cheaper product.
I also wanted bring up the comfort of the shells. Not just in terms of the soft outside finish. I wanted to actually cover the fact that it closes fully. Some 3rd party shells don't close so perfectly tight. This has been known to get your soft palm sliding in between the two halves and your skin getting pinched. This also leads to a potential dirtiness inside. For me, one of the best parts of these kits is the new screws, new membranes, new light pipe, new *everything*. The fact that you aren't just getting a front and back and forcing you to use the original parts is a plus. And best of all, the new screws you get and how they're all Phillips for ease of access.
Internal Design-Now we can chat about the internal changes that make these shells unique. First off, they chose to make the window larger for IPS screens to fit. Don't worry if you haven't upgraded your screen, you can use this with regular AGS or standard GBA screens with these. You'll place the screen differently (as instructed on the site) and buy a normal windowed lens for it. You'll also see that the shells are ready to have the CleanJuice pack installed in them if you don't want to use AA batteries. But if you have AA batteries you want to keep with you as backup when you travel, you can swap the CleanJuice and the batteries freely, these shells support both.

Easily my favorite shell that RetroSix offers.

Colors-Now we can discuss the fun part of this whole thing…the COLORS. Now, there's a metric ton of them to choose from, including ones that lack color altogether. As it stands there are the following colors to choose from (hold onto your hat). You have Pearl Blue, Pearl Yellow, Pearl Green, Pearl Purple, Pearl Pink, Matte Black, Transparent, and Grey. The transparent shells don't have a rubberized matte texture, but still have a grippier texture. It's like a sort of dimpled surface, feels like Nintendo's official offerings. I also wanted to touch on the fact that there are mixed color combos. Feel free to choose one of the shells have a two toned scheme to them. Here's what they have for the mashups; Pearl Blue/Green, Pearl Yellow/Purple, Pearl Green/Blue, Pearl Purple/Yellow, Pearl Green/Blue, Pearl Pink/Black, Pearl Black/Pink.
Battery Doors-You can get shells either with or without USB-C charging slot on the bottom. Even if you don't intend on buying the CleanJuice battery charger straight away due to low funds, you could always buy the specialty battery door with the shell and have it ready for when you do.
Cons:
Colors…again-Now, obviously you can't make everyone on this planet happy. I may very well be one of those people in this instance. I'm a very cautious person, but I know what I like. I have a list that you can count on one hand of colors I like for handheld devices. Black, grey, red, transparent, and sometimes white. Luckily a couple of those options exist, but I wish the shells ran also more of a traditional gamut. I think primary colors with the pearled, matte finish would be so damn striking. I get the appeal of having more obtuse colors as they are more unique, but I also wonder if that stops traditional gamers such as myself from buying them.

My second favorite shell that RetroSix has available.
Overall Thoughts:
These should be the next improvement that you buy for your Game Boy Advance. I should mention that not all of the shells that RetroSix sells are matte/Pearl. But they're still the same build quality. When you're shopping, just look to see if they say Pearl in the name or matte in the description of them. If not, you'll know you're buying a standard feeling shell. The standard shells are also great. I reviewed the standard shell previously, click here to read about it if you're interested. The bottom line here is for around $20 you get an all-new shell that is structured to accept larger screens and rechargeable battery packs, new matching buttons, etc. It's been manufactured to be very future and damage resistant as well. I'm really not sure why you're still reading this instead of purchasing one right now…
Purchase Links: