It's getting ever closer to MoGameCon 2019 (if you want to see our last year coverage, click here). We thought that before all of the E3 coverage comes pouring in soon, we should put the spotlight on MoGameCon. Even though it happens the first week of August, it's still worth shining some light on it early for our Midwestern readers. So if you're into game expos, gaming tourneys, and just gaming in general, keep reading!
What is MoGameCon?
MoGameCon is an event happening in Cottleville, Missouri on August 3rd. It's taking place at the St.Charles Community College. The hours are 10:30AM-6:30PM and VIP are allowed entrance at 9:30AM. The event itself features a ton of great fun things in that span of time. If you attend, you can hope to experience any number of the following happenings: vendors, cosplay contest, guest and informative panels, arcade games, family fun, tournaments, exhibitors, classic gaming, food trucks, and much more!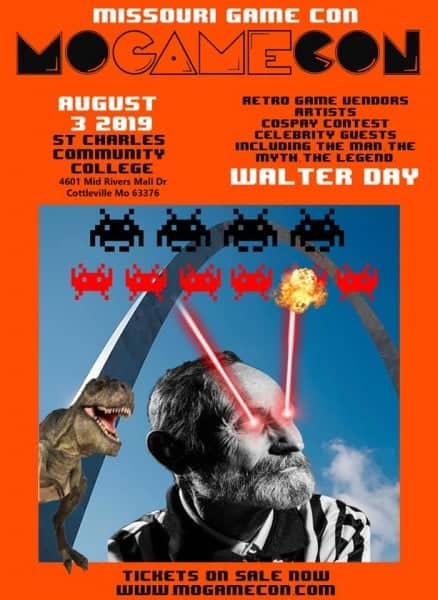 Current Announcements:
Maybe your funds are all tied up and you don't want to show up to buy video games. No problem, there are some great guests primed and ready to do meet and greets, Q&A's, and panels. Check out the names that have been announced so far.
Jay Hatfield
Norman Caruso (The Gaming Historian)
Adam Koralik
Terry Diebold
Terry Diebold's Nintendo PlayStation
Walter Day
Pat the NES Punk
Brett Weiss
Retro Tony (Sponsor)
Filthy Games Room (Sponsor)
Rumor Mill:
If the previous names weren't quite enough to have you come out, don't fret. There is still plenty of time for MoGameCon to pop up some more exciting names or activities. So who knows if anything else might pop up between now and August!
If you want to stay current on MoGameCon keep checking back here. Or feel free to follow them on Twitter and visit their site if you'd like to buy tickets!
If you like the author's work, follow him on Twitter @V1RACY and don't forget to enter the weekly giveaways!
And as always, stay tuned here on Hackinformer.com for so much more and follow us on Twitter @Hackinformer