This last Saturday I visited something a little out of the ordinary for myself. I popped on over to KCGameOn. It is a round the clock multiplayer gaming event. TL;DR, I loved it and think it's one of the better events Kansas City has to offer. Here, let me explain and stick around for the Q&A with the showrunner at the bottom of the page.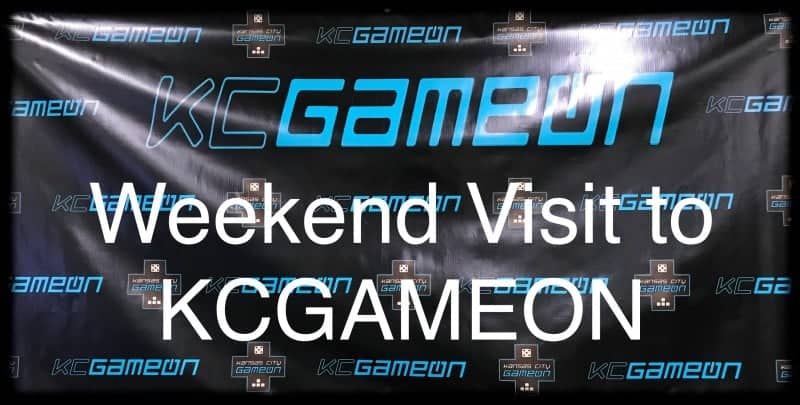 A Quick Walkthrough of the Event:
What's Great about KCGAMEON:
Smooth check-in, get in and get playing.
Snack room (hella spread going on, it's in the check-in room).
Quiet room. This is a room regulated to have no foul language or other inappropriate screaming. Ideal for family friendly gaming and people with social anxieties.
Very frequent, has been happening every other month.
Everyone in attendance were so kind and respectful of one another. This place just oozes comradery.
Dinner supplied with cost of ticket price.
Hallways and certain rooms feature round the clock tournaments.
MAME tabletop setup. I'm not sure if it's there every time, but it should be!
PC gaming, playing multiple genres.
Console gaming, playing multiple genres.
Board gaming. This doesn't get enough representation in my book, so I'm glad it was included!
Actual trophies for certain tournaments.
Dedicated team for tech issues and other help. Everyone on the team is easy to spot, wearing dedicated KCGameOn shirts. They're completely approachable and, from what I observed, quick with the help.
eSports PR company Good Game PR was there. To quote what it is they do, they are a "consultancy agency dedicated to cultivating midtier esports and gaming personalities, competitors, and teams".
Lastly, there was a spot for cooling off and watchinh some multiplayer action on a big screen, complete with commentators!
Overall Thoughts:
This place is great! I was so taken aback with how organized it was compared to other events I've been to in the Midwest. Those of you who read the articles I've done for other different events that we attend know that good organized events are few and far between in the Midwest. And the fact that this takes place in a university means there's a clean and safe environment for families and individuals who just want to have a good time and not feel unsafe. I will probably attempt to attend more of these maybe even as a participant next time!

Interview with Nick "nickthenerd" Engstrom:
Q1. How long have these events existed so far?
A1. This is our 85th event and have had an event almost every other month for the last 15 years.
Q2. What things have you changed or improved over the time that they've been going on.
A2. The biggest improvement I added to KCGameOn was scalability. We developed a fully in-house system to buy tickets, sends an email with a barcode and allows you to scan it to get people through the check-in table quickly.
Q3. What is something bigger that you want to add to it that will take time or will come maybe as the event gets bigger.
A3. I want to increase the production value of our events – I really want to start emphasizing the gameplay and in turn give our folks film they can use for collegiate and/or semi/pro gaming applications.
Q4. Where did the idea for this come from?             A4.  KCGameOn just started like any other garage LAN – but at the place we work. We work at a technology company here in KC, so it made sense that we could use space there for 10-20 people to get in some gaming on the weekend.
Q5. The location for this is great, is this the primary location or has there been other places in the past? Is this the permanent location as far as you plan?
A5. We have used a couple of different venues in the past, but hope to continue having events in the future at Park University. There is a mutual benefit on both sides to grow and continue the relationship which will make esports strong in KC.
Q6. What is your favorite part about putting on a gaming event like this?
A6. The social side of gaming – getting people out of their house and meeting people with the same common gaming interests. I also like to see the personal and professional growth that events like these provide the people. I've seen several people now play at our events and go on to play pro level casting and esports. It is all about providing opportunities for people.
Q7. Some people out in the world have social anxieties and would love to be participating in these tournaments but have fears about attending. What would you say to them about your event to encourage them to come?
A7. Getting people to come to the event is always the hardest conversation – people have general anxiety about bringing their own gear, going to new places, feeling akward and socializing – I just tell them this – We have had thousands of people come through our events and 90 percent of them come back for a second, third, fourth time and much more. This is a safe place where you get to meet with people who enjoy the same things you do. Jumping in a tournament is the first easy step to learning/playing with new friends and possibly finding future gaming partners for future events.
Q8. This event went until 3AM. That is such a specific time, why was it chosen?
A8. The thought always that we start breaking down and cleaning up around midnight – by the time we get to the actual rooms where people play, most people have already left (normal leave time averages around midnight) – so the 3am time is a formality because we don't want to rush people out the door, but also want SOME sleep for the next day.
Q9. How often do these events happen?
A9. Previously we have had events every other month but as we continue to grow and scale, it will more likely happen quarterly. We need the additional time for planning and sponsorship to make sure we can bring the very best events to Kansas City. We will continue to have one event a year that will be a 3 day event, and look for that in the Nov-December time frame in 2019.
Q10. Do you only do tournaments of the biggest, current games or do you put on tournaments for retro titles as well?
A10. We try to put on tournaments that we believe will have 4 or more teams to play. That is simply the 'fun' metric – with out 4 teams, we can't run a double elimination tournament. Games have a shelf life and hype bubble that typically last 3-6 months. Once they fall out of the six month arc, it is usually really difficult to provide a 'tournament' type atmosphere without a really strong community group pushing the game. I'm not opposed to retro titles/tournaments, we have run some of those in previous events and will do more in the future.

If you like the author's work, follow him on Twitter @V1RACY and don't forget to enter the weekly giveaways!
And as always, stay tuned here on Hackinformer.com for so much more and follow us on Twitter @Hackinformer