MOGameCon was alive and kicking for a third year just outside of St.Louis in a city called St.Charles this last Saturday. It is a convention that has been in a space too big and a space that was too small. The convention has lasted one day, then two, then one again. As they work out the kinks in this and find the format they go with, the attendees and guests do their very best to make it all work out. We'll talk about what went on at the convention schedule-wise. Then we'll discuss what was great and should receive no change and what should be improved for MOGameCon 2019.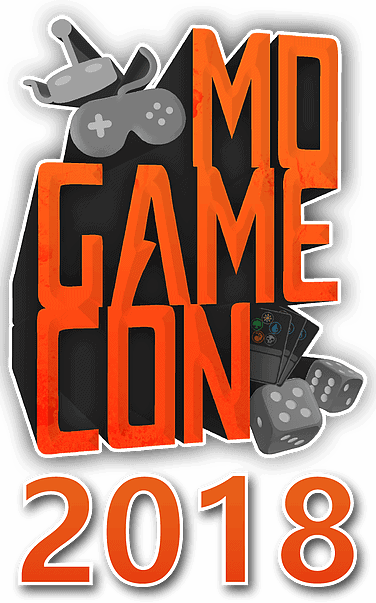 Panels/Guests: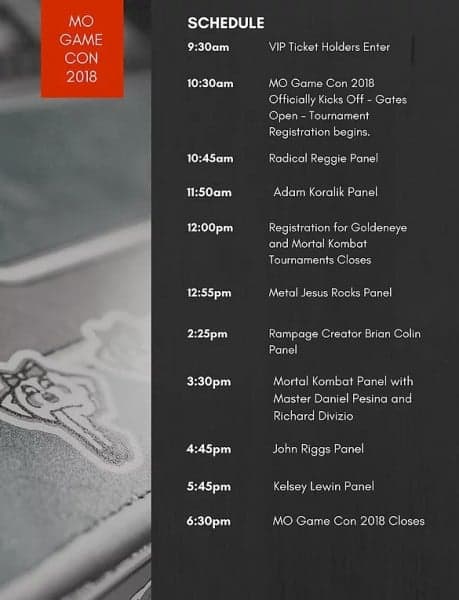 As you can see, there was a lot happening all in one day. It makes more coverage harder, but we did our best. We visited almost all of the YouTuber's panels and stayed the full length for all of them. We really wanted to be able to cover the video game tournaments themselves but found that harder to do as there was so much going on. I loved going back and forth from the show floor to the panel rooms since it really breaks up the flow. This way different people are on the show floor at different times.
Speaking on just the panels I wanted to personally thank the people who came from around the country to attend our middle of the country event. I think it was more than admirable that they came and were kind to the exhibitors as well as their viewers and fans. I tried to ask questions at all of the panels that I went to. I think that the panels that we visited were so chill and very informative. Nobody ever shied away from questions about YouTube or dealing with irate fans. I think that next year they should maybe switch out the people so that if someone has come in 2017 and 2018, they won't feel like they've seen it all already.
Tournaments/Cosplay Competition:
I do wish that the turnout for the tournaments would've been greater. It made covering the tournaments seem rather pointless as I didn't feel I could generate enough relevant content for this site. The same went for the cosplay competition. I truly didn't see very much cosplaying happening in the first place. This made me sort of sad because I felt like the ones who did it felt like they were alienated overall. They seemed to mainly keep to themselves from what I could tell.
I would love to see more tournament entrants and cosplay competitors at next year's event. That's why I felt it was still necessary to cover this section. I really would also like to see a DDR or Pump It Up tournament if at all possible. Additionally, while there wasn't an official tournament in the room with the arcade machines, there was definitely some friendly competition between gamers trying to beat each other's high scores! So I think that overall, there was a base for the tournaments and cosplay competitions. I would love to see more of you out there next year doing it!
Booths:
So let's talk about the booths on the show floor, shall we? First, we have to touch upon the sheer quantity of booths. I was stunned by how long it took me to record everything in my initial walkthrough. We walked at a fast pace around the whole place and it took about 6 minutes. That was just walking without really looking. As the day went on I started remembering games that would finish collections (sequels, prequels) that I started hunting for. The feeling was so good and the vibe of everyone else doing it was so awesome.
But it wasn't just the multitude of booths that made the place buzz. Having a lot of booths is one thing, but each booth having an immense amount of varied products is an entirely different ball game. You could easily overlook something that you might've been looking for for ages. Which is tremendously fun but equally agonizing because someone might buy it before you do (that happened to me with DDR Universe 2 and 3 for XBOX 360). Which, by the way, reminds me that someone should furnish that space with an ATM for this event.
Besides just technically having a lot to purchase, we should mention that there were lots of vintage products to purchase. The whole event was especially catered to retro collectors as a whole. I didn't see a single XBOX One or PS4 console or games for them. I saw exactly 3 Nintendo Switch games, but they were lackluster titles overall. You should tell people were ignoring them because retro stuff goes quick. There were even freebies from some of the tables where the panel guests were sitting in between panels.
Lastly, there were plenty of obscure consoles to see and experience. If you watch my video at the bottom, you'll see that there were things such as the PSX and the Sharp Famicom Twin. As you can see, we tried to get shots from each side of the show floor. Including one of the jumpsuits from the original Nintendo Championships. It's larger than even pictures could show, that's for certain. It was a thrill down there with all of the hustle and bustle.
Overall Thoughts:
From YouTube celebrities to video game creators and actors, tournaments to cosplay competitions, MOGameCon had a lot to offer. I had never previously attended this convention, but simply was not disappointed. They had chosen, what I feel, was the perfect location for this event. It was most definitely in a community college but split between a very large basketball court and rooms upstairs where the panels took place. I hope that they will use the same space for 2019 and maybe get in some more vendors. I'm not saying that there are not enough vendors, I just know that there were some spots that were empty and could stand to be filled.
I do have a few small nitpicky things. What were the little tickets for? Each panel had a ticket and I was told that every VIP got one ticket to enter the panels that they wanted to. So we each grabbed a ticket for the panels that we agreed on covering. So now the real questions start. Why were we never asked for them upon entering rooms? If they were only for VIPs (and us press) why didn't the VIP pass that was given on lanyards just gain us access without the need for paper tickets? None of this is a big problem, but it seemed more confusing.
But other than that I was truly inspired by how much they did with the day. They made events happen all day long and everything seemed to fit together so nicely. Heck, even the parking was more than substantial as it is an entire school's parking lot. There was also plenty of vending machines, water fountains, accessible restrooms, $1 concession items, and places to sit and let your feet rest. Quite frankly, for being such a young convention, they've already figured so much out. Choosing a community college already has so much. Many kudos to the convention curators and staff for making this one of my favorite local conventions!
I think that they should split it up across two days if, at all possible, I feel as though cosplayers and tournament goers have to miss some panels or vise versa. I think it would be great to have panels at the beginning and end of each day and have tournaments and cosplay competitions in between. This also helps collectors feel as though they can take longer shopping. Or if people can't make it at all one day, they could have a chance to come the second day. Even if the second day is only like 6 hours or something in 2019 to gauge interest. I think there would be enough now that 2 years will have passed by 2019 to build up more hype and knowledge about the con.
Video Coverage from MOGameCon 2018:
If you like the author's work, follow him on Twitter @V1RACY and don't forget to enter the weekly giveaways!
And as always, stay tuned here on Hackinformer.com for so much more and follow us on Twitter @Hackinformer