About 1.5 years ago, here in the US Hori gave us a delightful treat. They introduced a slightly small and wired controller for people with smaller hands. With this controller came mainly praise being styled similarly to a Super Nintendo controller, you can read our review over it here. But it did have some caveats that came along with it. There is a newer revision on the block with some…changes. What are the changes? Are they any dang good?! We'll talk about this and much more. This is our review of the Hori Wireless Controller Light for the PlayStation 4 ($35.99).
Description:
'A lightweight and compact designed controller that is easy to hold for children. Play free and comfortable games in places with wireless functionality. Last up to 10 hours after fully charged.
The light bar button enables you to check the player assignment and charging status. The following buttons are available for rapid fire and continuous hold setting (About 12 times/sec).
Note:
– Tracking of light bars using PlayStation® Camera is not supported.
– Direction key cannot set the continuous fire hold function up, down, left and right.
– This product is not equipped with vibration function, motion sensor function, stereo headphone/microphone terminal and speaker.
– USB cable (Micro B) is not included.'
Features:
'Touch Pad mode button
Light Bar button
Continuous fire hold function
Compact and lightweight wireless controller'
Unboxing:
Pros:
Larger shoulder buttons than the previous model. I'm not saying that you should up and ditch your current Hori Mini controller. If it works for you and you like it, that's great. This one just has larger shoulder buttons and that's really how it should've been all alone. The previous ones were like the size of a Pez candy.
Another great attribute and improvement over the older model is the grip. In my unboxing video you saw that I ran my fingernail across it. It's a cross hatch pattern that makes the controller easier to keep ahold of. Although, they didn't rubberize it and that would've been really grand. So if you're someone who has exceptionally sweaty hands, this will still be hard to hold.
The thumbsticks have improved over the previous version as well. In fact, they've improved in two different ways. First off, the caps of the thumbsticks are now much more like the original PS4's thumbsticks in terms of they feel and look. They now don't just have a dot on the top, bottom, left, and right of the face of the cap. They now have a solid ring around the edge. Not just that, but they're rubberized like the original PS4 controller.
Continuing on with the thumbsticks, you'll find that just like the previous Hori model that they are nice and tight. They have a perfect level of sensitivity.
When compared to the previous model, you'll find a change of button layout. Nothing crazy of course. They have just rearranged the share, options, PS, and TP buttons. In the middle of it is the touchpad press button. This layout works much, much better than what they did before.
If we're talking about the core features of the device, we can't forget about the D-Pad and face buttons. All of which operate beautifully as they are nice and responsive. No issues at all.
I will say that the D-Pad seems to be designed for games that kids might be playing, not technical games like fighters. So this controller is really great for retro games, platformers, and puzzle games.
Rechargeable and the battery lasts an incredibly long time. Longer than the original PS4 controller. Since this has no lightbar, there is less drain. It has so much charge, by the time I had to write this review, I still hadn't found the end of it. I knew I was getting close though as the PS4 told me there was still 1 bar left of battery.
Wireless range is probably mentioned somewhere on the box or in the instructions, but it was all Japanese. I can confirm that it's much further than the 10-foot cord of the previous version. I at worst was up to 30 feet away from my TV and it still worked with no noticeable lag. And, while talking about wireless connectivity, this controller is incredibly easy to sync. Not quite as easily as just plugging in a USB controller, but you know what I mean.
The color choices for the new revision is also much better. The previous version was matte blue in the US and white in Asia. This new model has both clear red and clear black. So if you buy one of these with a clear front, you could add LED's into it for cool effects (screws are a triwing design though).
Child-friendly. I know this one seems vague, but that's mainly because every child is different. But I mean that it's built to withstand a lot as I was able to sit on it with no worries. I also dropped it from 6 feet to the floor to simulate a kid throwing it. Nothing seemed to hurt this thing. Heck, it still looks as though it just came out of the box.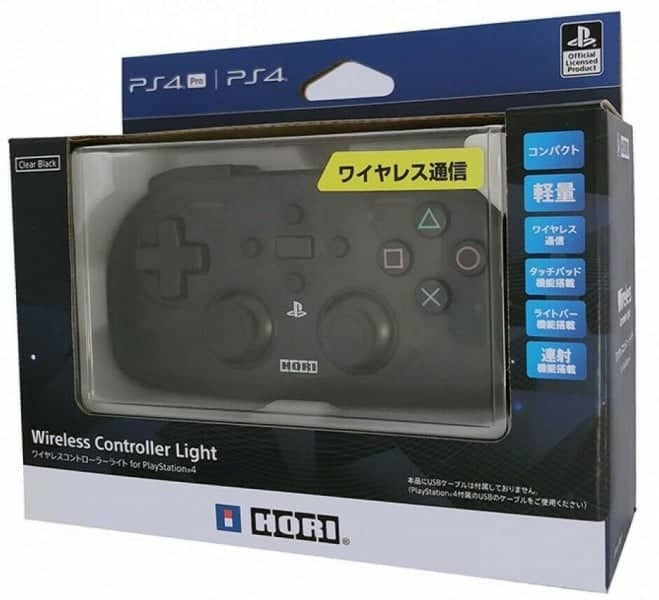 Cons:
One of my largest complaints is that there is no micro USB included cord included in the box. We'll talk more about this in the next section.
Yes, this controller is indeed a smaller controller. It's 30% smaller to be exact. This is a bitty controller for smaller hands. Larger hands will have thumbs that bump each other during gameplay that require both thumbsticks. Additionally, if you have large hands, you're going to overtake the shoulder buttons even with one finger.
This one is a doozy and really just shows how this controller may need to improve in a third revision. The R2 and L2 are buttons and not triggers. This means that you either press the button or you don't. No in between like you might need for racers. If you don't really play racing games, this may not be a large takeaway for you. But it could be a deal breaker for a player.
No motion controls. Not a deal breaker, but there are some games that require it. You may have to whip our an official PS4 controller to get through those bits.
Touchpad set up is confusing. If you buy one of these or bought the Hori Mini controller and don't understand it, this is how it was explained to me. You'll press and hold the TP button and then your thumbsticks cease working as thumbsticks. Instead, they'll become a representation of your thumbs on a touchpad. The whole rectangular touchpad is just a button press as if you're pressing in on the touchpad. I feel like they could've just made R3 do that when in TP mode.
Lastly, you cannot use this for games that require extra stuff. As it said in the description, there isn't any lightbar tracking, no speaker, no motion controls, no 3.5mm jack, and no vibration. Some games may require any of those given features that a standard PS4 controller has.
Overall Thoughts:
This newer controller revision from Hori is absolutely an improvement over the older controller. Does it set out to replace that controller? Probably not, I can imagine that there is still a use for the wired version. Especially if you buy it for a child, it's easier to plug and play rather than having to charge it for them as that may become tedious. Children hate waiting and having it plugged in always makes more sense. But this wireless model does probably work more in favor of adults with slightly smaller hands. The features of it being wireless, more comfortable thumbsticks, and larger L and R triggers; which all lean into adult expectations. And while there is no micro USB cable included, most adults already have extras in the home. And by not including one, Hori was able to keep the cost down to make this package all the better.
Interested in the fun, red controller? Look no further, click here! Use code INFORMER to get a discount!
If you'd prefer the black controller, click here. The code INFORMER works on this one too!
If you like the author's work, follow him on Twitter @V1RACY and don't forget to enter the weekly giveaways!
And as always, stay tuned here on Hackinformer.com for so much more and follow us on Twitter @Hackinformer