We've already reviewed and posted the countless updates for the SX Pro. The SX Pro is the first dongle that was on the market that allowed for loading of homebrew, XCI, and NSP titles. Today, we're talking about the SX Gear which is a dongle for the Nintendo Switch that doesn't contain an SX license. This means you can push any CFW straight from the RCM screen. We've already talked a little bit about it when it was first announced. If you want to read about it, you can find that article here. If you know what you need to know already and are just wondering our opinion of the device, scroll on!
Original Press Release from Team Xecuter:
'Today we are happy to introduce our SX Pro little brother, the SX Gear. SX Gear is the perfect solution for SX OS owners who want an easy and safe way to boot up Team Xecuter firmware.
It can also be used to inject any other payload with a high-quality toolkit from the brand you trust: Team Xecuter. SX Gear combines our acclaimed dongle and jig, strong, sturdy, with its unique super-capacitors. Made to last and keep your Switch safe. Available[…]at an MSRP of $24.95, from all the Team Xecuter distributors located all around the world, including one near you.
Team Xecuter, rocking the Switch in 2018 and beyond!'
Pros:
There are definitely some major pros to this device over the others. To start with, this device is incredibly easy to flash. It's not to say that the others are not, but that this one most definitely is. This dongle does have size on its side, compared to the others. It's quite small and easy to transport in any conventional carrying case. There is also a matter of it having a high-quality build. And I do mean high quality. From the dongle's outer shell to the micro-USB port to the USB-C male end. It all feels solid like an officially licensed, first-party product.
The dongle also comes with the same 5-inch micro-USB cord that the SX Pro comes with. The cord serves the same purpose as it does on the SX Pro, to charge the capacitors. Another great feature here is that other companies can't really offer, except maybe R4s (see our review of the R4s dongle here). And that feature is extended support from Team Xecuter through their SX OS. But of course, if that ends up being your CFW of choice. But I do wonder if they would offer support if the device itself had a hardware flaw.
Cons:
The more glaring issue that I have with the device, same as the SX Pro is that the jig is separate, unlike a lot of other dongle offerings. There are quite a few of them that offer a way to insert the jig into the dongle when not in use. This is extremely handy since the Switch is a handheld as well and that makes the worry greater with an SX Gear. Two pieces are harder to keep track of than one. Especially because the jig is so dang tiny!
The other interesting thing about the SX Gear is the cost. If you're still wanting to use SX OS at some point, it may be cheaper to buy an SX Pro with the license built-in.  Quite a few people like SX OS still as it supports XCI.
Then there is the matter of the capacitors. A lot of users and non-users have dogged on the SX Pro having capacitors rather than a battery. Well the SX Gear is no different in this regard. So you can expect your SX Gear to only hold a charge as long as the SX Pro does. In my tests, I've found that capacitors have drain even if they're not being used. So that's a bummer to have to charge the item a lot if you hardly use it. Which may not matter to you as it only takes 5-8 seconds to charge. But if it does, just know that the Xecuter dongles are the only ones to have capacitors. The other dongles have batteries.
Lastly, the dongle doesn't come with instructions. This is a downside, but not to worry, we'll put up a tutorial on how to flash the dongle with ease. But if you're wanting to whip it out and try it right out of the gate, you may be disappointed that you have to find our tutorial or go to the TX website to get answers. At the very least, the simple plug and play dongle should have simple instructions. They should include their website link or a QR code on the box. Something that I'm sure they thought about but bailed on the idea.
Overall Thoughts:
I was sitting here and wondering to myself, "Who is this product for?" If you have an SX Pro dongle already, you can boot alternate payload.bin files from the SX OS. So having one of these wouldn't be for those of you who already have an SX Pro. If you already have another way of loading CFW's for your Switch, this isn't for you either. The other main point is that there are other dongles that are cheaper than this. Of course, not every other dongle has the build quality that you get with this. But if you're an adult who takes care of their belongings, that shouldn't necessarily be an issue.
The bottom line here is that I think that if you want a Team Xecuter dongle for the Switch, spring for the SX Pro. You get the same build quality and you jump through the same amount of hoops to load other CFW's using it. Furthermore, you have the build quality and it comes with SX OS by default so you get the drag and drop XCI support. Does that mean that this is a bad product? No, not really. But I feel that it's like the kid's meal version of an already realized product, the SX Pro.
Want to buy an SX Gear? The best current place to buy in the US, and generally has sales pretty often is from Mod3DSCard's site. If you need an SX Core or SX Lite, their site may have some. But in the US, they're a bit harder to find.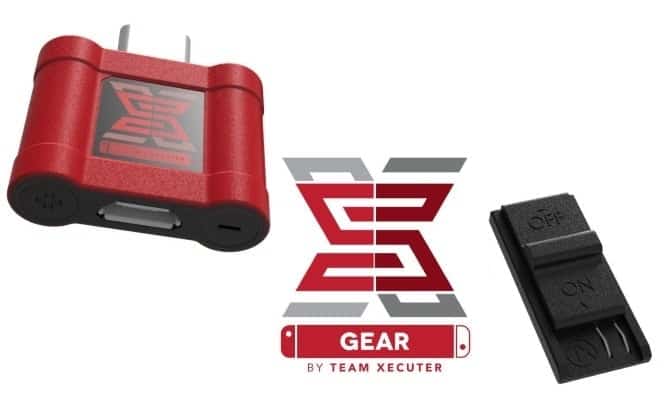 If you like the author's work, follow him on Twitter @V1RACY, and don't forget to enter the weekly giveaways!
And as always, stay tuned here on Hackinformer.com for so much more and follow us on Twitter @Hackinformer