We're all suckers for video games and video game consoles. You wouldn't be reading this right now if you didn't have some kind of affinity for the medium. As the future continues, the bigger companies want us to be more digital. Games are digital, movies, music…it's a sad time. But companies like Limited Run Games, Super Rare Games and Special Reserve Games are trying to help out in every way that they can. Bringing really great games to the forefront. And since they have limited time to get to all games, they do them in sets. Today, let's focus on Special Reserve Games.
About Special Reserve Games:
'Special Reserve Games produces and distributes collectible video game editions in small batches. While unboxing and owning physical versions of your favorite digital games is only part of the fun, it's just the start.
We're passionate about the depth of art and creativity in game design, so we work with top-notch artists, sculptors, and fabricators to bring those designs to fans, reimagined as high-quality, uncommon collectible treasures that make the limited releases we offer truly incredible and one-of-a-kind.
For all our PC, PS4, and Vita games and physical merchandise, we're committed to easy global shipping, affordable prices, and an expanding array of titles from some of the world's most creative game developers.'
Unboxing Video
What Games Do They Carry?:
Well, obviously only the future can tell what the team at Special Reserve Games has coming. But until then we can talk about a few of the games that they've already released. They primarily focus on releasing titles for the PlayStation family of products. A few of their releases also saw a PC version as well, which is great. I think it makes the most sense to cater to console gamers in the first place though as they primarily are used to physical games.
There are so many digital stores with good deals on PC that it's probably hard to convince PC gamers to get a disc that they only use once. As far as the Vita goes and potentially XBOX releases, they had this to say, "Vita releases are already underway for some Reserves we have in store; this option varies based on the game and platform capacity by title. Not every game will be released on all platforms. While we would love to release on Xbox in the future and do plan to finalize that option, it is not available at this time."
So let's just talk over the lineup from the picture below, from left to right. The first game that you see is Strafe from Devolver Digital. It's a 1990's FPS throwback (like Doom and Quake) and it even had John Romero pimping it out back in its Kickstarter days. Strafe is also on Linux, Mac, and PC. In fact, the PlayStation 4 is its only console release at this point. So it's great that Special Reserve Games picked it up to make physically.
Shadow Warrior 2 is another first person shooter, developed by Flying Wild Hog with distribution handled by Devolver Digital. The first Shadow Warrior came out in 1997 but got remade in 2013. This sequel came out 3 years later on Mac, PC, XBOX One, and PS4. It seems to be deep with its story so we won't go into that. But it was generally well received from critics, making it another great decision from Special Reserve Games.
Absolver is next and what is there to say about Absolver that hasn't already been screamed from the mountain tops? Heck, even the tagline on the front screams "Oh my god, I need to play this". It reads 'Online Melee Action'. The game is truly unique, one of a kind. I doubt that you'll find an online technical fighting game with such robust weapons, moves, and armor built into it. This game comes to us once again from Devolver Digital. I'm glad that they locked down this physical release as the XBOX One version still hasn't made it to market. So if you got your hands on a copy of Absolver in physical format, cherish it, it may be the only version to ever exist.
And lastly, there is Reikon Game's Ruiner. This is the game that was sent to me from Special Reserve Games. I fully intend on reviewing the game with this copy. That way if it's worth buying, even if there are no physical versions yet, you can definitely know to buy it digitally. It also was released on XBOX One, PC, and Linux for those who were wondering. If you don't want to wait for my review to buy Ruiner, there is a link to the Special Reserve Games site at the bottom of this page.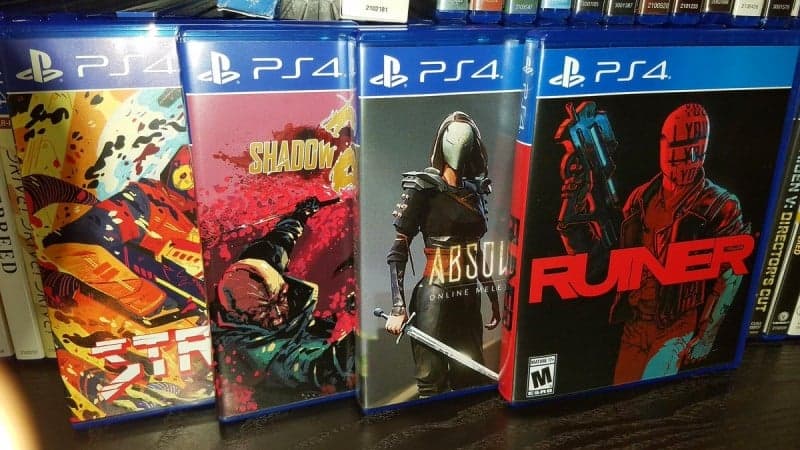 How Does it Work?:
Basically, it's simple. If you see a game that comes available for preorder, you just sign in with your Special Reserve Games account and add it to your cart. After it's in your cart, the clock is ticking. You definitely need to pay for it as quickly as you can. There will always be a limited window of time as there isn't an infinite supply of the game in question. After you've paid for it, you will know the release date for it. You will get a shipping notification via email once the game leaves their facility, this helps you know it's on the way. Certain games get sent out in waves, this keeps them from making any simple mistakes.  If they tried to ship everything all at once and overload themselves, they might make a preventable mistake.
Now, time is of the essence, as I mentioned before. If you're wanting to make certain that you can get your hands on a game before it sells out, do the following. Go make an account with them right now as it's required. What you don't want is to see a game that makes your mouth water and try to buy it. Then you find out that you spent 3 minutes making an account and then you lost your opportunity. Why do they need you to have an account? Here is a direct answer from their site, "Registration and other forms of verification are intended to be a convenience for you to keep all your digital goods and order info in one place – but they also mitigate fraud and scalping, helping to assure that our Reserves are available for game collectors."
Refunds and Replacements:
I wanted to add this section in as I think it's important. Not just important for Special Reserve Games, but for you. I don't really think that fans read stuff like this. They usually just want the game and have trust that everything will work out. But what if you have an automatic payment that comes out of your bank and with the game purchase, now your account is negative and you need to eat. It's not necessarily your fault, but it definitely isn't Special Reserve Game's fault.
So here is what you need to know. In terms of refunds, if you do need your money back, you have exactly 24 hours in which to execute a refund. Outside of that, they won't be able to help you. This is most likely due to the fact that companies keep moving. So you buy the game, and then they have to print a label, box the product, and wait for the mail carrier to get the products. You have that small window of time. Since they only sell the product for a limited time, sending it back unopened won't help either. The game most likely will not be for sale anymore and they would have nothing to do with the returned product. This is a smaller company we're talking about, not a Best Buy or an Amazon.
But what is in your favor is if your package arrives to your home and the product is damaged. They will commence a refund for you in that scenario. What you need to remember though is that a replacement will not be possible as normally limited quantities of games get snatched up and are likely all accounted for. If I were you and there was some box damage, I would swap the box for a lesser game that you don't care about, maybe a sports game. That way you can keep your extremely limited game and not just get your money back.
If you want to take a look at their site, you can find it here!
If you like the author's work, follow him on Twitter @V1RACY and don't forget to enter the weekly giveaways!
And as always, stay tuned here on Hackinformer.com for so much more and follow us on Twitter @Hackinformer