Earlier this month, during the storm of video games and tech that is the Electronic Entertainment Expo, we reported on several new accessories for the Nintendo Switch coming within a years time. You can see that article if you click on the link here. But one of them has stood out so significantly that it has warranted us to make a whole singular article just for it.
Nyko has been around for 21 years now and have brought us some great products and admittedly some not so great products. But it seems that recently they've been hitting their stride and have been pumping out some really great products.
The product of discussion today specifically, is their upcoming Nyko Portable Docking Kit. This is dramatically smaller than the Nintendo stock Dock.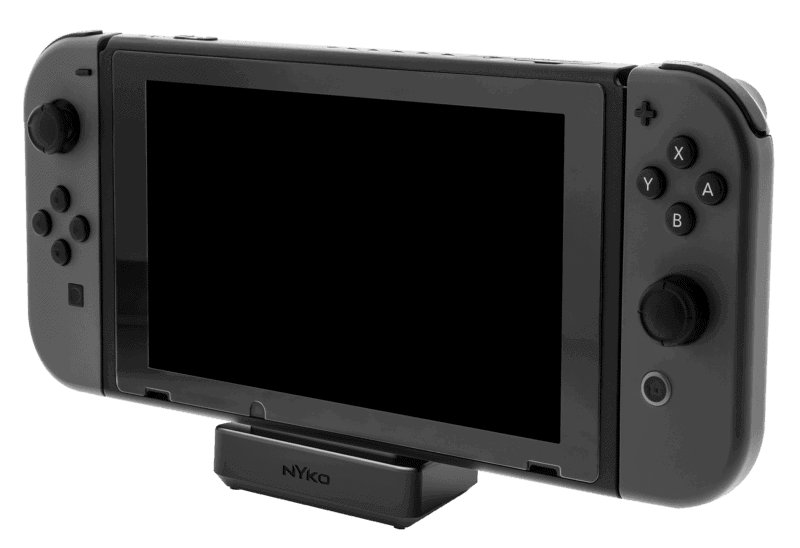 As you can see, the Nintendo Switch is resting on the dock with an exposed screen. A welcome change for those who experienced scratches, never docked because of fear of scratches, or bought a screen protector to prevent scratches. Their site explains more:
'Enable TV mode on the go with Nyko's Portable Docking Kit for Nintendo Switch™. Portable Docking Kit allows you to connect your Nintendo Switch™ to any HDMI TV without needing to bring your dock with you. Its compact design allows it to fit in most travel bags and the built-in portable stand keeps the Nintendo Switch upright when outputting the TV. Portable Docking Kit is powered by the included Type-C™ AC adapter and will keep the Nintendo Switch charge while playing.
Connect the Nintendo Switch to a TV without need to bring your dock with you
Power by a Type-C AC Adapter (included)
Compact design
Enable TV mode on the Nintendo Switch
Includes an HDMI cable for connecting to any TV on the go

Built-in Stand 

provides a sturdy perch to keep the Nintendo Switch upright

'
As you can see, it is stylized for simplicity. As of E3, the prototype that they showed did not have any extra USB ports. By the time of it's release, Nyko promised that there will at least be 2 USB ports, but they said that they may be able to add more. This may mean that they intend on releasing more USB Switch accessories themselves and want to give customers more ports to use.
The dock itself isn't really advertised as a replacement dock for your TV so much as it is an ultra portable, connect to any TV you come across type thing. The device measures in at 03″x2.5″x01″ and weighs little to nothing. A very good thing for people who travel a lot or really anything that isn't as permanent as staying at home and playing.
At the time of this writing, the projected price of the dock upon it's release in September is $44.99, but they have stated that it is possible that it could drop down to $39.99. But no matter what the final price is, Nyko will have successfully undercut Nintendo and extended us the same product with improvements.
Stay tuned here Hackinformer.com for all things Switch and follow us on Twitter @Hackinformer