Well after a very long wait to find out just what Nintendo's new console code named "NX" was going to be, we finally know. Today Nintendo unveiled its new console which is now called Nintendo Switch. The video Nintendo showed off today confirmed that a lot of the leaks we have been seeing over the past months have turned out to be true.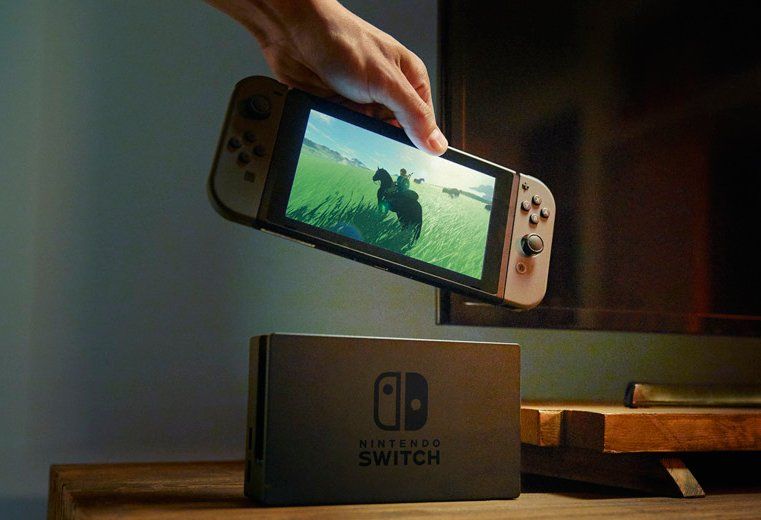 The Switch will be both home console as well as portable gaming device. This is achieved through its unique controller setup. The Joy-Con as it's being called works in a multitude of ways and allows some pretty, shall we say different ways to play a game. One is the normal controller in your hand, joysticks, buttons nothing to see here move along. But what if you want to take your game with you? Well the controller comes apart on the left and right ends and those two sides slide down onto the console that is in the docking bay, allowing you to take it with you.
Unlike the Wii U where the controller had the screen, this time it's the console itself that has the screen. You see the console is mobile when you want it to be, but when you want to play at home on your T.V. It slides into the docking bay, allowing the Joy-Con to be used in a traditional style of controller, to have half of the controller in each hand no middle, or now in a odd yet interesting spin give half the controller to a friend to play. Yeah, I know what you're thinking, that's exactly what I was thinking. But with the controller's design, this odd way of playing is completely possible. You can see the controller's design above and how splitting it in half one for you and one for a pal would work. If you do not like the Joy-Con Nintendo has stated you can go the more traditional controller style with the Switch Pro Controller, which looks very similar to a Wii U pro controller. All in all this reveal has got me pretty pumped. It seems there are tons of support from 3rd party studios as well. Here are the ones Nintendo has named so far:
• 505 Games

• Activision Publishing, Inc.

• ARC SYSTEM WORKS Co., Ltd.

• ATLUS CO., LTD.

• Audiokinetic Inc.

• Autodesk, Inc.

• BANDAI NAMCO Entertainment Inc.

• Bethesda

• CAPCOM CO., LTD.

• Codemasters®

• CRI Middleware Co., Ltd.

• DeNA Co., Ltd.

• Electronic Arts

• Epic Games Inc.

• Firelight Technologies

• FromSoftware, Inc.

• Frozenbyte

• GameTrust

• GRASSHOPPER MANUFACTURE INC.

• Gungho Online Entertainment, Inc.

• HAMSTER Corporation

• Havok

• INTI CREATES CO., LTD.

• KOEI TECMO GAMES CO., LTD.

• Konami Digital Entertainment Co., Ltd.

• LEVEL-5 Inc.

• Marvelous Inc.

• Maximum Games, LLC

• Nippon Ichi Software, Inc.

• Parity Bit Inc.

• PlatinumGames Inc.

• RAD Game Tools, Inc.

• RecoChoku Co., Ltd.

• SEGA Games Co., Ltd.

• Silicon Studio Corporation

• Spike Chunsoft Co., Ltd.

• SQUARE ENIX CO., LTD.

• Starbreeze Studios

• Take-Two Interactive Software, Inc.

• Telltale Games

• THQ Nordic

• Tokyo RPG Factory Co., Ltd.

• TT Games

• UBISOFT

• Ubitus Inc.

• Unity Technologies, Inc.

• Warner Bros. Interactive Entertainment

• Web Technology Corp
I see some heavy hitters in there. So it is looking good to me, what about you guys? What do you think of the Switch? Leave us a comment and let us know. We love hearing from you guys.
Until Next Time Stay Safe and Happy Gaming!