You read that headline correctly! We're going to get into what the xScreen is for those new to it and show off the trailer. And of course we'll give you all the details of the sale and where to get it right now. Let's do this then, shall we?!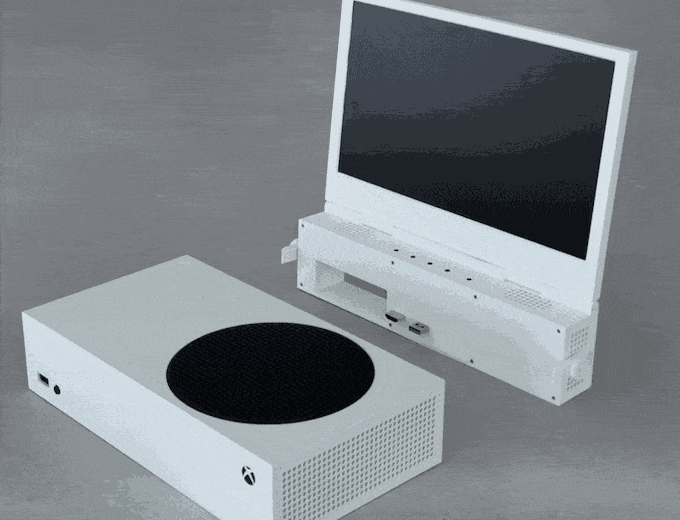 What is xScreen?
xScreen for Xbox Series S. Get ready to game more. The power and performance of the Xbox Series S can now be taken anywhere. UPspec Gaming is excited to announce the general availability of the xScreen, a new hardware accessory for the Xbox Series S. xScreen is a fully integrated folding screen that seamlessly attaches to the Xbox Series S. This transforms your device into a laptop form factor that can be easily transported and used anywhere there is a power outlet. xScreen perfectly complements the stunning aesthetic of the Xbox Series S to create a single cohesive unit.
I'll be reviewing this product and its accessories very soon as it's already on its way to me. But this sale is happening now, so if you can't wait, I don't blame you!
Trailer:
xScreen Features:
Unique cable-free attachment system-xScreen includes HDMI and USB power connectors that are aligned to the Xbox and plug in as part of the attachment process, forming part of the structural connection of the xScreen to Xbox Series S. Completing attachment requires tightening of two thumb screws which means the xScreen can be attached and removed in seconds. Only the original Xbox power cable is required.
11.6" 1080p 60hz IPS screen-The screen panel has been selected after thorough testing to maximize screen size within the footprint of the Xbox Series S and create the smallest possible laptop form factor when closed for protection and easy transport. To power from USB and not require additional cables, the xScreen must balance resolution, framerate and brightness to create the best possible experience. Most modern Xbox games are optimized for 1080p resolution on the Xbox Series S, making the xScreen a perfect match. The xScreen pixel density is higher than most 4k screens due to the combination of size and resolution and looks fantastic.
Integrated stereo speakers and controls-The integrated speakers provide great sound for the perfect personal gaming setup, and the built-in controls allow quick access to volume, brightness and other screen functions.
Cross-hair overlay-There are four crosshairs and two colours for the first-person shooter fans. It is all cycled and can be turned on and off with single button clicks – no menus required.
HDMI-CEC power off sensor-xScreen includes built-in sensors that send HDMI-CEC shutdown commands to the Xbox Series S when the xScreen is closed. This will execute the Xbox shutdown action protecting the Xbox and the xScreen. Because the main exhaust vent on the Xbox Series S is covered when the xScreen is closed, this is an essential safety feature we have
included to protect our customers. We have also ensured that the xScreen is rated to withstand the typical exhaust vent temperatures after extended play sessions.
Swappable colored Latches-The xScreen side latches are user removable. We offer replacement latches in various colors as an optional accessory to show your own personal flair or avoid confusing xScreen with your friends.
Optional stand mode-To maximise the situations where an xScreen can be used, we have designed it so that the screen can open slightly further than a full 180° and then be tilted to stand up (with the help of our optional Stand Feet accessory) so that it uses the Xbox Series S as a screen stand enabling play in a taller and smaller footprint.
Optional Custom Carry Case-The xScreen custom carry case enables the transport of everything you need in the smallest possible form factor.
If you need to know anything more about the product, you can read their FAQs.
Sale Details:
UPspec Gaming is excited to announce the first-ever xScreen sale! For a limited time, xScreen is $50 off full retail! All accessories will also be up to 50% off, including the custom
xScreen case, which fits everything you need in the smallest possible form factor. Best of all, UPspec Gaming has recently completed a new production run of the xScreen. This means they now have US-based stock and logistics for a 1-2 day shipping option to US customers. Global shipping for international customers is also available, with all taxes and shipping costs now calculated at checkout.
Purchase Links:
xScreen is only available from UPspecGaming.com