Two classic games have been brought to the Nintendo Switch thanks to NISA. Each one was adored for its time of original release (based on the PSP enhanced port) Relieve these classics in their eternal glory in Prinny Presents NIS Classics Vol.2 Makai Kingdom: Reclaimed and Rebound / ZHP: Unlosing Ranger vs. Darkdeath Evilman for the Nintendo Switch and Steam! Check out our review!
Prinny Presents NIS Classics Vol.2
Platform(s): Nintendo Switch (Reviewed), PC (sold individually)
Release Date: May 10, 2022 (NA), May 13, 2022 (EU, Australia (Digital only))
Genre: SRPG (Makai Kingdom) / Roguelike (ZHP)
Publisher: NIS America, Inc.
Developer: Nippon Ichi Software
Audio Language: English, Japanese
Text Language: English
*Special thanks to NISA for providing a Nintendo Switch Review Key!*
*Note: this review is only based on my experience with the Nintendo Switch version. Therefore, the overall focus will be based on that version for the review*
Intro/story:
From the press release email:
NIS Classics strikes again with Vol. 2, dood! After over 10 years, two action-packed RPGs‒Makai Kingdom: Reclaimed and Rebound, and ZHP: Unlosing Ranger vs. Darkdeath Evilman‒will be making their appearance on Nintendo Switch.

Back after 10+ Years, Dood!: Two action-packed RPG classics are making their first explosive entrances since their decade-plus debuts! Experience Makai Kingdom: Reclaimed and Rebound (now with new content, dood!) and ZHP: Unlosing Ranger VS Darkdeath Evilman on modern platforms for the first time in over 10 years, now with English and Japanese audio!

Zetta…But Betta!: In Makai Kingdom: Reclaimed and Rebound, Lord Zetta, master of tactical warfare, aims to invade and reclaim the Netherworld—as a book! Utilize clever strategies and powerful magic, along with deadly weapons ranging from broadswords to rocket launchers to take control of your enemies' land. Also, summon your army through the INVITE system, tear up the battlefield with new characters, and dive into Petta Mode for a whole new story.

Build-a-Ranger: In ZHP: Unlosing Ranger vs. Darkdeath Evilman, your character is custom-made to kick as—many enemies to the curb as you want! Use the deep customization system to outfit your ranger from head to toe, establish your own base, and fight your way through an array of randomly-generated maps to forge your own heroic story.
Both games in NIS Classics Vol.2  are the enhanced ports that were released on the PSP. They are the same games with some extra features. Disclosure, this is my first exposure to both of these titles, as I missed playing them during the PSP days. The story in each game is some of the most unique stories I have experienced in a game.
I do not think I ever played a game as a dead hero training in a different world called "Bizzaro Earth" to return to Earth and defeat the villain. I have not also played a game where you are an overlord in the Netherworld who lost everything and is striving to gain it all back.  With both of these unique stories, the pacing of the game is rather well done and so is the delivery of the narrative.
However, does the gameplay match up in NIS Classics Vol.2? Let's take a look at their gameplay.
Gameplay:
The gameplay in NIS Classics Vol.2 is different as it is two different games. One game is a strategy game, while the other is a roguelike. There are different control schemes for both games. The beauty behind this though is that both games have tutorials that you need to do to move forward in the game. It works as they teach you all the mechanics in NIS Classics Vol.2.
The controls are easy to pick up, but they are outdated as the control scheme is one that was used over 10 years ago. They were not updated to modern controls. However, that does not deter from the overall experience, as players will learn it rather quickly in NIS Classics Vol.2.
One thing to note is that in Makai Kingdom, there was a game-breaking bug in chapter five. Players will be happy to know that it was patched at the time of this writing. There are no other known issues at this time.
Audio and Visual:
Visually, NIS Classics Vol.2 is dated in terms of visuals. However, that is not to say it is not part of the charm. Remember, these games are over 10 years old and were impressive during their time of original release. It is charming on its own, and not bad by any means.
Audio-wise, NIS Classics Vol.2  has some incredible voice acting for both English/Japanese voices, which I assume is the same voice acting from the PSP versions. Every line of dialogue is voiced, the sounds work well with what's being portrayed in each game, and the soundtrack for both games is wonderful. This is easily the best part of the games
Fun Factor and replay value:
The fun factor for NIS Classics Vol.2, in my opinion, is fun for two old titles. I had much more fun than I expected for the first time playing these two games. I consider ZHP more fun and has a higher replay value. The whole gimmick behind ZHP is to die and replay levels to get stronger and permanent stat boosts. It works extremely well for what the game is aiming to accomplish.
Wrap up/Conclusion: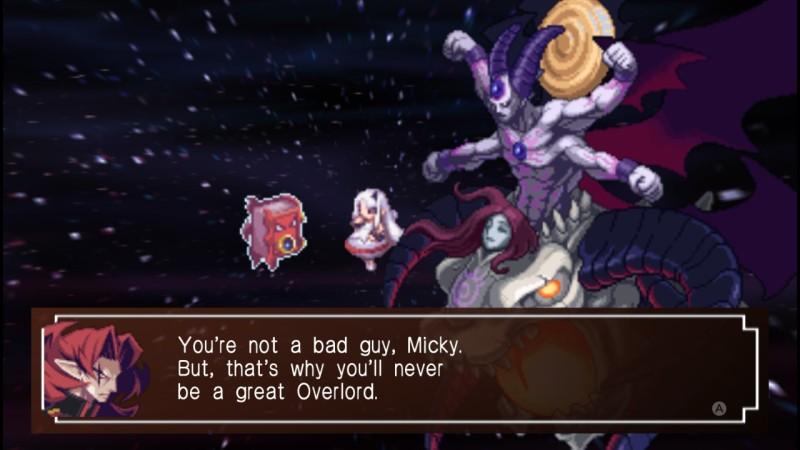 NIS Classics Vol.2 is a love letter to two classic games from 10 years ago. They are faithful and exact ports of the PSP entries for each title. I enjoy my time with ZHP: Unlosing Ranger vs. Darkdeath Evilman over Makai Kingdom. Both games are fun and good in their way.
If you enjoyed these two titles in NIS Classics Vol.2  over 10 years ago, you will enjoy them again. If you were like me who experienced the games for the first time in this entry, you will get some enjoyment out of it. I recommend NIS Classics Vol.2  for anyone who is seeking to play a classic rogue-like and/or strategy game.
-Until next time, Mgs2master2 out!
*Special thanks to NISA for providing a Nintendo Switch Review Key once again!*