Embr is out now on Switch both digitally and physically! Some may have already played this game elsewhere, which is stupendous. But if you haven't or if you want to know if it's worth it on Switch, I'm here to help (its out on others, but I played on Switch). Okay, go ahead and get your firefighter gear on, and let's burn this mother DOWN….or I guess, but out the fire so that this mother doesn't burn down!
Description:
'Team up with friends to become the most über firefighters money can buy. Rush into burning buildings filled with dangerous hazards, valuables, and top-of-the-line security systems. Fight fires, save lives, salvage goods, and make life-changing money. Buy high tech tools with advanced upgrades, and fresh outfits that unlock new ways to play. Embr is designed for PS4 and Xbox One, but will run perfectly on PS5 and Series X|S. The game will launch on PC, PlayStation, Xbox, and Nintendo Switch on Thursday 23rd September 2021 for £17.99/€19.99/$19.99. Embr will also see a physical release on PlayStation and Switch the following day.'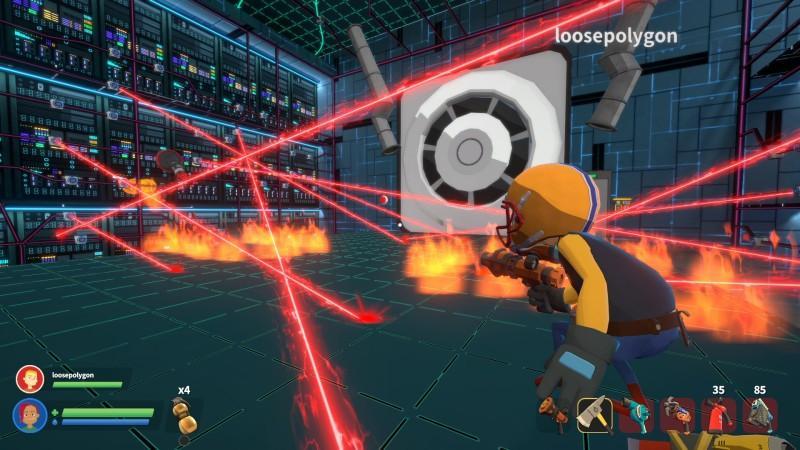 Features:
'There's plenty of fire to go around! Play by yourself or join a response crew of up to 4 players online, with dynamic difficulty that adapts to the size of your team.
Play through 25 unique levels across 3 districts filled with traps, hazards, and escalating danger.
There's more than one way to be a hero. Break down doors, smash windows, fix electrical circuits, clear gas leaks, evade security systems, and do whatever you can to get the job done and get paid.
Earn five star ratings to attract the attention of wealthy customers. And if you're short on cash, try snatching a few valuables while the clients aren't looking.
Create the ultimate private firefighting experience with a range of tools, upgrades, vehicles, and outfits. Leap off tall buildings with the greatest of ease with the fall-damage reducing Dummy Helmet, defy gravity with the patented Double Jump Baseball Cap, slip on a pair of insulated gloves to survive a brush with those pesky electrical hazards, or try any one of the 17 equipment options available.
Embr will keep you coming back for more with new mission types, daily and weekly challenges, and plenty of achievements to hunt.
2 brand new expansive districts to explore housing 12 new hand-crafted levels.
13 new tools and upgrades to customise your firefighting experience.
5 brand new game modes to earn extra money your way.
Daily and weekly missions for extensive replayability.
Cross-platform play across PC, PlayStation, Xbox, and Stadia.
Extra difficulty settings and level mutators to keep things rolling.
Tons of additional wearables, vehicle cosmetics, UI overhaul, achievements, and more.'
Trailer:
Pros:
Gameplay/Storyline. The game is less of a single player campaign and more of an arcade experience. It presents you with a scenario of a job fair, you agree to join, and you go with it. The characters available are all volunteer firefighters. They welcome the challenge of helping their community when it comes to putting out the flames. This approach to the game makes it way more fun than some deep storyline, just to drop you into a singular level. I welcome this method instead (I'm looking at you Trauma Center).The gameplay style is from a first-person perspective. I suppose we could call it a shooter since you're shooting water at an enemy. But the enemy isn't really shooting back. Anyway, they didn't take up more of the screen by having an entire character and the camera in 3rd person. This means you have that more visceral feeling of putting out a fire yourself and you get a better view.
The firehouse spewing water is not your only tool. If you accrue enough funds from gameplay, then you'll have the ability to buy other tools like an axe, ladders, landing pads, clothing, etc. The clothing can be work, the tools are tools, all of which are bought through an app on your character's phone. These extras can increase power and speed overall, not to mention you can increase what you can carry.With tools, for example, you can use the axes to bust down doors to get to trapped people. You may find yourself attacked by an occasional backdraft, but you'll ultimately have a chance to get to the character and help them escape. With clothes, they're purchased for you to show off in multiplayer mode. The money you get in a level is done by several methods such as rescuing furniture or finding stacks of money.You'll need to have a nice balance of trying to get money, trying to save people, and keeping an eye on the clock to put out the fire before time runs out. Using water is not the only way to remove or diminish a fire. You'll find that sometimes electrical aspects can be resolved or prevented by turning off light switches. The fire may then dwindle down and give you a chance to find another way out. The balance of how you're doing is kept on screen in the corner. You'll have an overall score at the end of a level. The better the score, the more levels are unlocked to you.
Replayability. First off, you have the single player experience as previously discussed. Then you have the multiplayer side of things. But aside from replaying the game, again and again, the developers have added more content. If you're up to it, you'll find that there are daily challenges for you. Additionally, there are weekly added challenges. Once the challenge is gone, you won't be able to load it again outside of that day. If these kinds of things interest you, just set a daily reminder to check in on challenges.
Multiplayer. There's not much to say here. If you've played any game with another player, you know how it works. The reason I wanted to give this game a pat on the back for it's multiplayer is because of its single player. The game, when played alone, doesn't feel like it becomes more fun, only more challenging. If you don't mind that sort of thing, that's fine. From my perspective, I found it more fun and more challenging when you're playing with another individual in this game. They should add a single player mode where other characters help alongside you that you can give commands to. Maybe one is commanded to reduce flames, one transports people to safety, etc.
Audio/Visual. I'm in love with the cartoonish nature of the graphics in this game. It still gets you close to the fire, but it doesn't do it in a macabre way. You get plucky looking characters strewn about and not burned bodies among the ashes. It's also very brightly colored and while that's just a trendy choice right now, I think it works well with the animated characters. Remember back in the PS3/360 days when even the more fun family games still had a foreboding sense about them or were gritty sometimes (I'm looking at you Doritos Crash Course)? The choice to also not go cell-shaded is much appreciated. The way the shadows are in this world almost makes me think of the way that The Legend of Zelda Windwaker looks.

The sounds couldn't be any more accurate. I think the sounds they used for zaps, explosions, doors splintering, etc. were spot on. There are, of course, fun cartoony sounds. You have a voice-over guy in the initial job fair area. It's such a hokey voice, but I love it so much. There are just fun things in this game in which you have to have fun sounds. But the things that need to sound real, as I said, do sound correct. The balance of audio seemed to be fine as well. When playing through a Switch, you may find that you'll get a better experience with headphones on. But really, I play with the sound only turned up halfway and did just dandy.
Cons:
No VR? Like…really? It's a first person game that would really lend itself to that. You already have two floating hands in front of you. I'd love to chop with the axe using a VR controller. I know I reviewed this on Switch. But I was going to buy it on PS4 so that I could play it via PSVR only to find that it was not an option. Surely there is a VR mode on PC though. Nope. None. Come on guys!
Visuals. I noticed a bit of screen tearing as I played on the Switch. The game, to me anyway, was a much more solid experience when playing in docked mode. I would really like to see if they could push an update that remedies this issue. For most people playing on the Switch, especially the Switch Lite, they play on the go. That's why we bought the Switch really. The screen tears don't interrupt gameplay, but they can be quite aggravating.
Final Thoughts:
I liked this game a lot! Not much that I can really say that is bad about it. I would like to see them expand the single player modes, really. Otherwise, I love the way it looks overall. The gameplay is truly fun and well thought out. The game really takes something scary and turns it into a fun romp. Don't get me wrong, you'll still feel a sense of urgency overall, the game doesn't turn firefighting into a walk through the garden. I would love to see them do this with other serious things out in the world. Make a game where you work as a demolitions expert or in an ambulance. There was an update since the time that I played the game myself. I'll share that at the very bottom!
Purchase Links:
Recent Improvements (October 2021):
New content:
3 new diamond tier tool Upgrades:
Quantum Fire Extinguisher-Spray through walls, clear hard to reach fires, and put out more fire with this well balanced, highly advanced upgrade.
Nearly Immovable Box-Ever need a platform in a highly unlikely location? This box will sit wherever you put it, and won't be moving anytime soon. Not even the laws of gravitation have power over you now Respondr!
Burst Fire Ice Acceleratr-Need to build an ice sculpture fast? Need to clear out some fire that your hose can't reach quickly? Want to conserve some water? Then pickup the burst fire upgrade for the Ice Acceleratr, for faster, more efficient, more fun fire fighting!
Performance improvements:
 Performance improvements for Xbox One Base and Xbox One S
Improved performance on medium and high lighting settings for all platforms
Gameplay:
District 2 boss difficulty has been decreased
We've added some instructions to Escape Hotel
We've added more options for controller aim settings
Added control over the look acceleration
Added toggle to disable rotation speeding up when looking in the same direction
Added control to add more deadzone to aim stick
Slowed conveyor belts in Barrel Factory
Modified the size of the barrels for the last puzzle in Barrel Factory
Multiplayer:
Fixed an issue where fire VFX would flicker for the Guest
Fixed an issue with Wayside Way where guests would spawn with missing health
Other bug fixing:
[Community] Fixed an issue where players could fall through the rock on Rockside
Fixed some miss-scaled windows and doors for Guests at the Douglas Street location
[Community] Fixed an issue with Special Object particle effects being invisible in some instances
Fixed an issue with the mutator Challenge where the "Microgravity" Mutator would cause Clients to flicker for Guests
Fixed an issue with Schuldenberg Bank where the rescue mission was failing immediately for some players after specific steps
Fixed an issue with the trampoline equipment where specific upgrades wouldn't apply
Fixed an issue with the Cheap Metal Box equipment where specific upgrades wouldn't apply
Fixed an issue with the Jump Pad equipment where specific upgrades wouldn't apply
Fixed an issue where it was possible for some players to become stuck inside the floor on the stairs of the second floor of the Utica Ave location
Fixed an issue where exterior and interior textures of the restaurant Crab n' Go would disappear severely behind the building
Fixed an issue where the UI message "Settings will be reverted in 15 seconds" would not properly display in Russian
Fixed an issue where textures would disappear in the Hall of Fame corridor in Mysterious Signal from Embr HQ
Fixed an issue within Wayside Way where certain areas of the building had misaligned textures
Fixed an issue at Schuldenberg Bank where textures were disappearing for some players in the CEO office when standing on the windowsill of the barred window
Fixed an issue with the Embr Career Fare where textures would disappear when entering the building after receiving the ladder
Fixed an issue at the Whitehall Municipal LLC where some players were able to clip through walls near the spawning point
Fixed the "Earning Your Tips" achievement
Bug fixing
[Community] Speedrun mode will now correctly prevent daily/weekly goals from being completed