IT'S BACKKKKKKkk! I think you should get into Goosebumps Dead of Night and play new Extreme Mode. Goosebumps: Dead of Night (Cosmic Forces, $29.99) is an all-ages affair based on the hauntings straight from the Goosebumps franchises.  Let's get spooked, shall we?!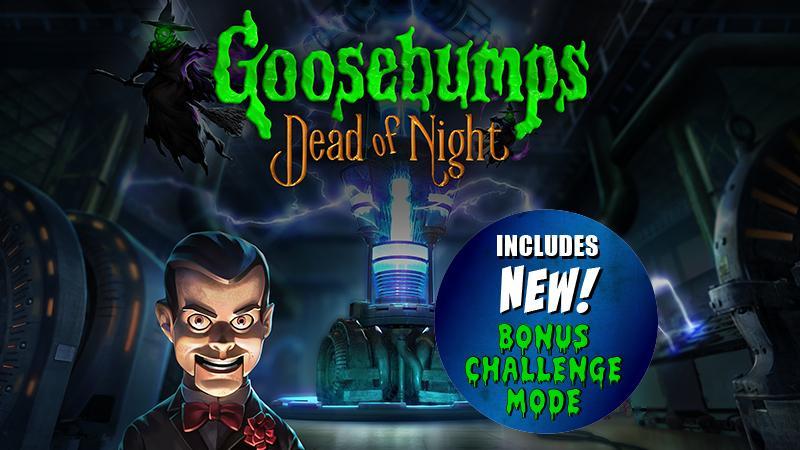 Description:
'In Goosebumps Dead of Night, the best-selling Goosebumps franchise has been reimagined as a first-person spooky survival adventure game for consoles and PC. Experience three chapters of stealth gameplay with 3D graphics and chilling AI monsters. Goosebumps Dead of Night is a family-friendly way for Goosebumps fans of all ages to engage with some of their favorite R.L. Stine stories and characters, get spooked a bit, and help save the world from Slappy's nefarious designs. Slappy the Dummy has unleashed a nightmare of Goosebumps monsters, and they're all out to get you! Escape from frightening creatures like the Graveyard Ghoul, Lawn Gnomes, Annihilator 3000, Murder the Clown, and the Werewolf of Fever Swamp as you collect the scattered pages of Slappy's book to seal him away. You'll explore infamous Goosebumps locales for clues, hide from monsters, and solve Slappy's devious puzzles. It's up to you to stop Slappy's evil plan to unleash his monsters across the world… don't worry, you'll have some allies along the way like Nikola Tesla, Dr. Brewer and R.L. Stine, voiced by Jack Black. For the faint of heart, beware—you're in for a scare!'
Features:
● 'A reimagining of the successful and highly reviewed mobile and VR game, Goosebumps: Night of Scares.
● Inspired by R.L. Stine's bestselling horror series and based off the popular books and movies.
● Developed from the ground up for console, releasing on all major platforms.
● Full 3D movement and stealth gameplay with HD Rumble Pack support, touch support, and gyroscopic controls on Nintendo Switch.
● Brand new 3D graphic engine, new gameplay, new chapters, and plenty of jump scares!
● Exploration — Explore locations from the Goosebumps books and movies as you search for clues, evade monsters, and solve puzzles to stop the evil ventriloquist dummy Slappy.
● Puzzles — Solve puzzles to thwart the evil Slappy. Be careful though, one wrong move could be your last.
● Jumpscares — Beware you're in for a scare! Some of the classic monsters from the best-selling Goosebumps series have been unleashed, and they are hungry. Avoid them at all costs, or they may scare you to death.'
Trailer:
Update Trailer (credit to Cosmic Forces):
Extreme Mode Update:
'Brings the much-requested Extreme Mode into the game. Players will find challenges aplenty with supercharged monster AI, new achievements to chase, and much, much more.
Prove your skills by collecting the "Extreme Frights" achievement
Supercharged monster AI adds a persistent sense of danger around every corner
Challenge yourself with intense new boss battle mechanics
Tune your awareness with unexpected hidden page locations
Test your mind and reflexes with enhanced puzzles in every level
Perfect your aim and wits with unforgiving Gummy Bears and Witches
Sneak, Flee, and Fight, your way through Slappy's new extreme challenge'
Goosebumps: Dead of Night is out now on XBOX, PlayStation, Switch, and Steam. As the description mentioned in my review last year, Goosebumps: Dead of Night title is a retooling of the mobile and VR game, Goosebumps: Night of Scares. Before it was on some rather niche gaming platforms, but now you'll be seeing this new version on more consoles. While I've never played Night of Scares, I did watch the trailers and compare it with Dead of Night. I would say that Night of Scares is something closer to looking like a game for the first Goosebumps movie. Goosebumps: Dead of Night is basically a game for the second movie. That's not to say it doesn't offer unique elements that the movie doesn't have.
Goosebumps: Dead of Night is made up of a campaign mode. The campaign is presented across three different chapters. To me, having three deliberate chapters makes the game easy to digest in small chunks. If your kid is playing this game, you could tell them that they're only allowed enough time to play one chapter per day so they can still do homework or chores. If the game is for yourself and you're a millennial like me, then you'll enjoy having breaks to swap over to other games or…do chores. Maybe you think the game is too scary for you, no troubles, just make it to the end of the chapter and come back another day.
Having Extreme Mode update included now, it answers a lot of previous issues that players had. We now have a reason to come back and play it again. First if you play through with the standard mode, you'll get a handle on the game and its mechanics. Then if you pop back in and play Extreme Mode, you'll feel the difficulty increase, but it won't feel like you're playing a game that's too difficult. The standard campaign is fun, but it's almost like a tutorial mode for Extreme Mode. I wouldn't play it until you're ready. It's not for the faint of heart. 
There are a few different game mechanics to tackle over the chapters (besides being spooked [you got this]). You'll find that you'll need to be stealthy in some parts of the game. But they change it up to keep things fresh. This takes the form of finding cover and hiding from any given chapters' monsters. Just like in aforementioned "Goosebumps Night of Scares", you'll also have to do a bit of problem solving!
Each world you visit has hidden clues. Not just that, you'll also need to solve some mind-bending, yet fun, puzzles. You'll start to recognize locations that you can explore from the movies, which is always fun. It really puts you right in the middle of the franchise. Your aim is to get from beginning to end of the story of trying to foil Slappy's plot. In standard mode, the game doesn't feature intense jump scares, so it's really designed for fans who are just excited to be in the world of Goosebumps.
This is a scary game that can be enjoyed by everyone, even those who have anxieties about horror games. The game relies heavily on the atmosphere and the baddies to give you some fun fear. HOWEVER… If you play in Extreme Mode, you'll find that even the most harmless of baddies, they become more intense. When you increase their abilities and knowledge, you become a lot more of a victim than a survivor! I really can't recommend the thrill of Extreme Mode enough.
So, lets say you bought the game already back in the day. That means that you don't have the Extreme Mode that everyone else does. What do you do?! Well that's really easy, simply update it the way you would update any game on your console/PC. It's different for each console and Steam, but once you do so, you'll have Extreme Mode. It's entirely free if you own the game. This is a good way to come back to a game that you already likely beat a year ago! Have fun getting back into this spooky world by R.L. Stine!
Purchase Links: