Let's face it, 2020 and 2021 have been tough years for most people. Transitioning from an active lifestyle to a WFH lifestyle can be a major life change for anyone. This goes double for most people who are still in WFH, lockdown, or some type of hybrid of office and WFH. While getting back into the active lifestyle, there have been video games released to help people say in shape or get back into that active life. Even if you were not affected by the events that took the world and wanting to get into an active life, these games were released to help. One of the most recent titles to help promote an active lifestyle is Knockout Home Fitness. Is this a good game to help get back into that active life, or stay in shape lifestyle? Let's take a look at our review.
Knockout Home Fitness
Release date: September 28, 2021
Developer: Marvelous Inc.
Publisher: XSEED Games
Platform: Nintendo Switch
Genres: Sports video game, Simulation Game
*Special thanks to XSeed Games for providing a Review Key*
Intro: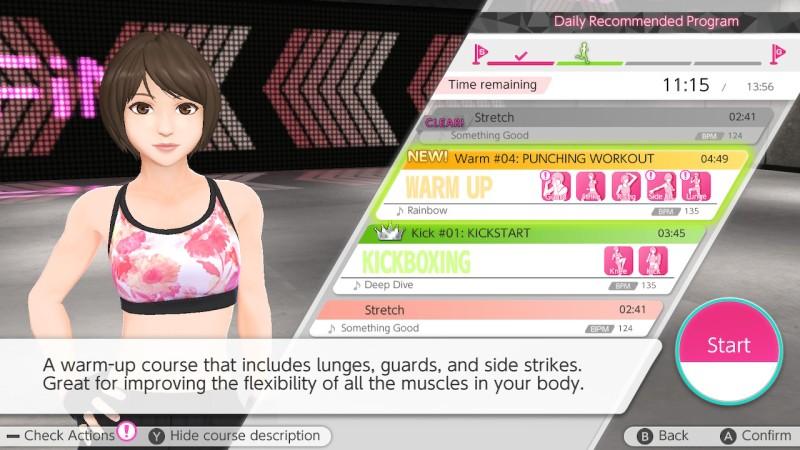 From the official game's website:
Increase your physical strength and improve your overall health as you punch and kick to the beat! Complete efficient, calorie-burning aerobic exercises in full-body workouts from the comfort of your home. Muay Thai, boxing, karate, and more…all at your fingertips! Grab a Joy-Con™ in each hand and get ready to achieve great results with a program custom built for you in this martial arts fitness game developed specifically for the Nintendo Switch™!
In Knockout Home Fitness, most of the game is locked from the start. The game was designed to be done by having consistent workouts that are unlocked in the personal training mode each day. As workouts are unlocked, they are moved to the 3-minute fitness mode. These workouts are designed to give players full-on exercises that one would see on TV commercials for workouts or short personal trainer sessions.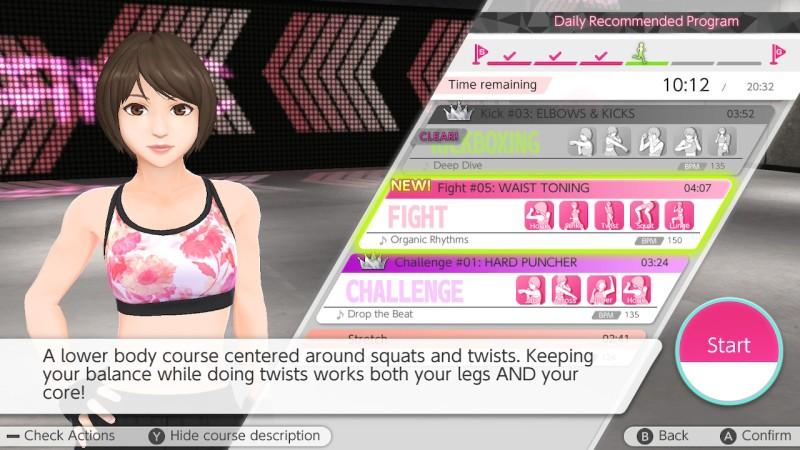 That is the overall goal of the game, to get the players up and active. They will move around, work out, and be rewarded for their consistent workouts.  However, one has to wonder "how accurate are the workouts?" I took a somewhat in-depth look in this. Check out the gameplay section of the review for more.
Gameplay:
It is fair to say that Knockout Home Fitness may not have the most accurate measurement system when it comes to measuring a player's workout. The workouts that each personal trainer does in the game are actual exercise techniques that are used on a daily basis. When it comes to measuring it, some moves simply do not register or register correctly.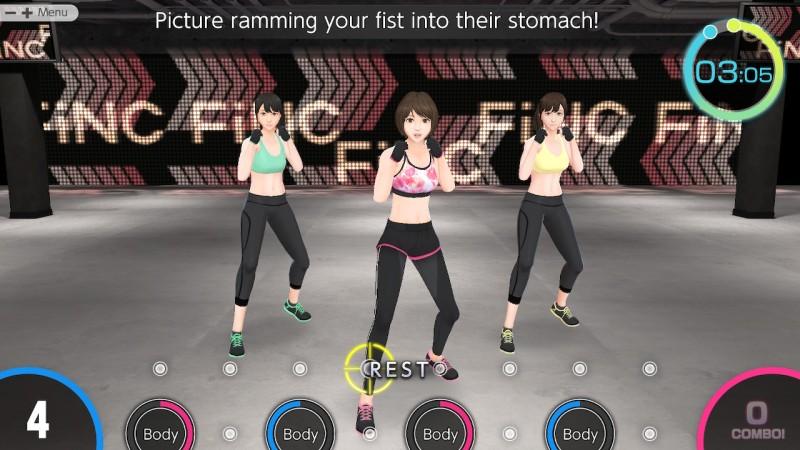 There are movements in the game known as "Free moves", which are the lunge, switch, squat, low kicks, and high kicks. They are not factored into your score but they are beneficial moves that should be registered. The problem is, with each of these moves, there is no accurate way to measure them just by utilizing two joycons.  If there was a hip or leg accessory available, it would eliminate that issue. It is understandable to see why they are free moves. However, if the player ignores them, they are essentially just cheating themselves out of a sweat-inducing workout.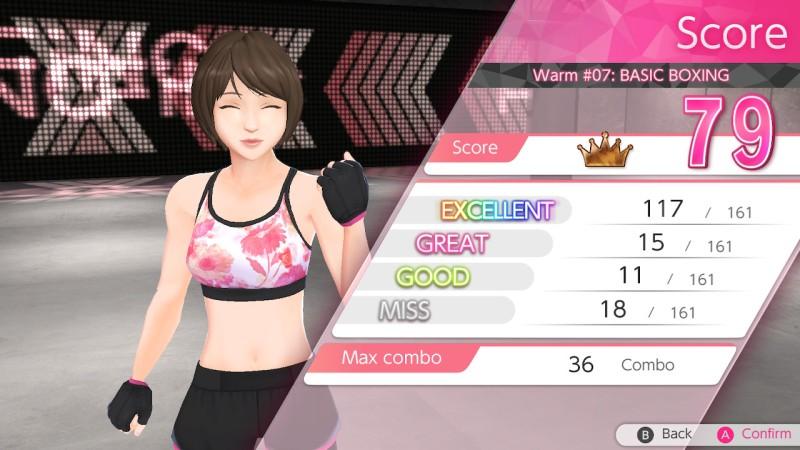 I actually read several reviews before writing my own here and I do have to disagree with some of the ones I read. The point I am making is the majority of the moves made register correctly. The game simply does not just score you based on moving. It is done with timing and accuracy. I found myself throwing a hook move when it came to the elbow just to test this, and it did not register. These are two similar moves, additionally, I found myself doing body shots instead of upper shots, and the game wouldn't register them most of the time. By no means its a foolproof system, but it does its job in measuring what it can.
In terms of the gameplay, players are told to do a move and have to match it when the circle overlaps that icon. Moves are switched up based on the workouts given to the player. If the players do these workouts accurately, then these are the players that will benefit the most from Knockout Home Fitness. The game relies on the player to do the workouts accurately, otherwise, they are only cheating themselves and essentially wasted a purchase.
The one con I found in this is that the Personal Training mode is locked to do only once a day. I understand why this is done, as motivation to do it daily and unlock more. However, sometimes having a workout list already chosen out for the player is much better than seeking it out in the 3-minute workout mode. Hopefully, this could be something that is patched in the future.
Audio/Visual:
Visually, the overall aesthetic of the game makes the environment feel like a gym with a personal trainer. It has the main trainer, and their two supporting trainers facing the player. There are different background environments as well. Once again, visualize one of those TV workout commercials, it is very similar.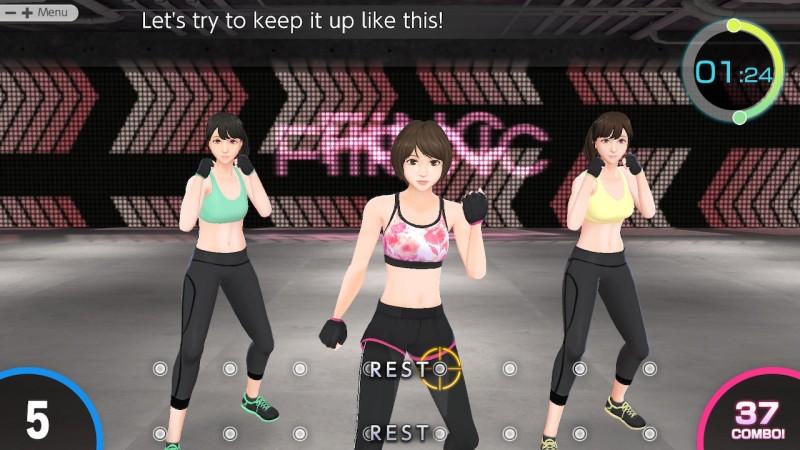 Audio-wise, Knockout Home Fitness has some solid audio. There is a good soundtrack, and the personal trainers that deliver their lines to the player do so perfectly. The only issue I may have had was the audio balancing (which could be adjusted in the settings). Sometimes the music will overshadow the trainer's words.
Replay Value:
Considering more of the game exercises, music, and personal trainers are locked behind consistently playing the game each day, it is safe to say that Knockout Home Fitness has high replay value based on that alone. However, to maintain a consistent workout plan, players would have to play every single day with the customized personal training mode. That only amplifies the replay value of the game.
Wrap-up/Conclusion:
Ever since I was provided an opportunity to review Knockout Home Fitness it has easily become a part of my daily routine. I would wake up in the morning (usually 6:30 am), hop out of bed, turn the game on, and do the personal trainer mode in the 30-minute setting. Granted it took time to unlock the 30-minute setting, but this has become part of my daily routine. I can honestly attest that out of all the workout games that have come out in the last few years, Knockout Home Fitness has easily been the best one for me.
That is not to say the game is not without issues such as the timing may seem off when doing the motions, and only limiting the personal training mode to only once a day. However, those are minor issues as the player can go into 3-minute fitness and do more workouts to your heart's content.  I honestly will keep this routine going on for months. I feel somewhat healthier than when I started this journey, and I can already notice my body becoming more tone. That is something I have not noticed with any other workout games.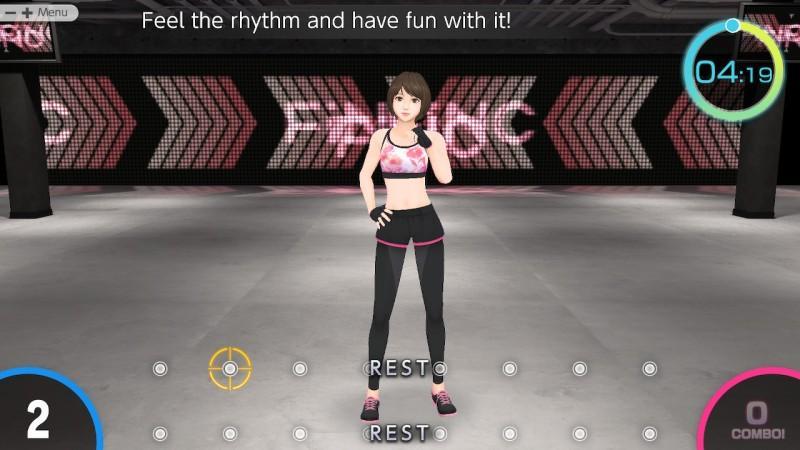 Knockout Home Fitness is truly a knockout! For people trying to get active and who are not ready for the gym just yet, Knockout Home Fitness is the game for you. I enjoyed this game much more than Ring-Fit, plus I feel more active doing this game. That is my personal preference and I would recommend this game based on my own experiences after 10 days with the game. If that changes, I will update the review to reflect that.
Until next time, mgs2master2 out!
*Special thanks to XSeed for providing a Review key once again*