Yes, you read the headline correctly. Mega Man The Wily Wars is getting a collector's edition by way of Retro-Bit, thanks to an agreement with Capcom. While this isn't a review, that will come in a few months, this article is going to dig into a lot of details. We'll discuss what The Wily Wars is as a whole, get to see the teaser, find out what's new about the game, what comes in the collector's edition, where/when to get it, and the price point. Let's blast in!
What's Mega Man: The Wily Wars?
"After years of Mega Man being released exclusively on Nintendo consoles, Capcom would release Mega Man: The Wily Wars (Rockman Mega World in Japan) in late 1994. This would be the first time the Blue Bomber would grace a SEGA console.
It was well received in Japan and was followed by a PAL version that was not widely distributed. Many who imported the PAL version to the U.S. were not aware that it ran at 50hz and, thus, played significantly slower on NTSC hardware. With their recently launched SEGA Channel™ service, SEGA® made it one of the exclusive titles on the service. SEGA® worked with cable companies which allowed subscribers to download games onto a special cart which would then be wiped after powering off. While it was innovative for its time, issues with price and availability saw the service discontinued in 1998. In 2019, it was included with the SEGA Genesis®/Mega Drive Mini. With this collector's edition, it is the first time it is officially available in an original cartridge in North America."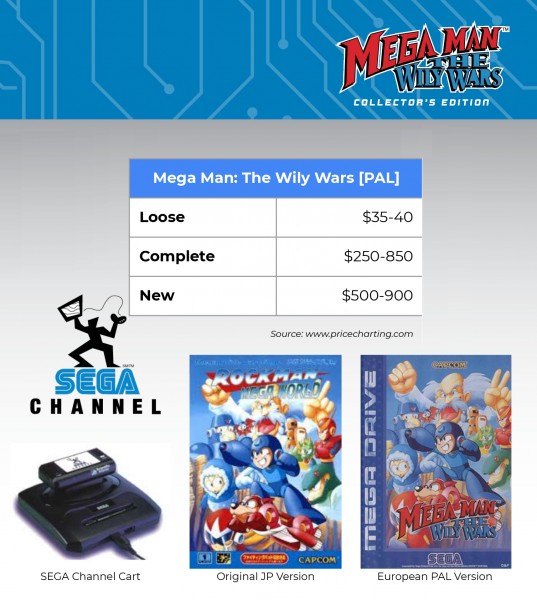 What's New in the Game?
"As a remastered collection, Mega Man: The Wily Wars follows the narrative of Dr. Wily going back in time to stop Mega Man from defeating him. Players create a file and are able to choose any of the first three titles to play: Mega Man, Mega Man 2, or Mega Man 3. Upgrading from the 8-bit NES to the 16-bit SEGA Mega Drive brought changes to the classic titles with updated sprites and stages, remastered music, and gameplay tweaks. Additionally, our programmers were able to improve some slowdown issues from the original version. Those who are able to complete all three titles on a single save file would be able to enter the Wily Tower – four new bonus stages. Along with new Robot Masters to face, this also allowed players to customize their weapon loadout to deal with the Genesis and Dr. Wily once and for all!"

What's in the Collector's Edition?
"Control of the planet is at a struggle once again against the villainous Dr. Wily and his robots! Mega Man has always triumphed, but in his desperate attempt to change the past, Dr. Wily has used a time machine to travel back and claim a victory in their first battles! Get ready for an iconic battle! Earn weapons, battle your way past robotic enemies, and get through various stages to stop Dr. Wily and his Robot Masters!
● Blue Bomber cartridge for SEGA Genesis/Mega Drive
● Improvements made to some gameplay performance
● Double-sided Cartridge Sleeve
● Full-Color Instruction Manual
● Certificate of Authenticity
● Interchangeable Lenticular Cards to display your favorite Robot Master
● Sticker Book
● Double-Sided Poster
● Collectors Cards chosen by Retro-Bit fans"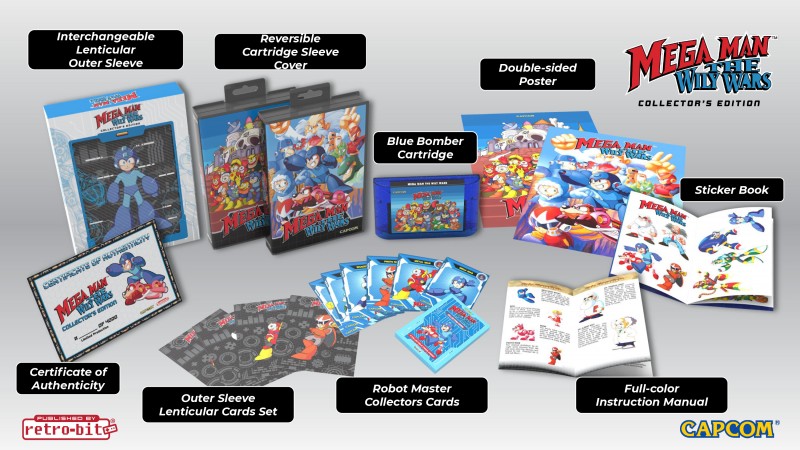 What's it Going to Cost and When is it Available for Pre-order?
The game will be available in both PAL and NTSC versions. The cost is set at $69.99 USD and €69,99 EUR. The pre-orders begin May 21st and end on June 21st. That means you only have that amount of time to get your hands on a pre-order!
Trailer:
Where Do You Pre-order from?
Spel & Sant (EUR)