The Life of an adventurer is one full of excitement. One of the most legendary adventurers, Adol Christin, keeps books for his adventures. His latest adventure is one that takes him on a journey that even he did not expect. Traveling with his partner, Dogi, what lies ahead for our heroes? Let's take our own journey in our review of Ys IX: Monstrum Nox.
Ys IX: Monstrum Nox
Platform: PS4; (Nintendo Switch, PC – Summer 2021)
Release Date (PS4): February 2, 2021 (NA), February 5, 2021 (EU), February 12, 2021 (ANZ), Nintendo Switch, PC: Summer 2021
Category: JRPG
Publisher: NIS America
Developer: Nihon Falcom
*Special thanks to NIS America for providing a Playstation 4 review key*
Intro/Story:
From the official website, here is the story:
Renowned adventurer Adol "the Red" Christin and his companion Dogi arrive at Balduq, a city annexed by the Romun Empire, only for Adol to be detained before setting foot inside. While imprisoned, he meets a mysterious woman named Aprilis who turns him into a Monstrum, a being with supernatural Gifts and the power to exorcise monsters. Now, Adol must ally with his fellow Monstrums to fend off the fearsome threats emerging from a shadowy dimension called the Grimwald Nox, as well as unravel the mysteries of the Monstrum curse, and the truth behind the unrest within Balduq.
As a story, Ys IX has a mysterious yet predictable vibe playing it. Players of previous Ys titles would understand. That does not detract from the experience. Ys IX goes through similar moments as previous titles but is done rather well. It seems the story delivery breaks the 4th wall as characters within the game call out what predictable moment is happening. That is not to say the entire game is like this. There are moments in Ys IX that occur in this game I have not experienced in any other Ys Game. All of this wrapped up with charming characters and immersive gameplay works well.
The story itself is done well enough and incorporated into the gameplay appropriately that it does not detract from the experience at all. There are no huge "lore dump" moments, and everything shifts around the mystery of Balduq and discovering the truth behind the events taking place. Let's take a look at the gameplay of this adventure. Note, if players are new to Ys, understand that each game is its own contained story while there are references to past games. They are just another chronicle in the adventures of Adol.
Gameplay:
The gameplay is straightforward in Ys IX. If the player has played previous Ys titles (namely Memories of Celceta and VIII), the gameplay is the same with some new elements mixed in. Newcomers to Ys should not worry as the game gives tutorials for each new gameplay component introduced. Combat is smooth, and roaming the world of Balduq brings the adventurer out of any player.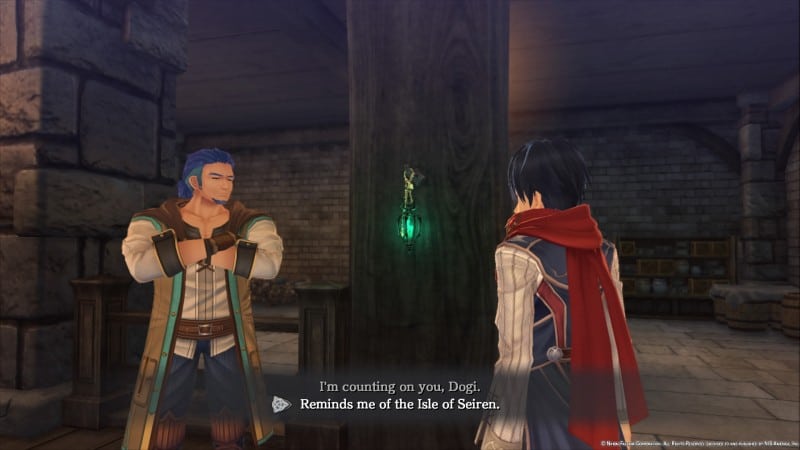 When players begin, they are confined in a small portion of the world. However, as the story progresses, more of the world becomes open to them. This also comes with new mechanics that will be introduced, to not only incorporate in combat but in the traversing of the world as well. All of the gameplay elements incorporated with the story help bring the world of Ys IX to life.
Update:
As of the day 1 patch, there is no more issues with the game crashing on the Playstation 5. Those playing on the Playstation 5, enjoy the game to your heart's content!
Audio/Visual:
Visual wise, Ys IX looks on par with other Ys games. That is a very distinct style that Falcom sticks with on all their titles. It is not a bad thing as it looks very great. On Playstation 5, it looks just as great as it would on the Playstation 4. With that distant style, the environment also is very well done. The city of Balduq is very well done and has that atmospheric look to it. It adds to the immersion of the game as well. From going into ruins to exploring the city's outskirts, Ys IX maintains that aesthetic and uses it to carry throughout the entire game.
Audio-wise, as with all other Falcom titles, the soundtrack is fantastic. The developers craft the music tracks to fit each part of the city the player is exploring and the combat theme and hit those emotional cues during cutscenes. Additionally, the English voice work is very well done. The game has an all-star cast that lends their voices to fit the roles. A special shoutout to Erika Harlacher, who does the voice of Yufa (aka Raging Bull). She does her role extremely well during the course of the game. The entire English cast dedicates their all to these roles, and it shows very well. Overall, I think this is the best voice work in a Falcom Game yet. Every character is charming, and the voices only make it so much better.
Fun Factor:
Ys IX: Monstrum Nox was an enjoyable game. I finished at 32 hours (with 96% completion of everything), which is shorter than YS VIII and on par with Memories of Celceta. Don't let that length fool you, though. This is a full-length game with full-length fun. Anyone looking to scratch that adventurer itch should not pass this up.
Wrap-up/Conclusion:
Ys IX was one incredible journey. Though it is a shorter game in length than Adol's previous adventure, the quantity is not what matters. Ys IX is a quality game with a great story, simple gameplay, and an ambitious adventure for our hero. At the end of this game, I found myself wanting to return to it once more while awaiting the next big adventure. I look forward to where Adol goes next.
Update: AS of the day 1 patch, there is no more backward capability issue on the Playstation 5. This means players can play the game from start to finish with zero issues on the Playstation 5. Thank you NISA team for being on top of the issue!
Until next time, Mgs2master2 out!
*Special thanks to NIS America once more for the Playstation review key!*