A serious note before the review, those that have been affected COVID-19, we here at hackinformer wish you all the best. Stay safe, practice social distancing, and take care. It is a serious matter, and while I know we are covering a Disaster game, this is no game. Please be well. You and your loved ones.
In Disaster Report 4: Summer Memories, the scenario of "what if the big earthquake" actually becomes a reality. If the player has ever wondered how that big one would affect their lives, this game gives a slice of that disaster and how the choices made change not only your life but the life of those around you. Its time to see if we are genuinely prepared in our review of Disaster Report 4: Summer Memories.
Disaster Report 4: Summer Memories
Developer: Granzella
Publisher: NIS America
Platforms: PlayStation 4, Nintendo Switch (reviewed), Microsoft Windows
Release date: April 7, 2020
Genres: Survival & Action-adventure
*Thank you to NIS America for the Nintendo Switch review key*
Intro/story:
From the press email, the story for Disaster Report 4 is as follows:
When a massive earthquake strikes your city, you find yourself at the epicenter of a chaotic and catastrophic crisis. It is up to you to rise above the calamity, collect your thoughts and fellow survivors, and outlast the disaster. Aftershocks, fire, falling buildings, and unstable ground are but a few of the threats you will face in these nightmarish circumstances. What will you do when every passing second and every snap decision could spell the difference between life and death?
Being the fourth entry in the franchise, Disaster Report 4 takes the disaster scenario of a huge earthquake hitting your city. The overall goal is to escape the city safely. An interesting side note, this game was originally developed for the Playstation 3. However, due to the 2011 Tōhoku earthquake and tsunami, the game was delayed and eventually canceled. It was only sometime last year that the production and development resumed, due to fan request. It shows the very dangers depicted in this game can have huge impacts in a real-life setting.
Taking that in mind, when this earthquake hits the city, you are forced to survive and craft your own story. By craft your story, the player will quickly learn that you are telling your own story. Every choice you make impacts the development of your story and those around you. Those very choices shape the story. They also do much more than that. I will touch base more about this in the gameplay section.
Gameplay:
While surviving in Disaster Report 4, the player will create their character (or use the default options) and adventure in this city. During this stressful time, players can explore buildings, discover what they can do to help others, and much more just to ensure survival. Every choice the player makes will develop their own story. The player can choose to escape the city on their own, save as many people as possible, and other options available to them. It is very much a choose your own adventure type game.
At the start of the game, players are presented with a bunch of questions to answer to describe who they are and what they are doing in the city. It sets the tone of that character and lays the backstory for them. From there, the player is continuously given choices as they explore. These choices will shape the character, story, and those around them. Your choices can indicate if an NPC survives or dies in the city.
Disaster Report 4 is a very choice heavy game that shapes the story being told. It is sporadic in video games that this is a plot device outside of making choices for an ending. It is a welcome change-up compared to most games currently out in the market. However, one thing that can deter the overall experience is the performance of the game.
I am only writing about the performance of the Nintendo Switch version (both handheld and docked), so that is far as I can speak on. When there is a ton going on during the game, the framerate will chug badly. The game by no means achieves 30fps as far as I know. However, there are several moments in the game where the framerate will suffer regardless of docked or handheld. The screen shaking will also not be typical at times. It isn't a standard screen shaking. The game itself seems to be struggling just to manage.  I hope this is something that is addressed in future patches.
Visual & Audio: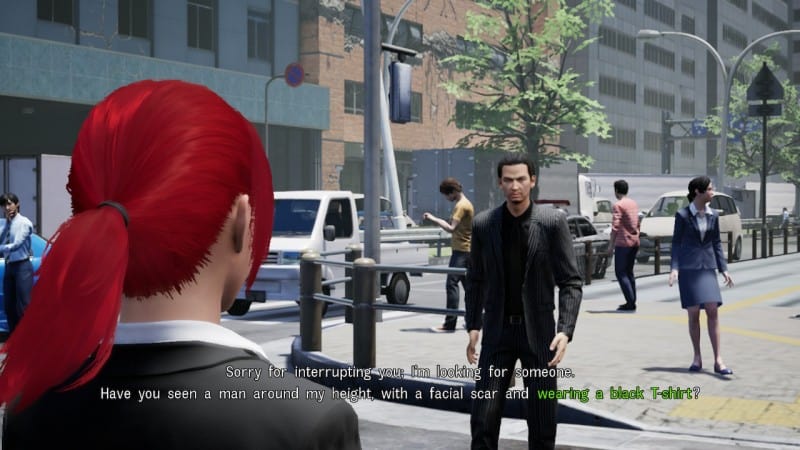 Visually, Disaster Report 4 looks as expected on Nintendo Switch. It is not the best looking game out there, but not the worst looking game either. It is right in the middle. This is to say, for at least the NPCs and character themselves. The environment of the city, the destruction that occurs, and all of the visuals that make it up are jarring in the right way. I mean this in a good idea because it fits with the narrative being told in the game. The player becomes immersed as the world continually falls apart around them. It looks great as it does.
Audio-wise, there really isn't much in terms of a soundtrack. However, for a game like Disaster Report, that isn't important. What is important is the sound cues and just catching the overall atmosphere that the game is trying to relay. Disaster Report 4 does that with its lack of a soundtrack. Players get a radio app which captures the feel of an actual crisis is occurring. This is in addition to the occasional aftershock hitting the city, the sound of buildings coming down, and those running for their very survival.
Disaster Report 4 is also fully voiced in Japanese with English subtitles. Those individuals lending their voices to the game do a great job depicting their struggles in their tone. Hats off to those individuals providing their voices and the production team for delivering the instruction of the voice work. Overall, while there is no music, the audio does the job it needs to in this game.
Replay Value:
Replay value in Disaster Report 4 is high. Given this is a pick and craft your own adventure game, your choices shape how the game plays out. You have a high amount of opportunities to develop your story. There is a high number of options to choose from, which will keep any individual wanting to replay Disaster Report 4 to come back and have variety. Hats off to the development team for doing this type of design. It keeps the game fresh as you replay it.
Fun Factor:
Disaster Report 4 is an acquired type of fun. This is meant to say that the player needs to make their own fun in the game. It isn't something that I immediately had when I first started the game. The game felt as if it dragged as it started, but throughout my survival story, I had more fun as the story developed. Disaster Report 4 is a truly unique experience. I know this is stated several times throughout this review, but it is a very create your own adventure type game. With it, the game comes to create your own fun.
Wrap-up/Conclusion:
Disaster Report 4: Summer Memories is the newest entry, and revival, of a long-running franchise. While it does have issues in terms of performance and visuals in the Nintendo Switch Version, it is a fight for survival worth checking out. Being a true create your own adventure type game, Disaster Report 4 is a game where choices matter. Will you survive and save others along the way, survive on your own, or fall?
I look forward to seeing how other players' stories develop. This game takes me back to when I was a kid and read all of those pick your own adventure type books. It was fun for being as such where choices played a heavy role in shaping your story in this game. It is rare that titles like these exist so I had fun and was always surprised by it. If this sounds up your alley, check it out!
If you do check out Disaster Report 4, drop us a reply in the comments and tell us about your story. I want to hear all about it.
Until next time, Mgs2master2 out!
*Special thanks to NIS America for the review key*