Today's review is another product from our friends over at Marseille Inc. They've already wowed the world over with their all in one upscaling HDMI cord, the mClassic. Well now a couple of us here at Hackinformer (@mgs2master2 and myself) have gotten our hands-on another product that they've been promoting. We visited them on the E3 2019 show floor and want to share with you all a review of the product that were showing off!
Description:
'PC Gamers can upgrade their graphics card, while console gamers have been limited by locked hardware.
Not anymore! The mClassic is here to be the world's first graphics processor for videogame consoles. Yes, you
read that right, the mClassic is like having a new "graphics card", without the hassle of modifying your game
console. It's a true plug-and-play device for Better Graphics. Better Pixels. Better Gameplay!'
Features:
'Better Pixels for Immersive Gameplay with Greater Details, Depth, & Color Rendering
Better Graphics for Realistic Experiences with Anti-Aliasing (CxAA) & 4K Upscaling
Better Gameplay for Fast Responses at 120 FPS With No Lag Time'
mClassic Trailer:
Unboxing Video:
Pros:
Design. We really loved the design of this product. What you have this time is something a lot smaller and simpler than the mCable product. You have one device that does two different type of functions and the switch used to switch between them is a welcome addition. We also like the fact that there is a hole to see through to let you know the color of the LED currectly to help give you knowledge of the mode you're in. Additionally, the red accent and the giant "M" on the top really gave you some pizazz. All in all, the look is clean and concise.
Build Quality. The build quality is just as fantastic as their design is. The product is a solid mass of upscaling power. There are no loose parts and nothing that feels like it isn't thoroughly snapped together. Furthermore, the switch on the side has 3 positions which it cleanly snaps between them. The LED light inside is also bright and quality. We can also include the fact that they also add in an HDMI cord for hard to reach places. This includes but is not limited to the inside of the Switch dock where the mClassic doesn't quite fit. You instead put the HDMI cord in first and then you can put the mClassic into the female port on the HDMI cord.
Simplicity. It just works after it's plugged in. Also, unlike the Super 64, you can leave the device toggled into whichever mode you want.
No Latency. No seriously, no matter what system we were testing the product, we never once noticed a dip in frames or any skipping. This also holds true no matter which mode the mCable is in either. There's not even much more to say about it than that, it just is exactly as advertised with regards to lag, less than 1ms.
Colors. On all of the systems we tested (before recording) we noticed that they had pretty decent colors. By that, we mean that we were only testing out games that had bright colorful worlds, characters, backdrops. We weren't testing out like Gears of War or Resistance or something. But once we enabled the Scaling mode of the mClassic, we noticed a change for the better. What we found was that the blacks looked deeper and the colors had more vibrancy. We were really impressed by this because some games are already smooth to where the mClassic doesn't make much improvement. But those games still benefitted as their colors really became improved. You'll get more out of a 4K TV and especially an OLED 4K TV.
Video Improvements. As their marketing states, this thing is like playing your consoles with upgraded graphics. We could go on and on about the differences, but instead, we've shown you multiple variations of the modes in the video below. We recommend you pay close attention to the footage to see if the differences are enough to warrant a purchase from you.
Price. The price of this compared to an mCable and the features you get for the price is undeniable. If you're part of the first wave of units, you get it for $50. Second wave of units is $65. And we believe that even at a full $100 price point, it's pretty good if you use it in tandem with an HDMI switcher. More on that later.
Daisy Chain. While it's not explicitly talked about on their website, you can connect a mClassic in front of a mCable and get even more out of your video game console. It may be overkill for some, but I had fun looking at the results.
Comparison of mClassic Modes:
Cons:
Power. Still requires a power source, and they may always. This adds complications because maybe you have an older HDTV that doesn't have a USB port and your retro system you're upgrading with mClassic doesn't have a USB port. The power USB cord it comes with is short and may require you getting a longer one.
Older is Better. It doesn't seem to make a single dent on my XBOX One X or PS4 Pro. They are promoting this to work well even with these newer systems. We didn't even record the video differences as they look practically identical. If there was a difference, you had to be up square on the screen. Maybe my screen needed to be larger or I needed to sit closer. But either way, with the exception of a change in vibrancy, we didn't notice any real upscaling. Is it because we were already playing games at the highest definition that my 4K TV could support? Maybe. But if my TV couldn't show it, then my El Gato wasn't going to capture anything truly different either. Where I saw the biggest improvements were older systems.
Manual. This one may seem stupid to complain about as you can always head to this link and read everything. While that's true, sometimes the webpage doesn't load while you're trying to set up your new toy. It's frustrating because a piece of printed paper with the information always works and maybe in the future their website will no longer exist or simply won't mention this product. We're guessing the reason they didn't print one is because of how much information they have on their site about the mClassic and that it'd be a lot of pages of content. And so to keep the costs down, they decided not to print a book to go with every mClassic.
Design Flaw. It's hard to reach the toggle switch on the device depending on what it's connected to and your setup. We feel like it should've been placed up top instead of the Marseille logo. Having a toggle switch that you could slide forward and backward on a larger, more accessible surface makes way more sense.
Modes? While my TV told me that we were changing between resolutions we just couldn't visually quite tell a difference between the modes on the mClassic. To clarify, we mean that we couldn't differentiate between the two modes of the toggle switch (Retro Mode and Scaling Mode). You can definitely tell when the mClassic is in the passthrough position versus Scaling mode, but not between the other two. Now, we don't want to say that it's marketing gibberish like Blast Processing on the Genesis, but we truly couldn't see a difference.
HDMI Out. As mentioned before, the biggest changes in quality come from older video game consoles. However, most of you would agree that your old systems don't have HDMI solutions. If you do anything, it would be using one of those RCA to HDMI products that are basically just a converter and not an upscaler. This would then come along and polish a turd because RCA in the first place is a trash type of output. Then to convert it into stretched HDMI through the converter makes it worse. And then the mClassic just comes along and upscales something that is already littered with color bleeding. We recommend this product only for consoles that have native HDMI out or an official adapter like the GCHD MK-II, Super 64, Pound HDMI Link Cable, or a HDMI modded console. Steer clear of the RCA to HDMI boxes, the mCable no matter how well it's marketed can't save those.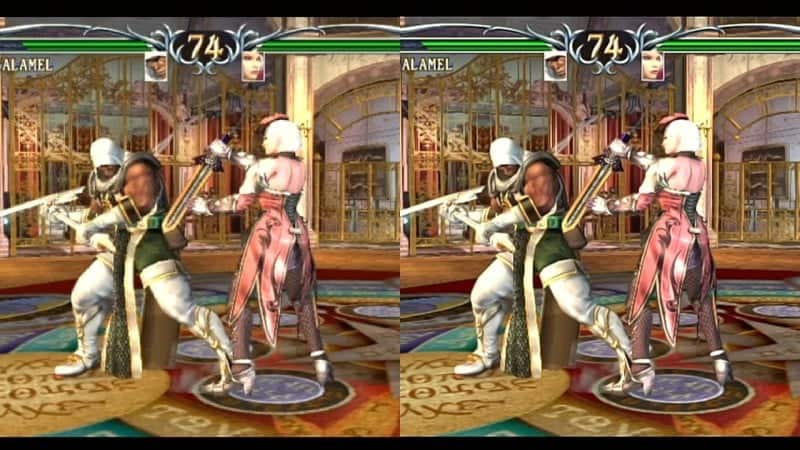 Overall Thoughts:
The bottom line here is that if you can get it straight off the bat, right now on the first few days of its release, that it makes more sense as it's on sale. This could be used if you have a HDMI switcher and put it on the port that goes from the box to the TV. That way you can maximize your purchase as opposed to putting it just one device and then feeling the need to buy more. While we liked the device, we felt that the mCable actually nets you more results for the systems you play. So the more systems you own with the ability to have HDMI out, the better. If you get it for just one system in mind, you may feel that it wasn't worth the money.
We do understand that the purpose of this device is different than the mCable. We also know that the mClassic does some other magic under the hood as well. But it just truly didn't feel that remarkable and no real difference from what we are getting out of the mCable. So yeah, if you want a bump in your retro consoles, that makes sense, you'll definitely get a bump. If you're going to get this only for your 4K consoles, just save your money towards a mCable.
Head here if you want to purchase this new product from Marseille! 
If you like the author's work, follow him on Twitter @V1RACY and don't forget to enter the weekly giveaways!
And as always, stay tuned here on Hackinformer.com for so much more and follow us on Twitter @Hackinformer