I've said it once, and I'll say it again. There are an innumerable amount of headphones and audio options out there in the world. The last time I spoke about that, it was for cell phones. Today we're going to be digging into a console gaming headset. That headset is the HEAD:SET X PRO ($29.99, Snakebyte) to see if it's sturdy, user-friendly, comfortable, built well, and is just overall worth it. So let's outline the strengths and weaknesses, shall we?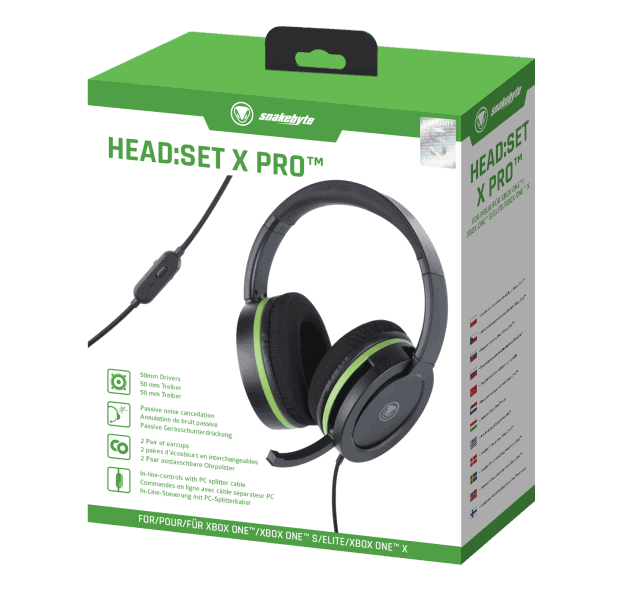 Description:
'Rarely found in this price category, the advanced 50mm Neodymium Audio Drivers reproduce every explosion, shot or team chat with pin-sharp clarity, essential for gaining the winning edge. Holding the drivers in place, the deep padded earcups are magnetically attached to the headband, ideal for easy washing and interchangeable should gamers wish to replace in the future. In addition, the earcups are engineered from memory foam and feature passive noise cancellation technology, effectively blocking outside distractions. Additional earcups are also provided in the pack, enhancing longevity even further.'
Features:
'The HEAD:SET X PRO™ is designed for Xbox gamers, finished in a striking green colour scheme, while the HEAD:SET 4 PRO™ is finished in deep blue, perfectly complementing PlayStation™4 hardware and accessories. Featuring a plug-and-play design, both headsets connect via a generous two-metre, wired 3.5mm connection. In addition, the headsets feature an in-line remote control, allowing for easy adjustment of volume and chat levels. Lastly, a headset hook is included for attractive and convenient storage when not in use.'
Unboxing:
Pros:
Colors. The headset I'm reviewing from Snakebyte is the HEAD:SET X PRO. This implies that it is the one for the XBOX One series of consoles. There is also a HEAD:SET 4 PRO which is one for the PlayStation 4 series of consoles. The main differentiation here is that there are 2 different color options. We'll have more on this further down in the article. But the color options equate to being a neon green for the X headset and a blue for the 4 headset.
Extras. I really was simply expecting to open this up and find a headset in here. That was all I was thinking I was going to see and I was fine with that. Then I saw that there was a couple of extras in the box that were a surprise. There was first off a splitter for the device. This splitter makes it possible to use on a PC for both headphones and microphone respectively. Secondly, I was astonished to see a headphone hook. This has a 3M strip on the back for hooking it onto the edge of a desk, gaming table, or corner of a monitor.
More extras. So to me, the extras that I just mentioned made this value even better. However, I found even more things in the box that I did not expect to find! I found that there were extra earcups in the box. These are there for you as a user to find maximum comfort. They also change easily as they hold on with magnets in the plastic molding of the headset. The cups also have a lot of swivel to them to meet you at your comfort level. Speaking of comfort, this thing feels surprisingly comfortable for at least a good hour. My ears come out a little bit from my head, so having them pressed back for long periods of time naturally start to hurt. So overall, your comfort mileage may vary.
Maneuverability. Swivel microphone for easy hiding
Extendable. Headband expands far past my large head, one size should fit all.
Coverage. Not much to talk about here. It's rather impressive that there is a warranty alongside the purchase of the Snakebyte headset. And not only is it just a warranty, it's a 5-year warranty. So they're confident enough that it shouldn't experience issues in the 5 years that you first own it. But more on the durability of the headset later.
Sound quality. The headset comes featured with 50 mm drivers. So while this is a lower cost headset, the quality is fairly impressive. We're talking you can hear the footsteps of a character running up behind you in an FPS on your XBOX One just as cleanly as you can hear Mario scream "Wahoo!" in the distance on Mario Kart 8 Deluxe. This goes for music and television streaming as well. Unless you like extremely deep bass that is. But all in all, you should be able to find a nice balance to enjoy your tunes.
Shhhh. So the HEAD:SET X PRO uses passive noise canceling. For the uninitiated, that simply means that it is just a physical way of canceling sound. In this case, the large foamy ear cups keep the external sound at bay. During gameplay, I was able to hear myself talk enough without hearing the outside noises. If you have children, maybe don't get these as I didn't even hear my girlfriend calling my name from the other room while I was playing a game.
Abilities. So the headset has inline controls along the length of the cord. Both the volume wheel and mute switch work as they should. Although I'll always take digital muting any day. I had a mute button break on a headset years ago (different company) and ever since then I only mute myself digitally and only when I need to. But if I'm using a console that doesn't have digital muting, then still having a physical switch available is fantastic.
Length. Now obviously you really don't need a lot of length between your head and the controller that the headset is plugged into. However, Snakebyte doesn't care about that. They've supplied you with an extremely long cord anyhow! They're probably assuming that you might need it for other purposes like using it on PC for instance. Either way, the cord here is a perfect length without being obnoxious and tangly.
Price. You just read all of those 10 points of greatness right? Yeah, now remember that this thing clocks in at $29.99 USD! I could hardly believe it myself. These headsets are going to be hard to find since they'll be in such high demand. If you don't see them when you search for them, don't give up and settle for a different pair. Keep searching or keep coming back to the Snakebyte website. You just can't beat the cost.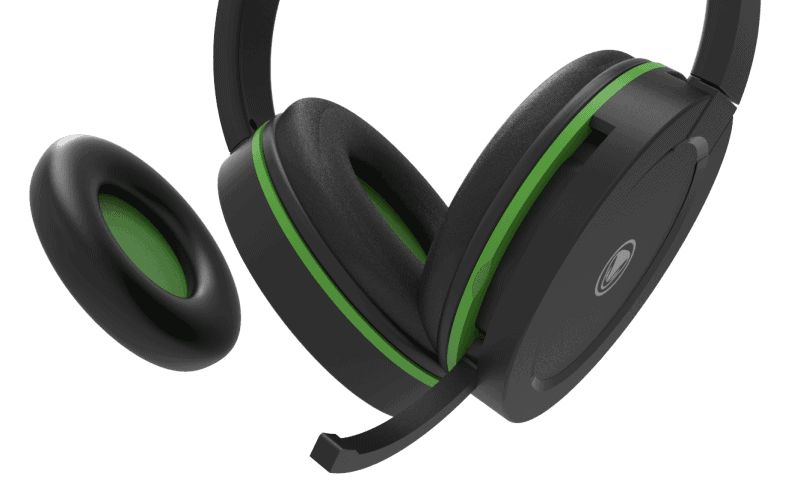 Cons:
Console Specific? They're advertised as being specific to the consoles. While it technically works on a console, don't be fooled here. At the end of the day, it's only a color difference. If you like green and you only own a PS4, don't be deterred, just buy the green headset. The same goes with if you want a headset for anything else in your life that uses a 3.5 mm jack. This will do that for you. I wish they would've advertised it as more of a universal headset rather than feeding into some kind of fanboyism.
Audio Quality. Yes, there is a great price point comes at the cost of only stereo sound. If you're looking for 5.1 or 7.1 headphones, you won't find that here. While that's not necessarily a con for some to have stereo, do not buy a $29.99 headset thinking you're going to get the cream of the crop.  You get what you pay for here.
Durability. The plastic on the outside layer is clearly susceptible to scratches if you are not careful and simply toss your headphones down on a table or floor. Furthermore, the headset does feel a bit flimsy. If you have children in the house, I wager that this would break within months. The 5-year warranty probably will not cover if the headset is breaking by mistreating it, mind you. I can only wager that it only covers if the controller looks fine and just doesn't function properly anymore. However, if you're in an adult-only household and can take care of items, this will be just fine.
Controls. The only bummer about the inline controls is that the mute switch is less of a clicky, tactile switch and more of an up and down slider. You need to push it all of the way one way or all of the way the other while looking at it. You cannot simply know you did it just by feel alone.
Overall Thoughts:
The bottom line here is that for a roughly $29 pair of headphones, you get a lot. You get compatibility with not just the XBOX One, but everything with a headphone jack. You get extra freebies in the box and you get some great comfort and fantastic sound. While it may feel a bit flimsy as you put it on and adjust it every time, it should hold up if you treat it like you would treat the controller. This thing does not have overwhelmingly beautiful highs and super deep bass, but it comes right down the middle with a nice medium balance of everything and should make for a great accessory if you're wanting to save up for a several hundred dollar headset in the meantime.
Interested in the HEAD:SET X PRO or 4 PRO? You can find everything you need on here!
If you like the author's work, follow him on Twitter @V1RACY and don't forget to enter the weekly giveaways!
And as always, stay tuned here on Hackinformer.com for so much more and follow us on Twitter @Hackinformer