Hey internet, J.C.Koopa here doing something new for me, covering some news. SEGA has recently announced the upcoming SEGA Genesis Mini. Yes, as part of the recent trend of companies manufacturing straight nostalgia in a tiny slightly-updated package, SEGA posted on March 30th that we could expect the Genesis Mini on September 19th this year.
The Genesis Mini will be $79.99 at launch and will include two controllers and all your necessary cables. SEGA says that it will include forty pre-loaded titles, though at this time they have only listed the following ten:
Ecco the Dolphin
Castlevania: Bloodlines
Space Harrier II
Shining Force
Dr. Robotnik's Mean Bean Machine
ToeJam and Earl
Comix Zone
Sonic The Hedgehog
Altered Beast
Gunstar Heroes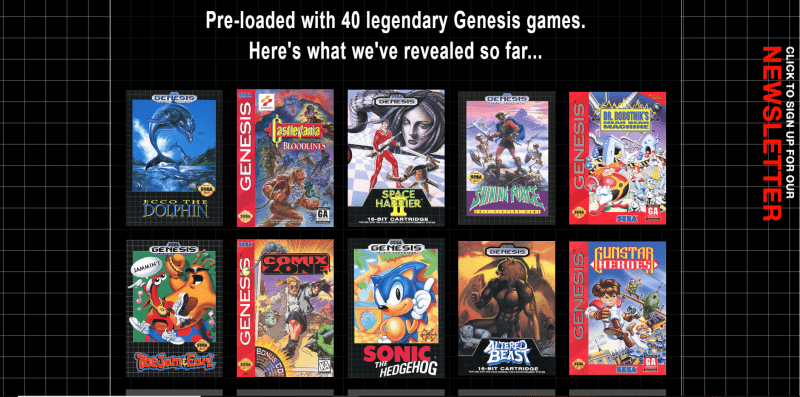 Now personally, I am only excited for three games on the list which are Sonic, Castelvania, and ToeJam and Earl, but I don't know if the Genesis Mini will get me to buy into the remade retro consoles trend that has been on the rise. That being said this recent craze does obviously appeal to some or it would not continue to be ongoing so if this news excites you you can check it out more on their site.
Potential buyers should note that SEGA markets it as a plug and play system, aiming towards customers who might not have the original cartridges for the Genesis. As far as I could see the Genesis Mini will only support the library of pre-installed games it comes with which may bother some SEGA fans but with this project being handled by SEGA in house you can expect for them to really do those games justice with better quality than some third party companies who have made other Genesis emulators.
For now, we will keep an eye out for more news from SEGA and in the meantime if you are excited you can pre-order one if you want, I will leave a link to their site to check it out for yourself.
If you're reading this and there are any games on this list that you're excited about, or if there are any other games you would like to see on the Genesis Mini, leave a comment down below. We will be keeping you guys updated as more info is released.