Introduction: Experience this thrilling romantic story enveloped in arcade culture nostalgia where you can be anyone, love anyone and chase your dreams. Throughout Arcade Spirits' chapters, your decisions will shape your personality, relationships and even have an effect on the future of your arcade!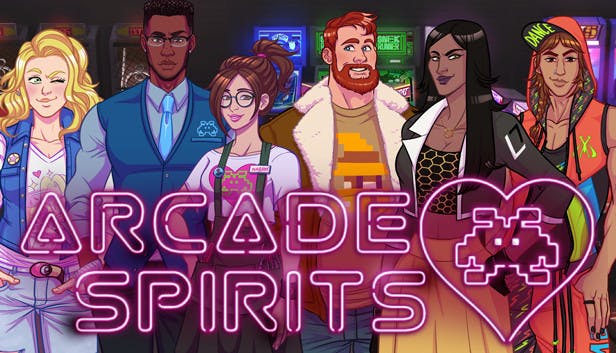 An eclectic and stellar voice cast with notable persons such as LilyPichu, Stephanie Sheh, Price Johnson, Graham Stark and many more lend their superb talents to the characters of Arcade Spirits, giving life and energy to the game like never before.
Title: Arcade Spirits
Developer: Fiction Factory Games
Publisher: PQube Limited
Release Date: Feb 12, 2019
Price: $19.99
Genre: Visual Novel/Dating Sim
Platform: Steam
Players: 1
*Thank you to PQube Limited for providing the Review Key.*
Arcade Spirits is a western styled visual novel and arcade themed dating sim aimed for everyone. This isn't one of your stereotypical nosebleed-inducing adult VN's, but more of your friendly, cutesy dating sims. An ode to retro video games and arcade culture, the game is based in 20XX, and centers mostly around an arcade called the Funplex, which you, the protagonist, find yourself working at soon enough thanks to your best friend Juniper's help. Throughout your journey, you meet several colorful characters, most of which you're able to romance. This visual novel keeps it very open-minded and welcomes everyone. Throughout the 8 chapters of Arcade Spirits, you grow your PC's personality through choices and responses, all of which have a corresponding personality trait accompanied with it. Indicators for what traits each response indicates can be toggled off or on. With all that being said, minor spoilers ahead.
Story
Design your own character from the ground up – pronoun, hairstyle, skin tone, hair color, eye color and more are completely customizable and are reflected throughout the game in both gameplay and artwork!
With roleplaying-based choices, you will be able to grow your personality and relationships in any way you desire; Friendship, Platonic or something more intimate! Work hard and build the relationship you desire with a total of seven romanceable characters!
The Identity Identifier System, or IRIS, can track your relationship statuses with all characters throughout Arcade Spirits as well as your personality traits, from Quirky, Steady, and Kindly, to Gutsy and Basically.
Everything you choose in Arcade Spirits, from your relationships to your personality, your crisis management moments and a myriad other decision will have an effect on the future of your arcade!
In this story, you're a 20-something with no purpose or direction and are in need of a job. Your best friend, Juniper, introduces you to this handy app called IRIS. IRIS is a personal assistant and helps you get your business together. She guides you towards the Funplex, a slightly dilapidated arcade run by a sweet lady by the name of Francine. She offers you a home at the Funplex and introduces you to the rest of the staff. Gavin, the sharp accountant, handles all the numbers, Naomi, the introvertive cabinet mechanic, fixes all the machines, and Ashley, the cosplay eccentric mascot. After your first few days, you start to get introduced to all the regulars here at the Funplex. Percy, the British retro enthusiast, spends all his time chasing the Moopy high score, QueenBee, the rising star of L7, trains her FoD skills while streaming from the arcade, and Teo, the dance-crazed Spotlight Stage extraordinaire, dances with his crew here at the Funplex. Throughout your time at the Funplex, you will be faced with decisions that will shape your arcades future.
Sounds/Visuals
Arcade spirits is all about the retro arcade aesthetic, and it both visually and auditorily fulfills that role. From the background noise of machines and kids to the simplistic arcadey tunes, Arcade spirits does a pretty good job of immersing you in the experience. The voice acting in the game is phenomenal, and personally, I was happy to see a familiar face like LilyPichu doing voice acting for a small game like this.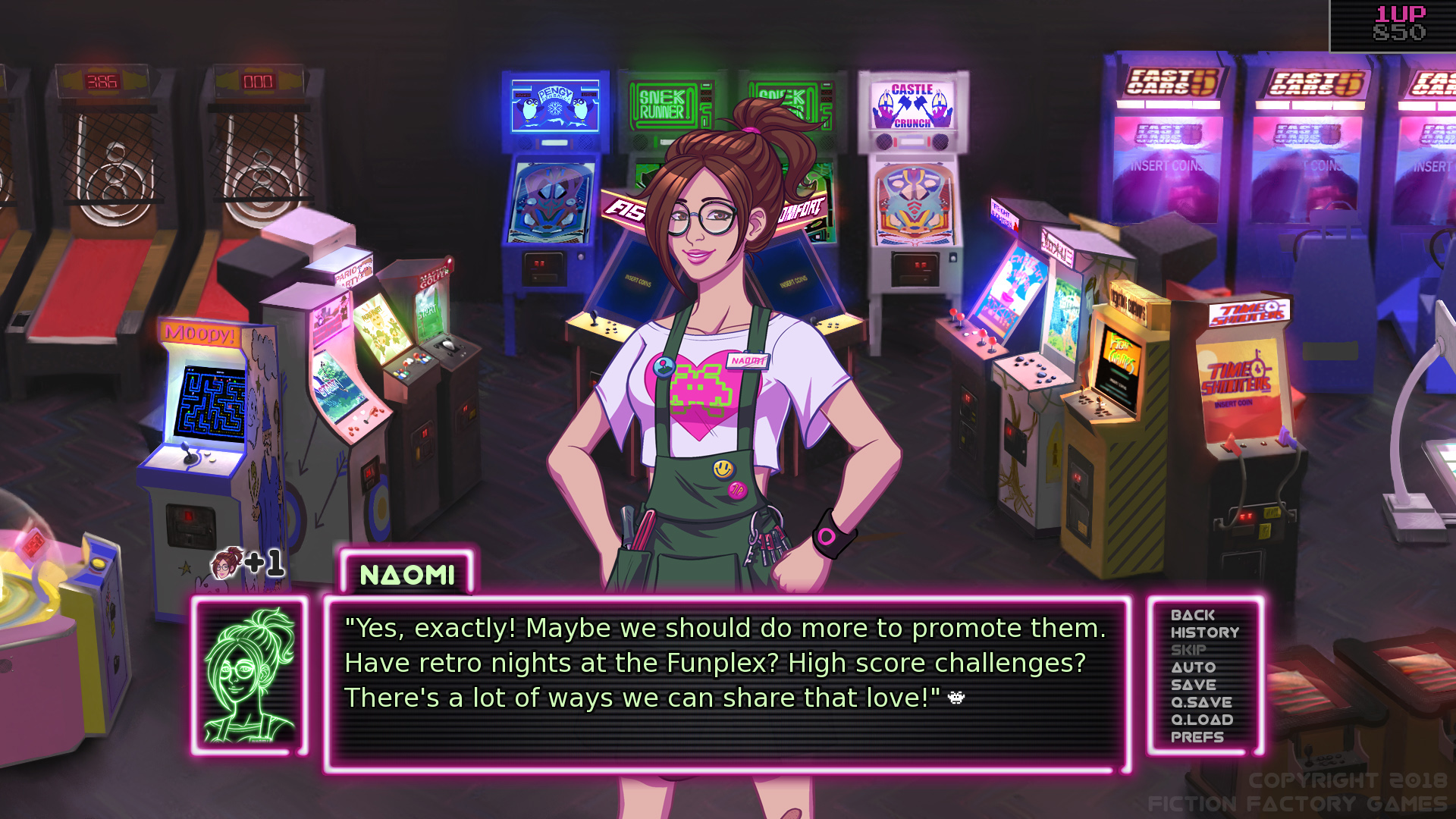 I've never really experienced too many western visual novels, mostly because of personal taste, but nonetheless the art for the game is well done. Stylistically it may not be my favorite, but that doesn't take away from the quality of work. Each character is stylized and unique in their own right, and has their own unique little quirks.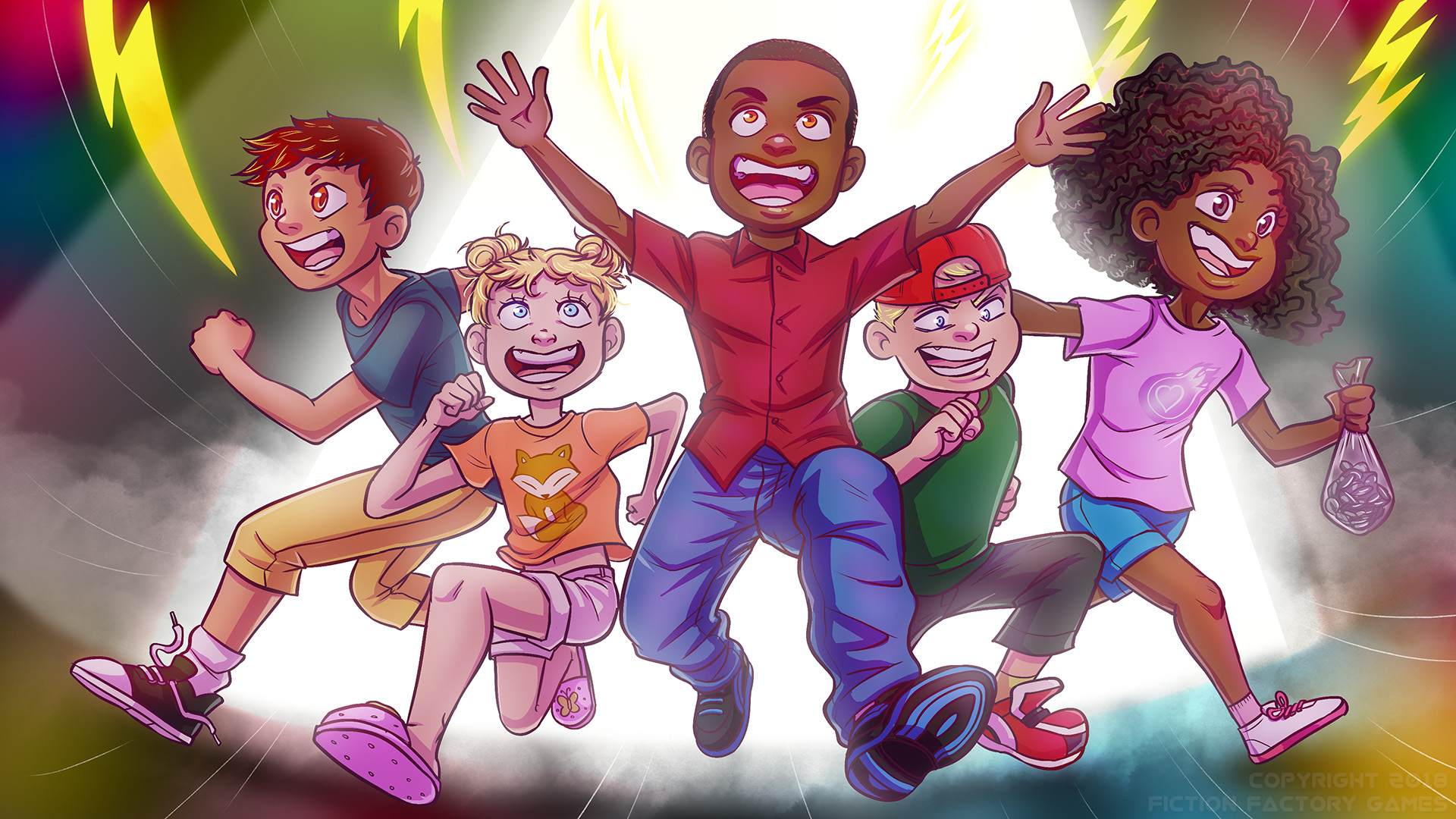 Character Design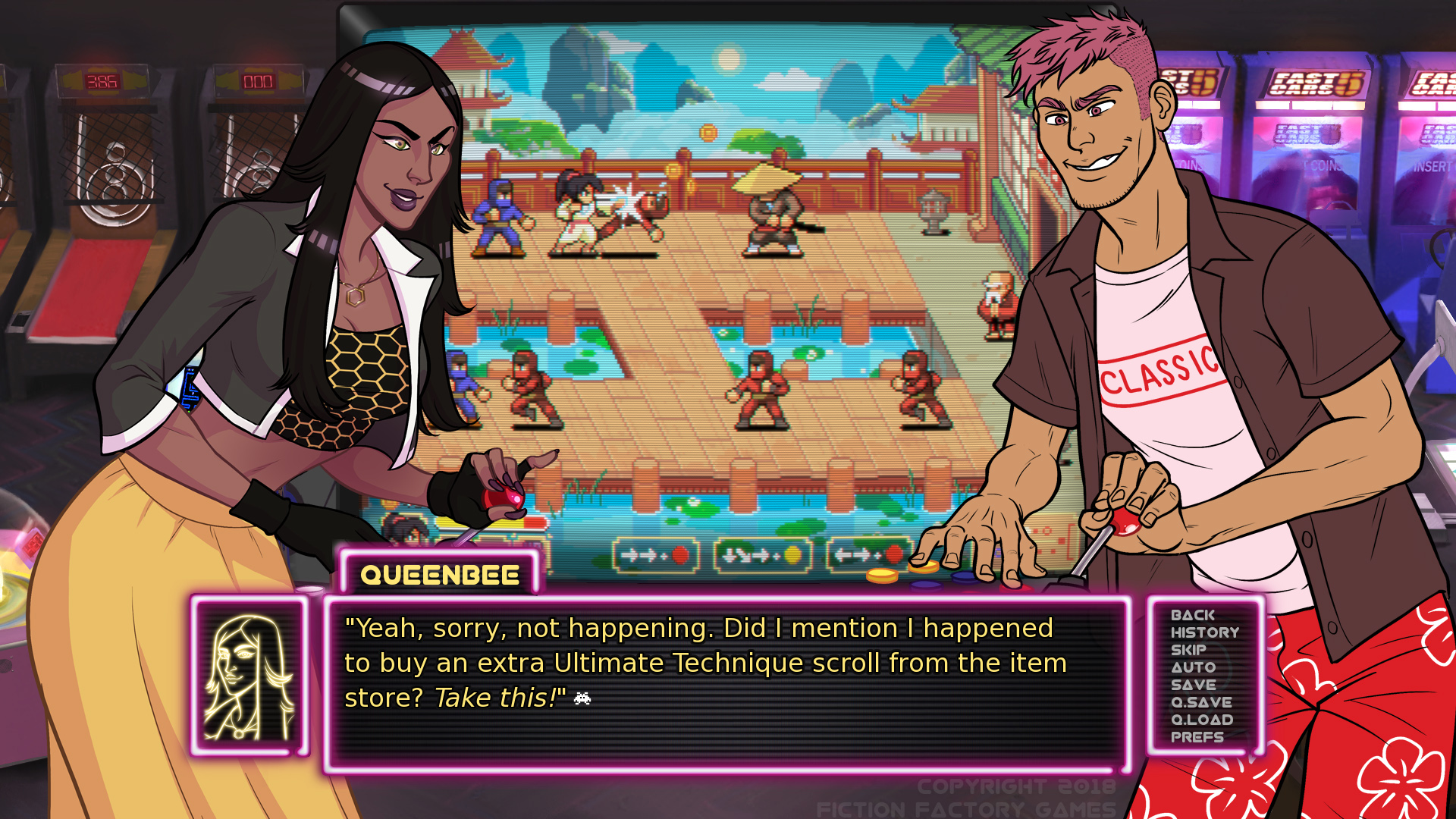 Arcade Spirits is all about diversity, and the game is very upfront about it from the get go. Whether you're gay, straight, or something else is completely up to you, and the cast is just as unique. Naomi is your pretty standard introvertive nerdy girl, and me being as basic as I am is the route I took. Ashley is an eccentric crossplayer who enjoys dressing as the opposite gender. Percy is your soft, chubby bear type with a british accent who trades stock in the day. QueenBee is your dommy hot-blooded older type who's always looking to improve her game. Gavin is a calm sophisticated smart guy who's good with numbers. Teo is a fun loving free spirit who loves to dance and break people free of their comfort zones. Then there's Juniper, your best friend and roommate. Sweet and kind, she's everything you could ask for in a friend and is always there for you.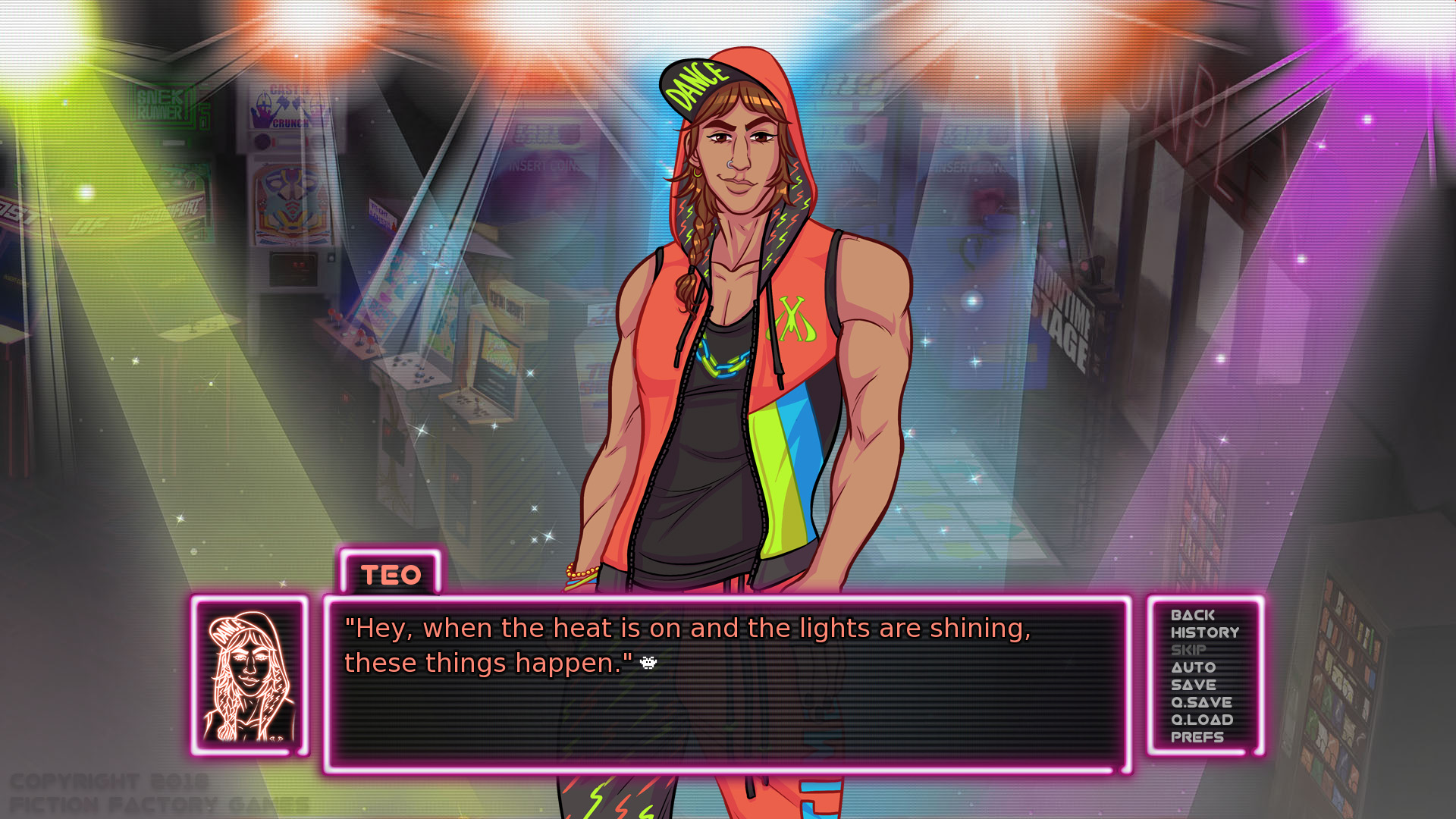 Conclusion
Arcade Spirits is a labor of love towards retro video games and tries to keep things light and fun. Don't get me wrong, the game isn't perfect, and there's totally some cringey lines here and there, but what's a visual novel without that kind of stuff am I right? Overall, although fairly short, I did enjoy my time with Arcade Spirits. From the great voice acting to all the cringey moments, Arcade Spirits is cheesy, cute fun.