We all knew it was going to happen sooner or later as PKHeX (pokemon save editor) has been updated to support Let's Go Pikachu & Let's Go Eevee for the Nintendo Switch.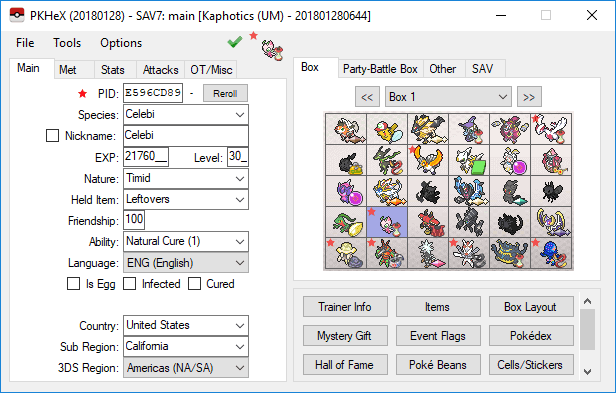 PKHeX is a save editor that allows users to manipulate the game saves to there liking and increase any pokemon's ability and much more. Now it may not get everyone right but its still fun to play around with and see what you can get out of it. Check out @Tankerbot messing around with PKHeX getting an egg to do battle.
Scratch that on Egg. I was able to get a Egg I can use in battle by making a mon evolve into species 810 instead. I think the real issue was PkHeX isn't generating this mon correctly. Here's the result: pic.twitter.com/zzqMqjTFxG

— Apache Thunder (@Tankerbot) November 17, 2018
Change Log:
Added: Let's Go Pikachu & Let's Go Eevee support. Thanks mattyoukhana (sora10pls) and SciresM for testing!
– – Legality: Complete detection & validation. Rare wild encounters & mystery gifts are not currently recognized.
– – Added: Added all new GP/GE content (Species, Moves, etc).
– – Added: Event Flag editor, Dex editor, Trainer Info editor, Inventory editor.
– – Notes: Exporting the save file will automatically remove empty slots between stored PKM.
– Legality:
– – Changed: Another round of legality check updates. Thanks theSlayer, Admiral-Fish, Sans!
– Added: Encounter browser (similar to Database / Mystery Gift Database). Press CTRL-N; viewing an encounter will generate a new PKM from the template.
"We do not support or condone cheating at the expense of others. Do not use significantly hacked Pokémon in battle or in trades with those who are unaware hacked Pokémon are in use."