Recently, I came across a video about the mod that I'll be reviewing while on YouTube. I was recently swooned by my Dreamcast (again) and was looking to see what mods were out in the wild in 2017. I saw a video on the channel 'The Dreamcast Junkyard' and I was blown away. For the first time you could load (legally obtained) backups from a memory card without removing the disc drive and ugliness. So I reached out to the Austrian modder extraordinaire who made 'The Dreamcast Junkyard's mod possible to see what it was all about. He gladly worked with me and now I have the Dreamcast back in my hands, reviewed, and ready to share my experiences with you!
Practicality:
I've already had plenty of people question me as to why I would want a Compact Flash modification done to my Dreamcast. Only certain DSLR cameras really use the media anymore and they're usually expensive. Why wouldn't I just want to mod my system with an IDE hard drive,USBGDROM or an SD card? Well, these are questions that are actually all too easy to answer. I wanted a mod that was quick to load games. I felt like having to wait for a disc to spin up or slow down was inefficient, so I skipped out on the IDE drive mod. The SD card mod looked pretty good until I saw that basically, for whatever reason, you have to gut the disc drive out of the system. So the SD card idea was out the window too (yes I'm aware the IDE also would've lost the disc drive). The same holds true with the USBGDROM modification.
So why the Compact Flash mod then? Well because, just as the section is titled, it was far more practical. Sure, I ran the risk of paying potentially more for a memory card, but definitely not more money than what I paid for a 64GB memory card for my Vita. And I get the solid-state aspect like the SD card mod that is out there. I also get an added benefit which is the sheer speed of the Compact Flash over that of the SD Card. Not only that, you can buy ever faster versions of Compact Flash memory cards so that in theory, should speed up the games loading times!
The only impractical thing about all of this is the fact that I had to send my Dreamcast to Austria. It sounded daunting at first, was I really ready to let my Dreamcast go missing? Would the guy simply keep the device? What if it all worked out and then arrived back, but was broken. These were all legitimate fears that I had. But I knew that if I were to make an overall review on it, I had to trust Jan would deliver the goods. I packed the heck out of the device and shipped it off. He did his business with it, repacked it equally as well, and it made it back to me. So I can happily report that as long as you can foot the shipping there and the roughly $30 of shipping back on top of the asking price for the mod, you should feel at ease that it will make it back okay.
The other side of that is that you can also just buy a premodified Dreamcast from Jan as well. My guess is that he has a price list for the mods versus buying one through him. It may be worth doing the math and seeing if it is cheaper to send him your Dreamcast or buying one from him premodified.

Compatibility:
This mod truly handled practically any game that I through at it. The fact that it's being loaded from a card and not a disc thoroughly improved my experience with some games. There are a number of games that simply won't work. That's not the fault of the physical mod that I had done, of course. It all boils down to Dreamshell and how it works. Without getting into the nitty-gritty of it all, it's estimated that 85% of the Dreamcast library works at the time of this article. We can only go up from here. There are a few different ways to load Dreamshell. There is this Compact Flash Card modification, there is the IDE mod that exists, the USBGDROM, as well as an SD mod. Some people online claim that the USBGDROM modification is 100% compatibility and there are others who say that a few games don't work. So I would love to know the answer there. Leave a comment down below if you have any of those other mods and want to chat.
The only compatibility issues that I actually had came down to the CF card that was used. Let me just cut through all of the nonsense and just state that if Jan offers to add in a card with the files, take it. Even if it costs a little bit more. I bought one from eBay to no avail, and then I bought an older Kingston 32GB with like x200 something speed also to no avail. I finally got a SanDisk Extreme 32GB card on sale from Best Buy. Its like as of this week all CF cards dropped in price after I spent a month trying to find one. Here is a link to the exact one that I bought so that if you want to have one ready, you can. I don't know if the compatibility with the CF cards is even at all in Jan's control. I would guess that it's a crap shoot based off of the fact that CF cards have varying read/write speeds.
Craftsmanship:
This is where Jan really shines. If you take a look at the very last picture on this page, you'll see with your own eyes that Jan has amazing attention to detail. The Compact Flash slot looks like it was intentionally designed to be part of the Sega Dreamcast. Even if you remove the network adapter, the look and feel of the built-in CF slot reveals no shortcuts. I'm not certain as to how he made the cuts to it or what he used to sand the hole for the Compact Flash reader, but it is simply superb. My only gripe, and it is barely a gripe at all, is that you have to have the Compact Flash memory card in the slot upside down. Do not, I repeat, do NOT try to jam it in right side up. There are guides on the left and right side of a CF reader that match up with the memory card. You will seriously damage both the card and the card reader inside the Dreamcast. I feel like some might complain about the fact that you can see the Compact Flash card hanging out exactly one inch on the side. I would say to those people to remember that you're keeping your Dreamcast largely intact for the price of a small piece of plastic jutting out.
On the back is the aforementioned toggle switch. This switch allows you to swap back and forth between the Dreamcast and Dreamshell Loader bioses. Now, the switch is installed with expert precision, I'll give him that. My complaint here is the obvious one if you're looking at the picture below. It's an ugly switch that was chosen. I would've loved a rocker switch or a button that you simply press in or out depending. I feel like it would've lent uniformity to the device, especially if said switch or button was grey. However, we all know these toggle switches last forever. They also are very obvious(?) in terms of letting you know by feel if the switch is one way or the other. Once you memorize that left is Dreamcast and right is Compact Flash, you're pretty much good to go.
One extra thing that Jan threw in was changing the LED color on the front. The power LED is illuminated orange here in the US whenever the system is powered on. Jan changed this out and put in a blue LED light. Similar to the Dreamcast swirl being blue in Europe. I think it lends itself much better to the aesthetic that already exists on the rest of the device. I would now love to find a Dreamcast lid with the blue swirl on it from Europe to tie it all together. One thing is clear here, Jan is nothing short of a genius in terms of craftsmanship!
Usability:
By default, there is a switch on the back that lets you change between the flashed bios and the default bios. This is so that you can still play your Dreamcast discs on one side and from the Compact Flash card on the other. Or you can simply leave it on the flashed bios side. Having a dual bootable Dreamcast is something that is absolutely fantastic to have. I find Homebrew games that are manufactured on real discs all of the time and I would love to still be able to play them. Having a disc drive at all still is something that those other hard mods have yet to be able to accomplish (as of the time of this writing).
I like to leave my favorite Dreamcast game (Soul Calibur) in the disc drive at all times. Every other game from my collection is properly backed up and now saved on the Compact Flash. I have a copy of Soul Calibur on the Compact Flash as well. If I travel to a friend's house for a party or to just hang out, I take the disc out of the Dreamcast and take the whole Dreamcast with me. All I have to do when I get there is plug the system in, flip the toggle Switch, press Power and then choose my game and it's that simple! There is just something to be said about how easy it is to load games.
Let's talk about loading games for a moment. If you download the latest Dreamshell 4.0 update and put it on the CF card you then have to make a Games folder on the memory card as well. You can find already dumped games (of games that you own) in Dreamshell format online or you can dump them properly from the disc. Then you simply put them into the games folder. Once you're in Dreamshell, simply choose ISO Loader icon or the File Manager. Both will get you into the Games folder. And that's it, you simply choose and play. Now there is a way to set up icons on the "desktop" of Dreamshell, but it involves more work. I'm keen to have it like Everdrives where you just have a list of games, you choose the game and it starts. I just cannot imagine a more usable mod because here, once you have the CF card with all of the files you want on it…you're done. No need to go back and forth unless you're someone who buys a lot of Dreamcast games and you want to dump the new ones to the CF card.
Overall Thoughts:
It's just a no-brainer here. As you can see, I gave this thing a 9.5 out of 10. This takes one of the most beloved systems of its time and kicks it up a notch. Having all of the games accessible on a Compact Flash card is simply divine. Not to mention that you can easily take the memory card out and change things whenever you need to. The IDE and SD card options are not as easy to do that with as this is. The only issues with the OS I had had everything to do with Dreamshell. You may find that once a month's worth of playing, the Dreamshell OS may freeze. But simply pressing Reset is not the hardest thing to do in the world. The mod simply does what it sets out to do, give you another option where you can load official and homebrew games quickly without the need for discs. But more than that, you can drag and drop onto the memory card, pop it in and go. You also get a dual booting system. But even more than that, you don't lose any of your Dreamcast! Which to me was the best piece of information of all. The reasons I didn't give it a full 10 out of 10 where just because of my petty preferences. I wish there was a way to skip the Dreamshell splash animation, I wish my lid matched the blue LED, I wish the toggle switch was a rocker switch or a button, and lastly, I wish there were a way we could have the CF card pressed all of the way into the system. Maybe like how you can fully insert a CF into a camera. Or maybe a clicking system where you can click it in and out like on an Everdrive.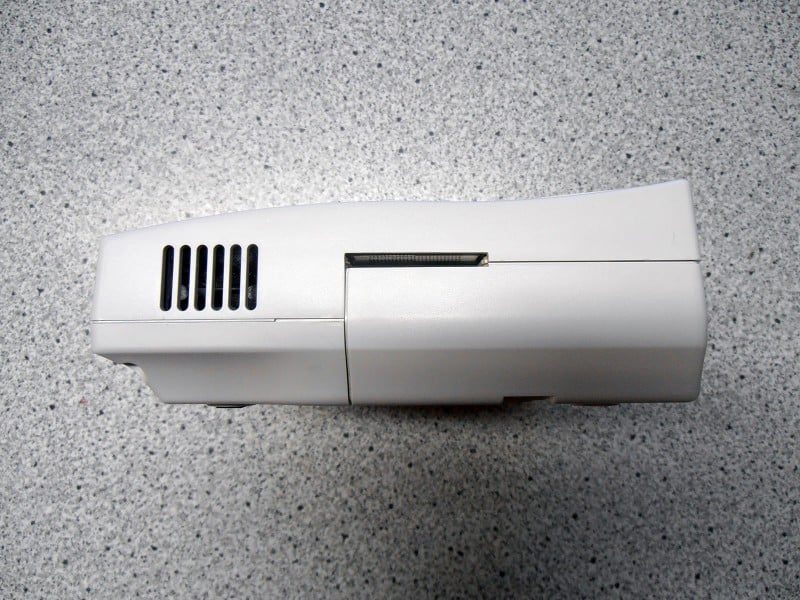 If you are interested in doing this mod, just know Jan does it as a hobby on his time. But if you're still interested in it, you can email Jan at dc.cfmods@yahoo.com and don't worry, he speaks English fluently. Maybe if you mention you saw it from Hackinformer so that he knows that this review worked!
Stay tuned here on Hackinformer.com for more reviews and follow us on Twitter @Hackinformer
If you like the author's work follow him on Twitter @V1RACY