My Arcade is a company built upon making portable gaming devices or just smaller iterations of larger systems (as well as other fun things). They have a large line of portable systems that can also be plugged into a TV via video out and played that way. Today we have a very interesting thing that I'm going to review from them. It's a scaled down "micro" arcade machine featuring the game Karate Champ from the acclaimed Data East. We'll talk about the hardware, it's structural stability, and the gameplay. Let's get right into it!

First off, I have the description of it straight from My Arcade:
'Karate Champ, the grand daddy of fighting games, was released in 1984 and has since been hailed as the earliest influencer of the modern fighting genre. Its tournament style game play and unique character controls continue to challenge gamers today, a reminder of the important role its played in video gaming history.'
As well as it's features:
•' Features artwork inspired by the original Karate Champ arcade cabinet.
• Removable joystick.
• Perfect for any game room, office, or display case!
• Volume control and 3.5mm headphone jack.
• 4 AA batteries required, not included.'
I have a quick unboxing video for you as well:
Hardware:
From the bottom to the top of this handheld arcade cabinet, the entire thing is hardened plastic. With regards to the buttons and ports, there is only a few of each. There is a joystick that can be converted to a D-Pad if you simply twist out the joystick. There are also 2 action buttons to the right of the joystick. This includes a start and reset button nearer the screen. On the bottom front of the machine, you'll see where the coins would normally go in on an arcade machine. It looks like a sticker to represent the coin slots. It's actually the power button, but the only indication of that is the manual that comes in the package with the micro arcade. On the backside of the device is a micro-USB port. This can be used to plug the arcade into a wall or USB port respectively for power. The description of the device says that batteries are required and that simply isn't true if you have a micro-USB cord and a nice place to plug it in at.
Continuing on, you'll see the battery door on the back of the device. Luckily for us, it's not one that requires that you take a screw out to take it off. It's a simple tab that you pull down and out and the whole door comes free. At the top of the back of the device is a set of volume up and volume down buttons. In between the volume buttons is the most peculiar thing on this whole device. You'll find a 3.5mm audio jack for your headphones. I mean…there is not a single person that will have a use for that. Children won't want a scaled down arcade machine with one game on it that is from their parents' youth. So it isn't for irritated adults that have children playing this game. And as an adult you can do whatever you want, so it's unlikely that they would need to be quiet. Plus, the volume on this thing can turn down pretty low and still be heard.
I think what My Arcade should've done here is make that port a video out port to composite. That way if someone wanted to hook it up to a TV, they would be able to. My Arcade has done it with a ton of their devices in the past. Why would they think that anyone would want to take this on the go? No average person will do that. It's just too damn bulky. No, the average person will leave it at home, so why not let it be connected to their home TV?
Structural Stability:
This micro arcade, as I mentioned previously, is built with a hardened plastic. The whole thing is just thick and meaty for being such a small device. You're never going to play too hard and then the thing snap in your hands. It is just too structurally sound for that. There are even rubber strips on the bottom of the arcade to prevent it from sliding around if you're playing on a smoother surface.
I don't know the specs of the screen in this device, but it looks stupendous! It's bright, crisp, and vibrant. There is no screen tearing or ghosting. I would assume that this thing is not going to give out on you anytime soon. The speakers also sound really great when you're playing. It barely seems like the speaker is on the backside facing away from you. This is great because a good arcade always sounds loud even if that certain game you're playing doesn't have speakers exactly on the front where you're standing.
Full disclosure, for the sake of reviewing the device, I slammed on the buttons and was rough with the joystick and D-Pad combo. This was to really test how well they could hold up. I was looking to see if the buttons would give way and slowly sink into the little device or if it would hold up. And surprisingly, I found that nothing seemed to happen. The stuff still plays just as well as it did when I first pulled it out of the box a week earlier. And the truly great thing here is the fact that it lets you choose between the joystick and the D-Pad. That way if the joystick ever does break, you'll still have the D-Pad as an option to play on!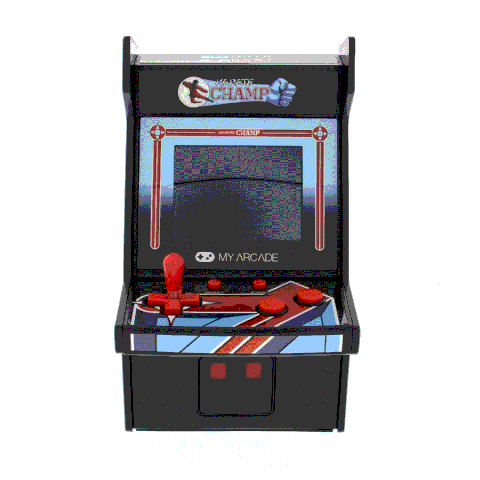 Gameplay & Emulation:
The emulation of Data East's Karate Champ is definitely flawless. I was hard pressed to find a moment that the game didn't flow smoothly. I could tell it was working right because I noticed no stutters, jumps, audio hiccups, or crashes. However, while it is flawless, being on such a small screen in a game where seeing every little move your opponent makes matters, is this device's major downside. I could see something like an arcade racer or an adventure game. But something like this causes a bit of eye strain after a while. Again, maybe if we had a way to output the arcade game to the TV, I would say this device is perfect.
Here is the machine sitting idly in Demo Mode:
If you're interested in a My Arcade Micro Arcade: Karate Champ, click here. And don't forget to use code INFORMER for some dollars off, my friend!
Stay tuned here on Hackinformer.com for more reviews and follow us on Twitter @Hackinformer
If you like the author's work follow him on Twitter @V1RACY