Since we got sent a review sample of the new Stargate3DS Flashcard for the 3DS we had a bit of time to test it and look at the advantages and disadvantages of this new card. Please note that this is a "pre-release" Stargate3DS with Firmware 1.0. It can be that by the time of release the flashcard will feature more advanced game compatibility or other features.
From the first look, the Stargate3DS seems to be a mix of the Sky3DS and a normal NDS Flashcard like the well known R4 Cards and it is pretty much that. With this card, you won't have to choose between your DS or 3DS Flashcard anymore since you can just play both types of games from the same Flashcard. This comes at a price though. With a price tag for roughly $100, this isn't a flash card for someone who just wants to play DS Games on their 3DS or just 3DS Games.
The Stargate3DS ships in a nice little box with the Stargate Logo and Writing on it. Upon opening the inner box you can also see the Stargate Logo on the inner box and also on the SDCard Reader.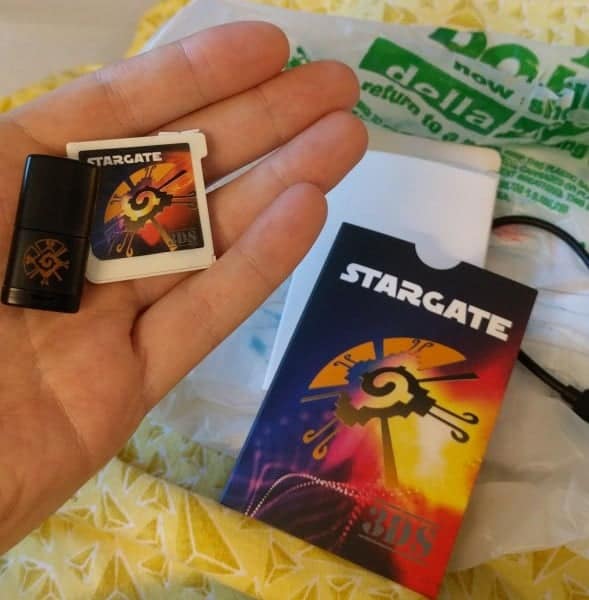 The card itself features a Micro USB Port for upgrading the Firmware (There currently is no newer firmware but it's nice seeing a normal Connector being used instead of a proprietary one), two buttons for switching between the 3DS Roms or switching to DS-Mode and a MicroSD Slot. The Flashcard also features a Multicolor LED which lights up red when there's a problem with the SDCard, Green when it reads a Game and a short purple flash indicates that everything is working correctly.
Upon inserting the Cartridge into the 3DS I had to notice that the card itself wasn't as smooth to put in and remove as a normal retail cartridge but according to Team Stargate, this will not be a problem on the final card since they will change the sticker to a thinner one which will result in the flashcard being thinner.
So after going over the Design and first look at the Stargate3DS let's continue with the more interesting part, the actual testing of 3DS and DS Games.
Let's begin with this cards primary purpose. Playing 3DS Games. Just like the Sky3DS, this card doesn't need any setup to be used. All you need is an SDCard preferably formatted with exFat since exFat doesn't have nasty file size restrictions and some 3DS Roms. Now just put the Roms on the root of the SDCard and you're good to go.
When you put the Stargate3DS into your 3DS you can just switch Games by pressing the Buttons on the back of the card or through the NDS-Mode. I've tested the Card with some older and newer 3DS Games and pretty much everything up to Pokemon Sun/Moon works fine. The Devs have confirmed though that they are actively working on getting these Games also working in the near future. To go into NDS-Mode hold both Buttons at the same time. When the 3DS displays Alex Rider: Stormbreaker just launch the Game. Now select any 3DS Game and the card should kick you back to the Main menu now showing the 3DS Game you selected.
The Stargate3DS features support for Roms with a private header for online play. It does not support the current .3dz file extension though so if after writing your private header to your Rom the extension is .3dz you will have to manually rename the file extension from .3dz to .3ds. With the Gateway Rom Patcher utility, it should keep the .3ds file extension even after changing the header. To change the header all you need is a self-dumped Rom (preferably a multiplayer one), Gateway Rom Patcher and the Rom whose Header you want to change. Then just follow these Instructions:
1.) Fire up Gateway Rom Patcher and load your self-dumped Rom.
2.) Now press on "Export header to file" and save it where ever you like.
3.) Now load the 3DS Rom where you want to change the Header.
4.) Press "Import header from file" and then press "Apply"
5.) That's it. You can now use your Rom online with a much much less risk of getting banned than with a public header.
But just like the Sky3DS this flashcard doesn't let you launch hacked games (Like eShop converted Games) or Games that are for another Region than your 3DS (For example trying to play an EUR Version of Pokemon on your USA 3DS won't work). Theoretically speaking you should be able to get around this Region-lock with either the Homebrew Launcher or with a CFW (preferably Luma3DS) but I couldn't test this because of lack of out of region games. If you own a Stargate3DS and tested this please report back your findings.
Playing DS Games is as easy as with every other Flashcard. Just press both Buttons at once so that the 3DS shows Alex Rider: Stormbreaker and launch it. Then just launch any DS Game you want from the Flashcard. I didn't find a Game yet that doesn't work and that's counting a few. I still need to test Pokemon White 2/Black 2 since that was one of the Games making problems with some flashcards but since this is a pretty much brand new card I suspect that it will work just fine. Sadly the DS Mode is still missing some features every other Flashcard has like In-Game-Reset with a button combo and Cheats. It also doesn't feature a savestate function which I hope the Devs can make at some point too since that feature was awesome on my old M3i Zero and it would surely boost the value of the DS-Mode. I missed being able to use Savestates in The Legend of Zelda – Phantom Hourglass where you couldn't always save :/
The DS-Mode previously had problems where it would not work when the SDCard was exFat formatted but this has been fixed very fast by the Stargate Team and it's now working fine when using exFat.
To get more Roms on your SDCard you can also trim them. Don't worry you won't be cutting away any files. You can trim both DS Games as well as 3DS Games. DS Games, as well as 3DS Games, come on Chips with a fixed size. so if we say a Game is only 3,5GB big the rest will be filled with zeroes until it reaches a file size of 4GB and so on. By trimming away this unneeded part you can save quite some disk space on DS Games and 3DS Roms. To do this all you need is NDSTokyoTrim. Then just do the following:
1.) Fire up NDSTokyoTrim and press "Scan Folders". There you will have to select the folder containing your DS and/or 3DS Games. (I'm not sure anymore how this tool handles some 3DS Games like Pokemon that save in a special location, so-called Card 2 Games I think, so if you are cautious you can either make a backup yourself or go to "Settings"->"*Backup original files")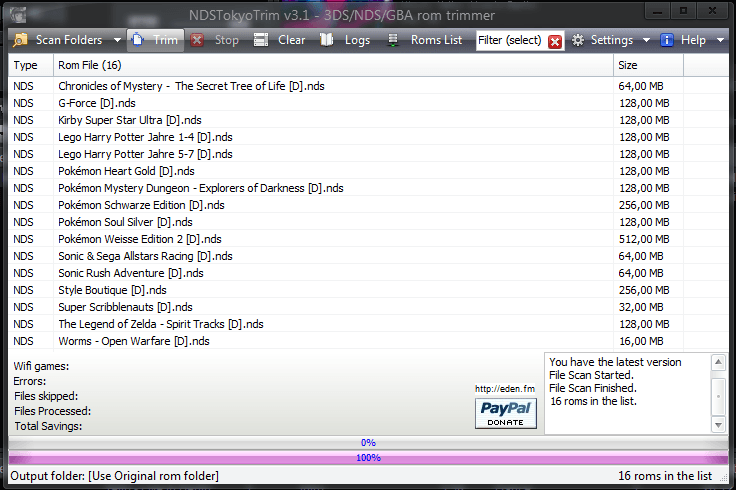 2.) When the tool found all your DS and/or 3DS Games just press on "Trim" and wait for the magic to happen.
3.)When it's done trimming it will tell you at the bottom how much Space you've saved which for my only 16 Games was 618mb (Mostly because of the Pokemon Games though). You can see that the file size has shrunk compared to the original file size in the first picture.

This Flashcard comes with a big catch though for Users running a 3DS with CFW. It simply doesn't work. Yep, you read that right I couldn't get any of its functions working correctly on my old3DS with Luma3DS 9.0 installed. This shouldn't hit many users though since the main audience for this Flashcard are people that don't want to hack their 3DS to play 3DS or NDS Game Backups. I hope that this will be fixed with later firmware Updates but as of right now CFW Support is broken with the card.
So let's conclude this Review:
If you only want to play 3DS Games on your 3DS you can pretty much go with a Sky3DS+ flashcard. The only thing that I can think of is that I'm not so sure about how future-proof the Sky3DS+ still is since the last Firmware Update was from 2/13/2017 and I can't test Game compatibility with Ultra Sun/Ultra Moon and other newer Games. With the Stargate you should have a better chance of long software support (Maybe until the end of Life for the 3DS?) since it is newer. It still needs quite some polishing since it can't boot Pokemon Sun/Moon currently which a Sky3DS+ can but I hope this changes soon™
The NDS Side of things can also use some more additions to its software like cheat support and hopefully also a real time save function.