This is the first of a 3 part series made to focus on reviewing some of the stands that are exclusive from Rose Colored Gaming. The next article will be over Nintendo controller stands, followed by stands for the Nintendo handhelds with Nintendo consoles. This article will be over the PlayStation controller stands and the stands for PlayStation Handhelds. I have pictures throughout and links to the product pages if you want to purchase the stands in our article. I'd reviewed a PlayStation TV (PlayStation Vita TV) stand previously if you would like to read that article, I have that right here for you.
As you may have noticed, in my PSTV stand review I had just the one item and so I examined every possible aspect about it. I went over appearance, functionality, and durability. Since all of the products that I'm reviewing in my 3 part series are made using the same techniques, they have the same build quality as well. It's for this reason I intend to skip over durability. I will, however, focus on appearance and functionality since the appearance of them may generally be glossy and acrylic, but they all still have their own shapes and contours. The same can be said with durability as some of them feature much thinner pieces than other models. I want everyone to have the most accurate information possible what I've gotten my hands on.
PlayStation 4 DualShock 4 Stand
Comprised of only 4 pieces, this stand definitely is one of the more strange stands to put together. I'm not saying that it's difficult of course, but it does take a little bit more brain power than the other stands to complete. As none of the stands appear to come with instructions it is up to you to figure it out. The base of this stand is one of the stands that seem to be just as wide as the product that sits on it. This is likely due to the fact that it is a lighter product in general. There is a piece that runs parallel to the base that sits just underneath the thumbsticks of the DualShock 4. It seems to be the only part of the stand that I received that does not snap in place or sit snugly. Luckily, it is resting on top of 2 pieces that are perpendicular to the base and so gravity keeps the parallel piece in place. This is nothing that I can imagine would ever bother you if your stand also had the same scenario. I can't speak to whether or not it was intentional or just a piece that was ever so slightly over cut.
The idea with this stand is that it keeps the controller afloat a good 2-3 inches above the base. I would say if you have a lot of light in your room, go with the clear acrylic. If your room is mostly dim, choose the black acrylic. If you follow my suggestion, you'd get a really cool free floating effect from your PS4 controller while it is on the stand. My only gripe with this one isn't necessarily Rose Colored Gaming's fault per se. I think that the PS4 logo engraved in the lower right-hand corner may need to be a little bit bigger. Since Sony chose such a thin font for the PS4 logo, it just isn't as noticeable as the logos are on the other stands.
You can find this stand by clicking here ($8.99).
PlayStation 3 DualShock 3 Stand
This stand has only 3 pieces in total and stands a fair bit sturdier than the DualShock 4 stand from above. Having only 3 pieces yields less guesswork on the end user as well. The core concept is the same though in terms of how it sits on the stand. There is a piece that runs up the back of the DualShock 3 to keep it from sliding backward in place as well as round grooves underneath the thumbsticks to keep it all centered. There are more similarities from the DualShock 4 stand. The base is just as wide as the product again, which is great because it gives you more shelf space for other items. But it also suffers from Sony's super thin PS3 font that they've had for a decade now.
One thing I can say for this stand that couldn't be said for the aforementioned stand is it gives additional functionality. Because of the sheer sturdiness of this stand versus the other stand, I feel confident in charging it while having it on the stand. This is great because I would only ever charge it while not using it. So I can have the stand on a shelf with the DualShock 3 on the stand and have an inconspicuous mini USB cord behind it that I can quickly pop in and charge it with.
You can find this stand by clicking here ($8.99).
PlayStation Portable Stand
This stand is probably my favorite so far from Rose Colored Gaming. Yes, it too suffers from the lackluster Sony PSP font. They definitely could've thickened it up a bit, but I understand that it is probably quicker and less expensive to do the size that they did. But what this stand lacks in logo size, it makes up for in sheer attitude. This stand is about an inch longer from left to right than the PSP is. I think this is great because the stand would slide around a bit more when you go to pick it up if it were smaller or the same width as the PSP. The next thing that I love about this stand is that there is a groove cut out for the small lanyard/strap piece that is on the lower lefthand corner of the PSP. But there's more great things about this stand too! I love the fact that no matter what model of full sized PSP you have, this seems to be able to support it. I really appreciate the fact that they took the time to support all PlayStation Portable models with this stand (keep reading for PSP Go stand).
This stand also only has 3 pieces and even a monkey could have this stand together in under 30 seconds, so it's crazy easy. Of course, the bummer about this stand is that you cannot, unfortunately, charge it through it's DC port. One last shout out that I have to give is probably just some unintentional benefit that wasn't even planned for by RCG. Since this supports all thickness of PSP models, you can have battery extensions and still use this stand. All that I mean by that is that if you're like me and have a Slim and Lite PSP and have a full-size battery with a full-sized battery door, you can use this. If you're just learning about having a battery extension right now, definitely google it. Because if you get that for your slim PSP you can still use this stand. It's the best of both worlds, my friend!
You can find this stand by clicking here ($5.99).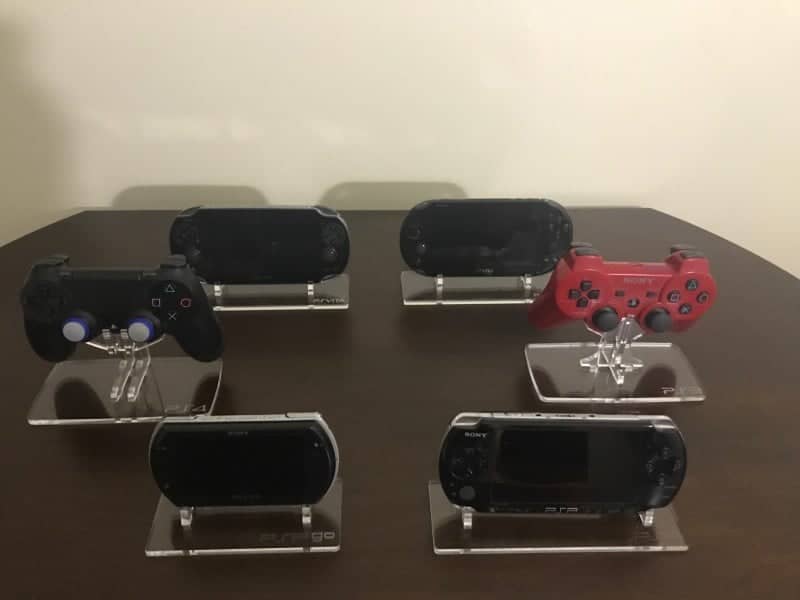 PlayStation Vita 1000 Stand
So this stand too is made up of three simple pieces. Putting it together was a breeze, naturally. I will be honest, I was putting this one together and I was thinking to myself how I doubted it would hold up the all too heavy PlayStation Vita 1000 series. But when I put the heavy heathen on the stand, it sat right in place perfectly. It didn't slide left or right and there are some taller pieces in the back that support it. I do want to talk about the back pieces for a moment. Upon seeing them I thought, "Well there's the flaw right there, it's going to scratch up the touch panel on the back". I was wrong, and let me tell you why. On the back where the little pieces are holding up the back they're designed a bit differently. They're high up enough to support the weight of the device, but they're also low enough to not reach the touch panel. And we're talking right up to the bottom-most edge of the touch panel. The pieces appear to be thicker in width though, maybe that's how Rose Colored Gaming balanced the whole thing out.
I think that this would be a fun stand to have Netflix or some kind of video streaming service playing on and watch. You could have it on a nightstand next to you and it would absolutely be the perfect distance and screen size to enjoy some shows without disturbing others. It would technically fit a cell phone too, but I couldn't guarantee that the taller pieces wouldn't scratch up the back of your phone as they're cut specifically for a different device.
You can find this stand by clicking here ($5.99).
PlayStation Vita 2000 Stand
This stand appears to be similar in nature to the PlayStation Vita 1000 stand. They kept the same exact logo, the width seems to be the same scale compared to the device, and it's just a total of three pieces. There are some strange bits about this stand. For example, on the previous stand, we have the taller back pieces to support the weight and height of the PlayStation Vita 1000. On this stand, we don't have to worry about the weight of the device, but the height is still there. So this stand does have the taller back pieces in place to keep it from falling backward. These pieces for the previous stand stop right at the very bottom of the touch panel. This, as we discussed, kept the acrylic from potentially scratching up the back, while still supporting the device. However, on the PlayStation Vita 2000, you don't have a precise location for the touch panel. It is sort of a giant oval on the back, but not the whole piece is the touch panel. Anyway, long story short, the pieces here kind of fall on the edge of the grooves on the back where your hands rest. So they're partially on that and partially in the touch panel oval. All in all, I would say that I would feel much more comfortable if the supportive pieces where spread apart more so that they'd rest more in the hand grooves.
Otherwise, if you're okay with gently placing your PlayStation Vita 2000 into the stand and gently taking it out every time, this is a quality stand. I would say that if you have a black on black PlayStation Vita 2000 as I do, you purchase the black acrylic stand. It would just look so sexy having the black on black on a black stand.
You can find this stand by clicking here ($5.99).
PSP Go Stand
This one is just as easy as the last three stands that I've talked about in terms of assembly. This stand too is 1-2 inches wider than the PSP Go itself. I'm not entirely certain as to why they designed the stand this way. I think it would be just as clean looking if it was only as wide as the PSP Go. Especially since it is not terribly large or heavy. My guess here is that RCG has done some math and so we have to have it this way. But that clearly means we have a solid stand that works well. I would like to see some slight improvements in the distance between the arms that hold up the Go, however. If you accidentally bump the PSP Go, the device will sometimes slide left or right. I think separating the arms another 1/4″ away from each other may yield better results. Or if not that, maybe pieces that protrude to the left and the right of the device as if it is hugging it in place.
One cool thing that you can do with this stand is put your PSP Go into the clock mode and leave it on the stand at your desk or on a shelf. It's a real conversation starter for sure. I've actually done that while I had a friend staying for the weekend and you can simply see the envy on the person's face when they ask about it. They really go crazy when they find out that it only costs them $6. The only real downside with this stand that I could find was the fact that I can't charge it while using the stand. It isn't a necessity for stands that are just used to display your fantastic games and accessories. It'd be nice if they sold a model of this stand that is raised up from the shelf just enough to slide the charge cord up from underneath and have it be plugged in. I would buy one of those in black for sure! Last of all, the engraving on the stand looks very nice. Since the word "GO" is a thicker font that Sony went with, it looks great in contrast to the thinner "PSP" next to it.
You can find this stand by clicking here ($5.99).
If you want to see the rest of their products, you can visit Rose Colored Gaming by clicking here.
Stay tuned here on Hackinformer.com for the next part and follow us on Twitter @Hackinformer
If you like the author's work follow him on Twitter @V1RACY