A couple days back developer BernardoGiordano brought us a nice gem. That gem is called Checkpoint and it is for the Nintendo 3DS. It is currently on 2.0.2, and I waited to post anything about it until it was much more complete feeling and had more usefulness to it. Let's take a look, shall we?
Of course there are already plenty of decent game save managers for the 3DS already. There is a heavy need for these as the system itself never really came with one that was truly worthwhile. Checkpoint is just dramatically easier than the rest and it shows. When I say it shows I literally mean that everything that you need is on one screen and not convoluted across several screens. You can just tap a game and hit backup or restore…and that's it.
So, if you have a custom firmware (or running a Rosalina based Homebrew Launcher, this cannot run on HAX versions of the Homebrew Launcher) on your 3DS you simply start the app and it will show you all games that have saves whether it's from the cart or a downloaded game. It doesn't show every game that you have by default unless it has a save file readily available. There are two sets of instructions below, the installation instructions and then the quick and dirty usage instructions but first here is a breakdown from the developer himself:
'Why use Checkpoint?
Checkpoint is created with the ideas of simplicity and efficiency. The UI has been designed to condense as many options as possible, while keeping it simple to work with.
Moreover, Checkpoint is extremely lightweight and is built using very few (and up-to-date) libraries. It contains minimal assets, while being packaged with a nice graphic user interface.
Checkpoint supports DS cartridges, normal titles, and demos. It also automatically checks and filters homebrew titles which may not have a save archive to backup or restore, which is done without an external title list and filters. For this reason, Checkpoint doesn't need constant user maintenance to retain full functionality.'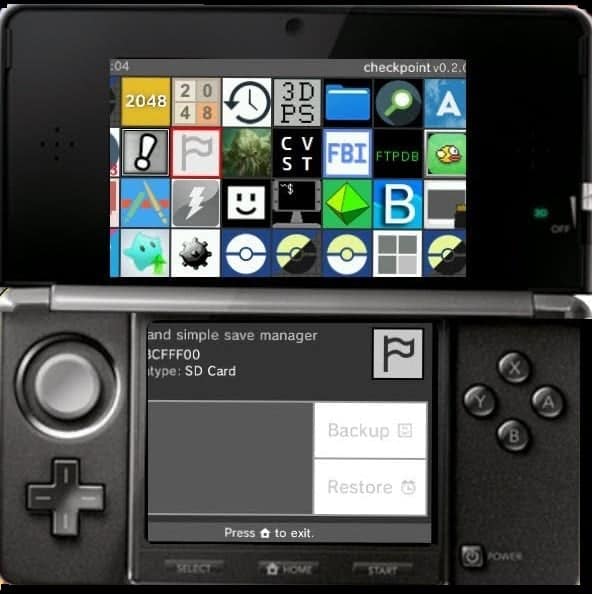 Installation Instructions:
Download the .cia file from here.
Install the .cia file. If you do not know how to install a .cia file, Google is your friend.
Upon returning to the home screen you should see the gift icon.
Tap the gift icon to unwrap it.
If you did it right, it should be the icon for Checkpoint.
Feel free to leave it in its place or move it to where you can easily find it for whenever you need it.
Usage Instructions:
Tap the Checkpoint item to open the app.
The first time that you start it, depending on the number of games with saves you have, it could take up to 5 minutes to populate the screen. This will only happen the first time you start it, so be patient.
Once it's complete you'll have a list of games. Go to whichever one you want to backup a save file for. If you have multiples of the same game it will tell you if it is an eShop title or a cartridge or a dumped cartridge, this should help you know which is which.
Now that you're hovering on the game you want, press A.
You will now be able to press Backup or Restore. If you need to save the file, tap Backup. (You can do the inverse if you want to restore a save file to a game that you have, just repeat the steps and tap Restore.)
You can now name it or let it keep its randomized name assigned by Checkpoint.
And that's it, you've successfully saved a file within seconds!
You can do plenty more with this Checkpoint, such as backing up saves from a cartridge and applying it to the ROM dump of your game. That way you can just dump all of your carts and keep them nice and in mint condition. This app also lets you do a batch backup by pressing Y and then selecting all of the games you want to backup all at once. You can even backup extdata for safekeeping as well. There are just loads of features to this app. The last point that I'd like to bring up is that you should avoid having a flashcart in the cart slot when using this app, it simply causes lots of issues.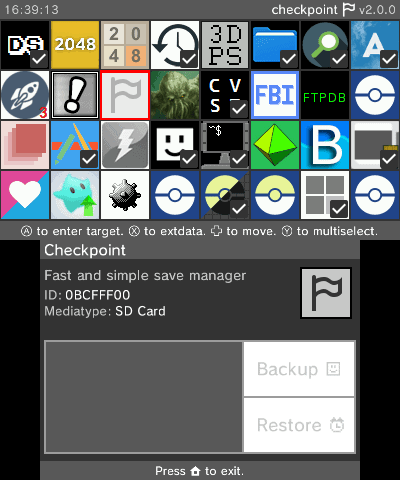 Stay tuned here on Hackinformer.com and follow us on Twitter @Hackinformer
If you like the author and his work follow him on Twitter as well @V1RACY