Cluster_M has been working tirelessly for over a week now to give us the same support and the same, if not more, functionality that he gave us for the NES Classic on the SNES Classic. Well, today we finally have a non-beta, official release! In this article, we'll talk about what is new to the program. Don't worry, we will soon have instructions for adding more SNES ROMs to the SNES Classic (which could also apply to NES ROMs on the NES Classic) as well as a separate tutorial for installing RetroArch cores and running games from some of your other favorite systems!
So what is new in hakchi 2.20 other than the all too obvious SNES Classic support? Well for starters it still supports NES Classic but it also supports Famicom Classic and Super Famicom Classic for those of you who happen to own those and want to join in on the fun (finally). Here's the official changelog.
Changelog
'SNES Classic Mini support.
Automatic ROM conversion to special SNES Classic Mini's format. ~75% of games are working fine. You can use RetroArch mod for problem games.
For expert users: you can select SNES game and press Ctrl+Alt+E to show hidden Preset ID editor.
Individual profiles for different consoles, so you can use the same hakchi2 for both NES, SNES, Famicom and Super Famicom. You can select console type using "Settings menu".
7-Zip compression support for all platforms and emulators. You can compress or decompress any game using only one checkbox.
Group operations. Now you can select multiple games in the main window, right click on them and do mass compression or mass cover downloading only for selected games. Hold control to select individual games.
For expert users: NAND dump, NAND-B dump, and memboot features. Don't use it if you don't know what is it.
Some bugfixes and refactoring.'
Here is a list of all of the base features that you can come to expect when using this grand piece of software.
Features
'Change any game settings (including command-line arguments)
Fill all game data automatically using included database
Automatically check for supported games
Search for box art using Google Images
Use Game Genie codes for NES games; includes Game Genie database
Automatically patch problem games (patches for many popular games included)
Upload hundreds of games at once
Return to the HOME menu with a button combination instead of the Reset button
Enable autofire A/B
Simulate the start button on the second controller (for Famicom Mini)
Disable seizure protection
Allows to install user-mods to add more features (even support for SNES/N64/Genesis/etc., music replacement, themes, etc.)'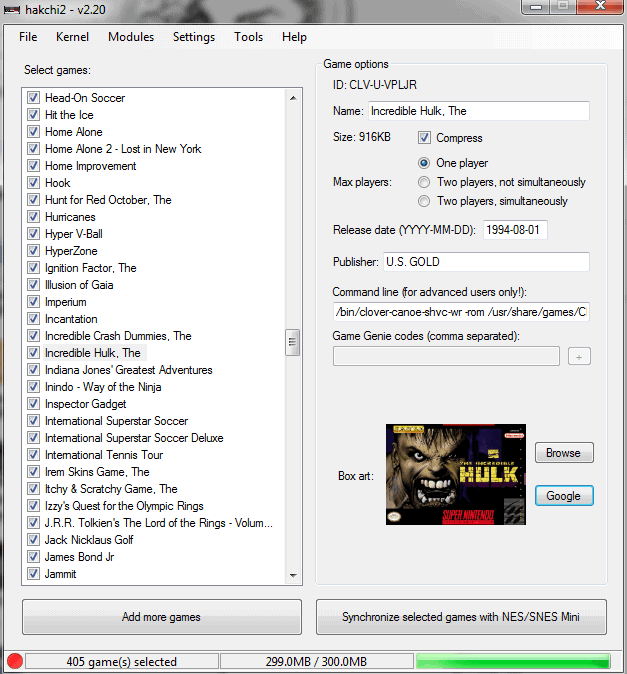 If you don't need to wait and see the instructions on adding more roms and compressing the original roms in the SNES classic that we're going to post and just want to jump right into it, you can find the download here. If you used the beta and would like to use this version just revert back to stock, using uninstall feature in the kernel tab, then reinstall the custom kernel again.
Quick rundown of a new install, if Hakchi2 was never installed before.
1) With the SNES Mini attached to your PC via USB, hold reset, turn the Mini on, wait a few seconds, then release reset. The light will not be on.
2) Go to Kernel, Dump Kernel. Install the driver if prompted. DO NOT lose this file, ever.
3) Go to Kernel, Flash Custom Kernel. Your SNES Mini is now haxed.
3a) Optional, but recommended if you aren't doing too many games. Go to Settings, Pages/Folders Structure and pick Disable.
4) From now on, simply use the Add Games button, pick your SNES ROM, fill out the details, assign some box art..
5) And when you're done, hit the Sync button bottom right.
6) Now turn the SNES off, wait a moment, then turn it back on without holding reset. The light will come on, your new games will appear.
To be abundantly clear, this is just the first official release which has been tested rigorously, but there are always bugs to be squashed and fixes to be made or improvements like you see in the tweet below. If something isn't working quite right for you once you have it up and running, let Cluster_M know via Twitter or his GitHub page.
hakchi2_debug.zip – debug version with verbose logging, download it to create bug reports for me.
Do you want to overclock #StarFox on #SNESmini? Can you seen the difference? https://t.co/adstdlC6m5

— Cluster (@Cluster_M) October 8, 2017
Stay tuned here on Hackinformer.com for more reviews and follow us on Twitter @Hackinformer
If you like the author, you can also follow him on Twitter @V1RACY