The Nintendo Switch has a lot going for it with its large screen, removable controllers and its best selling point, its portability, but what if you want a unique stand while at home? Now out of the box, the Switch does offer you a kick stand for playing with others on the go or at home, but it's not the best and lucky there is plenty of other stands or dock on the market that will do the job.
The next obvious direction the dock or stands could go is with a mini Arcade Cabinet, kind of like the icade for the iPhone. So today I bring you a few Nintendo Switch Arcade Cabinets that you can build yourself and a few you can buy.
Creator concavechest over at the thingiverse has come up with a Nintendo Switch Arcade Cabinet. The 3D printed Nintendo Switch Arcade Cabinet can be built in two ways one with charging capability or without. With an optional Fan Duct and Panel Mount USB-C Extension, this is one DIY Arcade Cabinet that's hard to beat.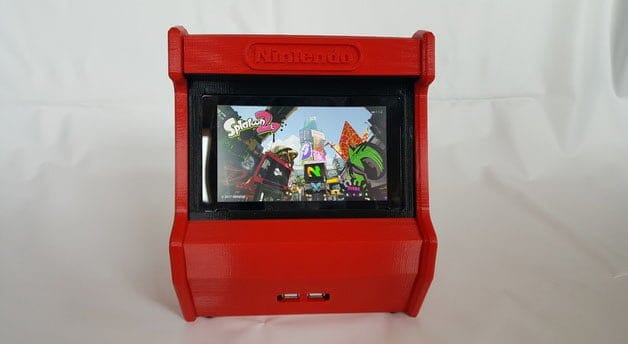 Head over to the thingiverse and get his details and files needed to make your own.
Next we have a Arcade Cabinet that is Laser Cut by SSilver2k2,  and you can use your choice of materials with either wood or foam board.
According to SSilver2k2 he was making prototypes with Elmer's Foam board for about $3.00 for a 20″ x 30″ board from Target / Walmart and he says it cuts great with a laser cutter.
Head over to his page on thingiverse and get his details and files needed for your own.
Now not all of us have the option to build our own so what then? Well, there are some for sale like this one from Amazon.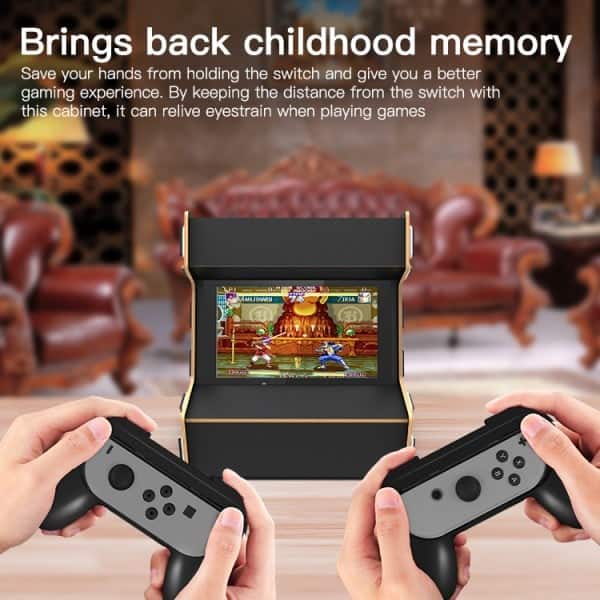 Myriann, the company the brought you the Replacement Dock and more for the Switch now as a DIY Hardwood Nostalgia Arcade Cabinet stand for the Nintendo Switch according to Amazon it's precisely cut to fit your Switch, with a back-hole design that ensures an easy  way to charge your Switch while being played.
It also perfectly fits your Switch's air intake vents, making sure there is enough ventilation for the heat to escape. With rubberized grips for stability, unique arcade cabinet stand for playing your switch games this could make a nice addition to your Switch for under $15!!
Customers can buy this product on  Amazon for $13.88 (for black) or $12.88 (for red).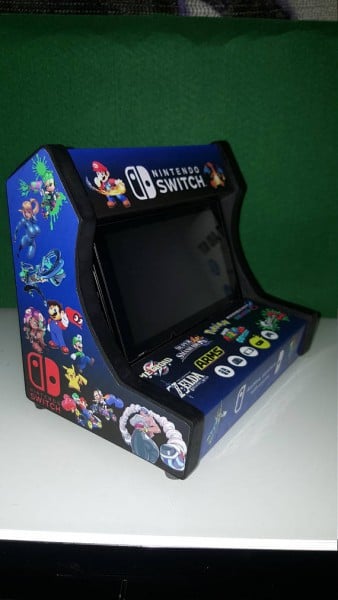 Next, we have the TheAVEcustoms over at etsy.com with there Custom Arcade Cabinet dock stand for the Switch. These handmade custom arcade cabinets come in many styles to pick from including but not limited to Street fighter, Splatoon 2, Arms, Zelda and Pokemon just to name a few.
Also if you send your personal art and they can add it to the Arcade Cabinet as well they will send you a sample before they print by email, to ensure customer satisfaction!!
Each one is handmade from MDF wood, painted, personalized and soft foam rubber added to avoid scratches on the Nintendo switch, and has a cut out so you can charge your switch when docked with 2 cabinet style types to pick from!

You can get yours by going to TheAVEcustoms etsy page for $50.00.
Well, there you have it just a few docks that will change the way you play/style your Switch for years to come. Let us know below in the comments if any of you would get one of these or just do the DIY project
Thanks for reading and keep doing it for the love of the game.