Neptune Flux from Zoxide Games is out now across multiple platforms such as the Steam (with HTC Vive/Oculus Rift support) and PS4 (with PSVR support), the latter of which is what we'll be reviewing today. The game debuted on the console recently ($7.99) and we wanted so badly to get our hands on it to let you know everything that we could. Can this story driven game set in the ocean keep afloat? Or does it sink straight to the bottom? Let's get submerged to find out!

To let you know more about the game, it is described as:
'…a story-driven, open world adventure game set in a sci-fi ocean full of mystery and haunting beauty. The world above the water is a dust bowl and an escape into space is out of reach. Humanity's last hope of survival is the untouched ecosystem of the deep sea, and A.Q.U.A. is the worldwide market leader in underwater colonization. In Neptune Flux, you take on the role of Sarah, an A.Q.U.A. employee tasked with finding the source of strange energy surges that are disrupting A.Q.U.A. operations. As you carry out A.Q.U.A. missions and explore the sea floor, you'll discover the dark secrets that lurk below.'
The features of the game are also pretty solid:
'Experience the personal story of Sarah's struggle to survive in a world that might be beyond saving.
Explore the open ocean with or without a VR headset; you get to decide how you want to play.
Discover an open ocean filled with sci-fi wonder and supernatural secrets.
Earn cash by carrying out missions for A.Q.U.A., recovering valuable cargo, and discovering lost treasure.
Use your cash to upgrade your dive pod with more advanced tools like visual sonar.'
So, before we dive in, let's give you a little trailer to get your feet wet!
Audio: 
There wasn't much in way of outright sound effects in this game. That was primarily due to the fact that the game is set underwater. You have some menu sounds here and there and when collecting scrap, but that was for all intents and purposes, the extent of it. What we can focus on here is the voice-overs. I thought that the female voice was great and clearly took direction well. The male voice of the person in the main character's ear was a little unbalanced. Don't get me wrong, the recordings sound great. And clearly, we're supposed to think that everything that they're talking about is just normal stuff to them. They don't feel any wonder or amazement at the scenery under the water and they just repair and clean up the ocean floor. However, in VR, it is amazing to you as the person playing the game. So here I am paying attention to the stuff around me and they're carrying on a conversation and she is me and it was all very disconnected. But yeah, the male character definitely felt hokey laid on top of this backdrop. 6/10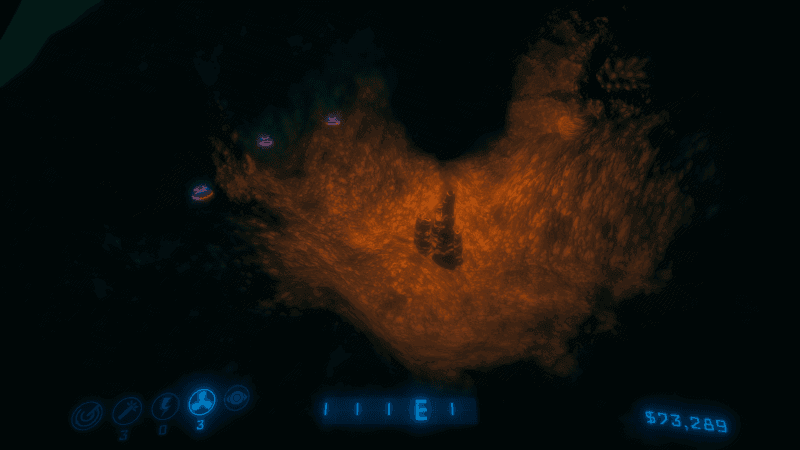 Soundtrack:
There was definitely some cool music at the beginning and end of the game. I actually really loved what they did with the music. It was laid behind the main character's voice, which was giving a monologue about her mother. I felt that the way the music was made was moody, but also inspirational. It very much seemed to stick with the whole "I don't know where my mother disappeared to, but I'm a strong woman on my own" vibe that she was trying to convey to us. The unfortunate aspect of the music is that I would've loved more of it. I think they should've definitely let some low-level music play in the background of the game. But alas, they did not and saved it for very particular moments. And since the game was oh so very short, the moments came and went very, very quickly. 5/10
Visuals: 
The part of this game that really shines is the visuals. When you're fully immersed in the VR, then you're fully immersed in the ocean. You have so much to take in around you. I love how true to it's "source material" it is. You can't see terribly far in front of you. There's little speckles of ocean dust bunnies floating around you. The lights probably are bright when they're on land, in air, but underwater, they're dull and become hard to make out the further that you get away from them. I can only imagine that if the studio were a larger outfit with more money they would've put even more love into this game's visuals and had sand be kicked up and plenty more sea animals occupying the space. I think they did a fantastic job given the resources and man power that they had, no doubt. 8/10
Gameplay: 
Gameplay is where the game is lacking. Unfortunately, I think they designed the game to be short. I think that they designed it to be a concentrated experience. Probably even something more akin to a movie. For this, I absolutely get it and I think they just barely missed the mark. From the hokey voice overs that I mentioned before to the money that only really has one purpose (and if you aren't listening to the people talk you might miss it) to the not terribly difficult puzzle solving. I think this game should have some DLC. The DLC could even just be a sequel of sorts. Just something to make my time in VR so much more involved. I love that the developers made me forget I was in a room in my home. I love that the murky waters had stuff to do. If I say anything about this game it's that it is anything but and that's okay, but give me more of what you gave me. We're gamers that buy these games and we definitely want to play them longer than 1.5-2 hours.
To clarify, if anyone was wondering, the money in the game is accrued by collecting scrap from the ocean floor. You then get that money instantly as if your body scraps it. And then you can make the W.A.V.E. bigger by buying more of it. W.A.V.E is the electronic field that keeps your battery charged. If you go outside of it, then you are running on only battery. So the idea to keep the game longer is to have you get more scrap and earn more money to expand the W.A.V.E. radius so that you can do more of the missions at hand. All of this is just kind of mentioned in an off the cuff sentence made by the fella running the show over at A.Q.U.A. and I feel like it deserved a little more explanation is all. 5/10
Replay-ability: 
I'm trying to think of any way to play this game again and again. I'm very hard pressed to find a way to do that other than just playing it again in the other mode. So if you played it with PSVR first, maybe go back through it in standard TV mode. The inverse of this could hold true too. If anything, I would recommend playing it via the TV mode first and figure out all of the answers to the missions so that you aren't loss aimlessly searching around in VR mode. Other than that, this game could really stand to benefit from some DLC, even if it were paid DLC. It would be worth it. 5/10
VR Reflections: 
The VR in this game was easily the best part, hands down. I already talked about a fair bit of it up above in the visuals. However, the VR aspect made this game so much more tolerable in terms of meandering around on the ocean floor. There is just something to be said about the beauty of it all. The fact that it looked so surreal is what made it feel so real. You never really think about these settings until you get a game made that throws you right into the heart of it like Neptune Flux does. As I've stated before the gameplay is lacking, definitely, but this game is still worth a purchase if only to see how it is to be at the bottom of an ocean.
There was minimal motion sickness if any at all. The game is about 2 hours if you do everything and you do it the long way so I would suggest playing the game for VR for no more than an hour and take a break. Once you feel up to it again, go and finish the second hour of it. Taking your time in VR is rewarding but sometimes you can feel lost with a lack of a robust HUD. Nevertheless, I would almost say that it's fun and slightly spooky to get lost in the ocean. The lack of hands is definitely a weird anomaly though, I feel like a patch should be added to give me hands and feet and that way I can really, truly feel like I'm at the bottom of the sea. 8/10
If you're into tight, linear cinematic first person experiences and you want to buy Neptune Flux, click here.

Stay tuned here on Hackinformer.com for more reviews and follow us on Twitter @Hackinformer
If you like the author, you can also follow him on Twitter @V1RACY